The appeal of spring races is obvious. Crisp, cool weather and blooming foliage make for the perfect backdrop for a race. However, for many of us, this means a training calendar that includes the cold and snowy conditions of the winter months. While treadmill running can help to keep your mileage on schedule, it's imperative that you brave the elements (especially on long runs) to be ready for race day. Having the right running equipment to be prepared for snowy and icy days is essential to success, starting with your shoes.
Here we're sharing our top favorite winter running shoes of 2022 that will keep you warm, dry and gripping in the all the right places even when the roads and trails are slick.
What to Look for in Shoes for Icy and Snowy Running Days
You'll notice very quickly that running shoes designed for trails, snow, and ice are very different than what you're likely used to running in on the road. Your safety needs to be number one, so don't worry about winning any fashion contest. So, what should a runner look for when choosing a running shoe to use on ice and snow?
Traction – Striding with confidence is imperative when running in harsh conditions, which means having a shoe with the grip to do the job. Rugged outsoles with pronounced lugs or even spikes are what we're looking for to keep you safe on the ice.
Fit/Comfort – With the right shoes, you won't need to sacrifice comfort in order to get the necessary performance and durability for severe weather conditions. Look for consistency in drop and cushioning from your road shoes to avoid affecting your stride.
Warmth – Materials that promote warmth while maintaining breathability will keep your feet happy and sweat-free when the temperatures drop.
Water-resistance – Is there anything worse than a soggy run? And wet feet in very cold weather can even be dangerous. A water-resistant upper is essential to repelling the elements Mother Nature throws at you.
Weight – A more durable shoe doesn't mean you need to run with bricks on your feet. But a heavier shoe may have a higher level of waterproofing and work especially well on rugged, icy trails.
Now that we know what we're looking for, let's get into the best shoes for running on ice and snow.
RELATED: Think you should just stay inside and avoid a wintry weather run? We share the benefits to running in cold weather in this article.
Our Top Pick Shoes for Running on Ice and Snow
Unfortunately, your day-to-day favorite running shoes just aren't going to cut it when fresh fallen snow and freezing temperatures hit your town. We've researched the very best shoes designed for running on ice and snow…which means you have no excuse now to skip your run.
Each shoe on this list has unique features that lend themselves to different types of runners and running surfaces – so keep that in mind when making your choice.
1. Altra Lone Peak All-Wthr Low Running Shoe for Men and Women
The All-Weather Lone Peaks are the ultimate year-round shoe…they have a sole grip perfect for both the trails in mild temperatures as well as snowy, winter running. And the waterproof upper made of eVent™ bootie construction means your feet stay dry no matter what.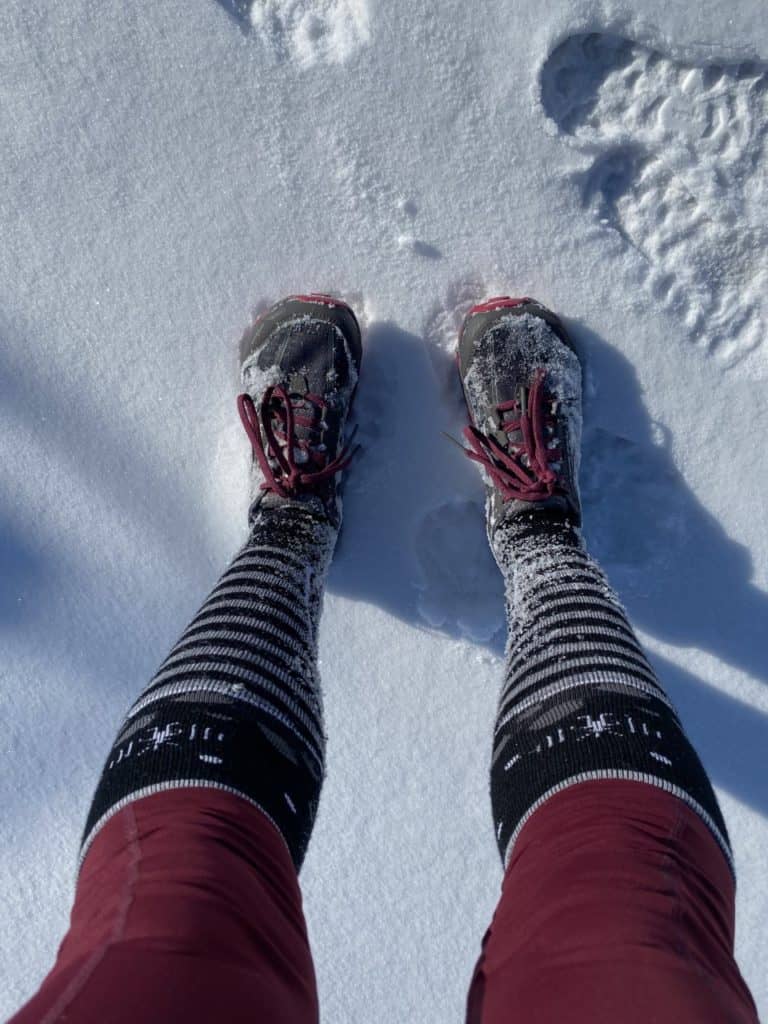 About the brand: Altra's tagline is "Zero Limits", which is a perfect fit for a brand embraced by trail and ultramarathon enthusiasts. Altra shoes are defined by their wide toe box and zero-drop, positioning the heel and toe at the same height.
What makes the Lone Peak All-WTHR a great choice for running on ice and snow: These have rugged, pronounced outsole lugs, Altra dubs "TrailClaw", which gives you the traction you need especially in the toe. And the grippy MaxTrac™ outsole provides grip, traction, and durability whether you're out on the dry trails, snowy and icy trails or weathered streets that require more traction to stay upright. These also have an attached tongue providing a tight fit to keep water and snow out.
Weight: Men's: 13.2 oz/ Women's: 10.4 oz
Best for: Runners who already run in zero-drop running shoes (or anyone who already runs with a mid-strike) and want a simple transition.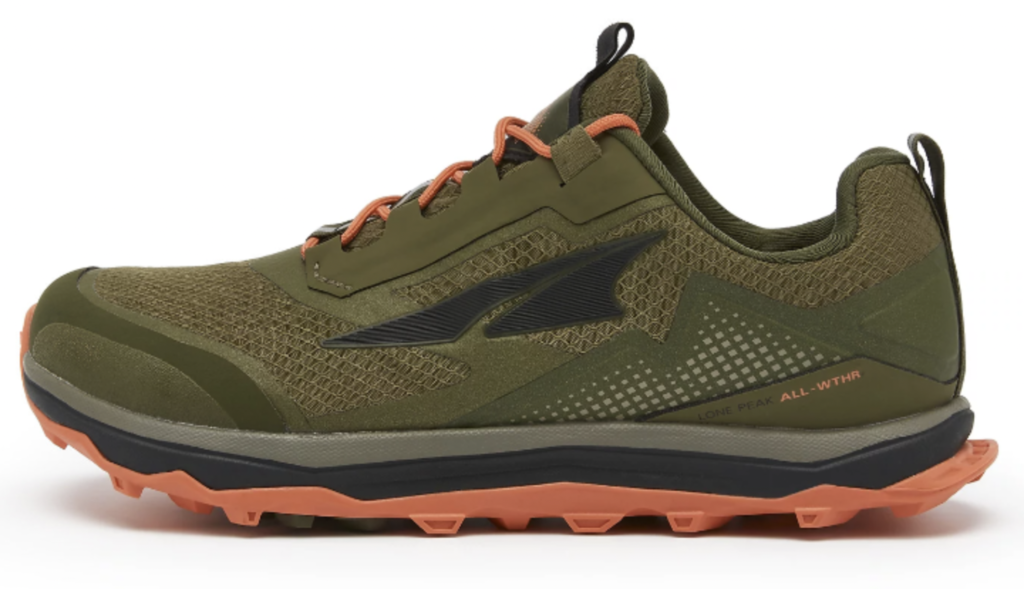 The Lone Peaks also come in an all-weather high-top style (men's and women's), which provides more ankle support on unstable terrain as well as complete water-proofing.
You can also find the Lone Peaks on Amazon, along with a good selection of past models.
Want to know more about the zero drop running shoes my husband and I love to run in? Read: Will zero drop shoes make you a better runner?
2.
Saucony Peregrine Ice+ 2.0

: Men and Women

About the brand: Founded in 1898, Saucony has stood the test of time. As one of the original shoemakers focused on runners, they have built a devoted following in the running community. Their diverse lineup means they have a shoe to meet the needs of a wide range of runners.

Weight: 10.4 oz./ 9.4 oz.

What makes the Peregrine a great choice for running on ice and snow: This lightweight option provides ample cushioning and warmth. Using "Wet Ice" technology, this running shoe will keep you from slipping in the iciest of conditions.

Best for: Runners looking for a cushioned ride.
3.
Brooks Ghost 14 GTX

for Men and Women

About the brand: Brooks encourages you to "Run Happy" and they've been helping a lot of runners do just that as one of the preeminent brands in the industry.

What makes the Ghost 14 GTX a great choice for running and ice on snow: With a GORE-TEX upper to keep you dry, the Ghost 14 sports less aggressive lugs on the outsole more suited for the roads than the trails. Styling also aligns more closely to a traditional road running shoe.

Weight: 11.4 oz./10.2 oz.

Best for: Runners who need added water resistance but are less concerned about maximum traction.

Men's Brooks Ghost 14 GTX
Brooks Ghost 14 GTX Women's
4. Salomon Speedcross 5 GTX for Men and Women
About the brand: Salomon got its start in the French Alps in 1947. Initially focused on the slopes, they got into the shoe business in 1992. Salomon is known for its rugged gear that can handle the harshest of conditions.
What makes the Speedcross a great choice for running on ice and snow: This heavier, rugged option is constructed with GORE-TEX for a waterproofed run. Its deep chevron lugs are best suited for muddy, rocky, and icy trails.
Weight: 12.0 oz./10.2 oz.
Best for: Runners who like to hit the trails in the winter months.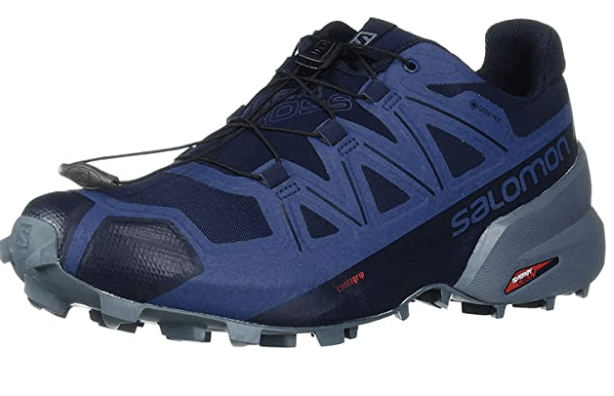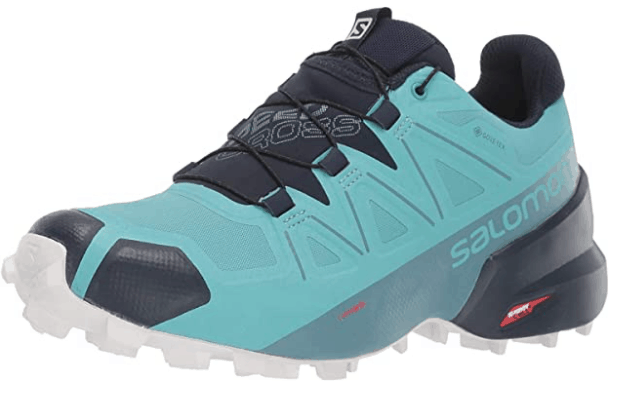 5.
Nike Air Zoom Pegasus 39 Shield

for Men and Women

About the brand: From its roots of Phil Knight selling shoes out of the trunk of his car in 1963, Nike has emerged as the preeminent brand for athletic footwear and apparel. Known for pushing the envelope from a technology and marketing perspective, they certainly attract controversy. Side note: Phil's memoir "Shoe Dogs" is a fantastic book chronicling the story behind the "Swoosh".

What makes the Shield a great choice for running on ice and snow: Keeping with the distinct design elements of the iconic Pegasus, the Shield provides a great balance of performance and style. Features include:
weatherized coating to keep water out with extra "skin" around the toes for additional water-proofing
insulated tongue and thicker upper to keep feet warm
extra traction to stay stable with a winter tire-inspired grip sole
cozy fleece-like lining keeps your feet warm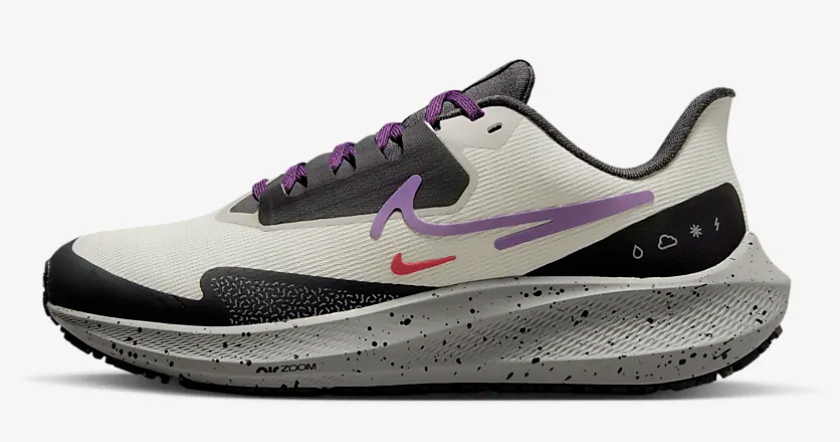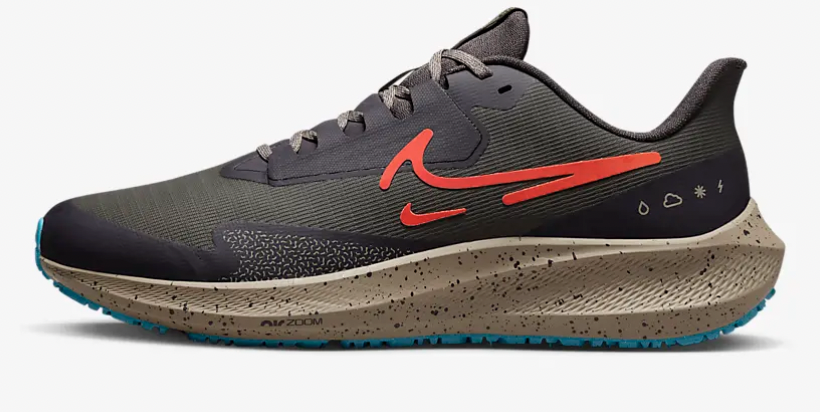 Best for: Runners looking for a stylish and versatile shoe but still keeps them stable in snowy and icy conditions.
We've included shoe weight (on most shoes) to help you make your decision. Curious how running shoe weight affects your speed? Read "Running Shoe Weight and How to Choose the Best Option" to find out.
Best Shoe Accessories for Running on Ice and Snow
In addition to shoes best suited for running on ice and snow, here are some other options to tackle the worst of conditions.
If you plan to brave an entire season of extreme weather running, a shoe designed specifically for that is probably best. But if you know you won't have a lot of icy days of running, but still want to be prepared, these Yaktrax are a great substitute.
Designed to fit over your running shoes, the carbide-steel spikes, and stainless-steel coils of Yaktrax provide the necessary traction on snow-packed and icy conditions. With four size options, you can count on a snug fit to ensure comfort and performance.
2. Salomon
Gaiter Protective Shoe Covers

in Low and High

This gaiter is a perfect accessory to your favorite shoe (fits best on Salomon shoes but should work with any running shoe), adding another layer of protection from wet conditions as well as rocks and debris if you're running on trails. Crafted with stretch material and a velcro closure means you'll get a comfortable and secure fit that keeps you dry. Because no one wants to be wet and cold on their run!
Wearing running shoes specifically made for snow and ice is your first line of defense against the elements. But, without the proper socks that would all be for not. These waterproof socks by Randy Sun are a perfect choice.
The three-layer construction on these socks provides the warmth, water resistance, and breathability you'll need to keep your feet happy on your cold, wet runs. They promise they won't give that plastic bag feeling that sometimes comes with waterproof socks.
DIY Screw Shoes for Running on Ice and Snow
For the adventure seekers in the crowd, here's a little do-it-yourself idea for you. Well placed screws into the outsole of an old pair of running shoes can provide extra grip on dry, icy conditions. Those who have used this method promise it works against the slickest of trails while also being easy on the pocketbook. Though you might be missing out on some of the other important features of the shoes on our list (such as water resistance.)
You can find out exactly how to turn any pair of running shoes into a pair of screw shoes here. Apparently, at the end of the winter season, you can just remove the screws and keep using them (though I'd personally probably not!)
*As an Amazon Associate, I earn a small commission from qualifying purchases. Non-Amazon product links are also affiliate links. Thank you for supporting my blog so I can keep bringing you content!