Every sport seems to have a body type that aligns with that particular activity. Some bodies are just more conducive to the athleticism involved in the specifics needed to be at that top level in certain sports. Swimmers are tall, lean, and broad-shouldered. Football players are tall, big, and strong. Jockeys are very short and lightweight. And what about marathon runners? Chances are you've already conjured an image in your mind of a particular marathon runner you know and decided that's probably the best body type for to run a marathon.
So, what is the best body type to run a marathon? The best body to run a marathon is YOUR body. Being one of the fastest marathon runners and being an able-bodied human who can run a marathon well are two different things. People with small frames and low body fat are often who you see crossing marathon finish lines first and what you assume is the best body to run a marathon. Though ideal in terms of speed, just because someone doesn't look this way doesn't mean they can't run a great marathon.
We'll look into whether or not these runners were actually born with a "marathoner's body" or if their training is what created it. Don't think you have the body of those elite runners leading the pack? The other side of this is being able to capitalize on your own genetics to make the most of your 26.2-mile race.
The Ideal Marathon Runner's Body
"You can do anything you put your mind to," is a saying you've probably heard more times than you can count. When it comes to running a marathon, I have to agree with this statement. But what about being one of the best marathon runners in the world? Sometimes our genetics can get in the way of accomplishing exactly what we put our minds to when it comes to particular sports. At 5'2″ for example, I would have a pretty hard time becoming a top volleyball player. (Though I wouldn't have let that get in the way of me playing – I did, in fact.)
Let's explore if this holds true for marathon running, as well.
When it comes to running, it seems logical that carrying a lighter body across the finish line would be easier than carrying a heavier one. In terms of body fat or skeletal frame, it only makes sense that smaller = faster where running is involved. But muscles also give the body weight. Those, on the other hand, make the body stronger. Yet when we look at marathon runners, their muscles are easy to see since their body fat is quite low, but they aren't what we would call big muscles by any means. So it seems that the fastest marathon runners are very lean, have a thin skeletal frame (including wrists and ankles), have proportionately longer legs, and are generally on the shorter side.
Let's compare some major marathon runners:
5 of the Top Marathon Runners (Men)
| Name | Country | Marathon Time | Height | Weight |
| --- | --- | --- | --- | --- |
| Eliud Kipchoge | Kenya | 2:01:39 | 5'6" | 123 pounds |
| Mosinet Geremew | Ethiopia | 2:02:55 | 5'8"   | 126 pounds |
| Dennis Kimetto | Kenya | 2:02:57 | 5'7" | 121 pounds |
| Khalid Khannouchi | USA | 2:05:38 | 5'6" | 126 pounds |
| Galen Rupp | USA | 2:06:07 | 5'11" | 134 pounds |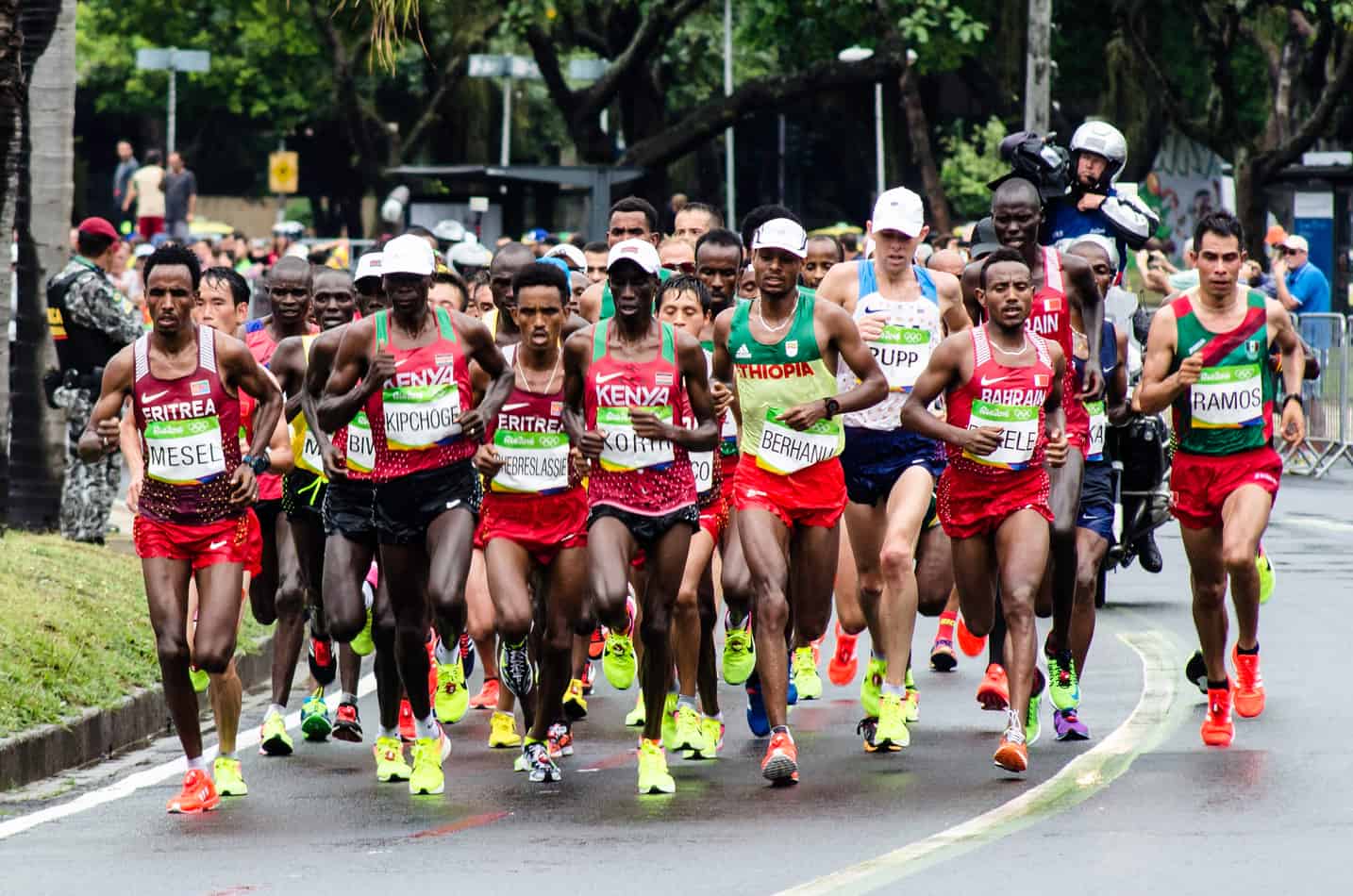 In looking at the men's top world record holders in the marathon, as well as two Americans who hold top times, we can see a pattern in terms of body and weight. No one reaches 6 feet tall, and the largest weight falls far below the men's national average of 197.8 pounds.
Looking below at five of the world's top female marathon runners (3 all-time best and 2 top Americans), we see a similar pattern. Though Paula Radcliffe stands out at being above average height, every other female is on the shorter side. Like the men, they all weigh far less than the national average of 170.5 pounds.
5 of the Top Marathon Runners (Women)
| Name | Country | Marathon Time | Height | Weight |
| --- | --- | --- | --- | --- |
| Paula Radcliffe | Great Britain | 2:15:25 | 5'8" | 119 pounds |
| Mary Keitany | Kenya | 2:17:01 | 5'2" | 93 pounds |
| Ruth Chepngetich | Kenya | 2:17:08 | 5'5" | 106 pounds |
| Deena Kastor | USA | 2:19:36 | 5'4" | 104 pounds |
| Shalane Flanagan | USA | 2:21:14 | 5'5" | 106 pounds |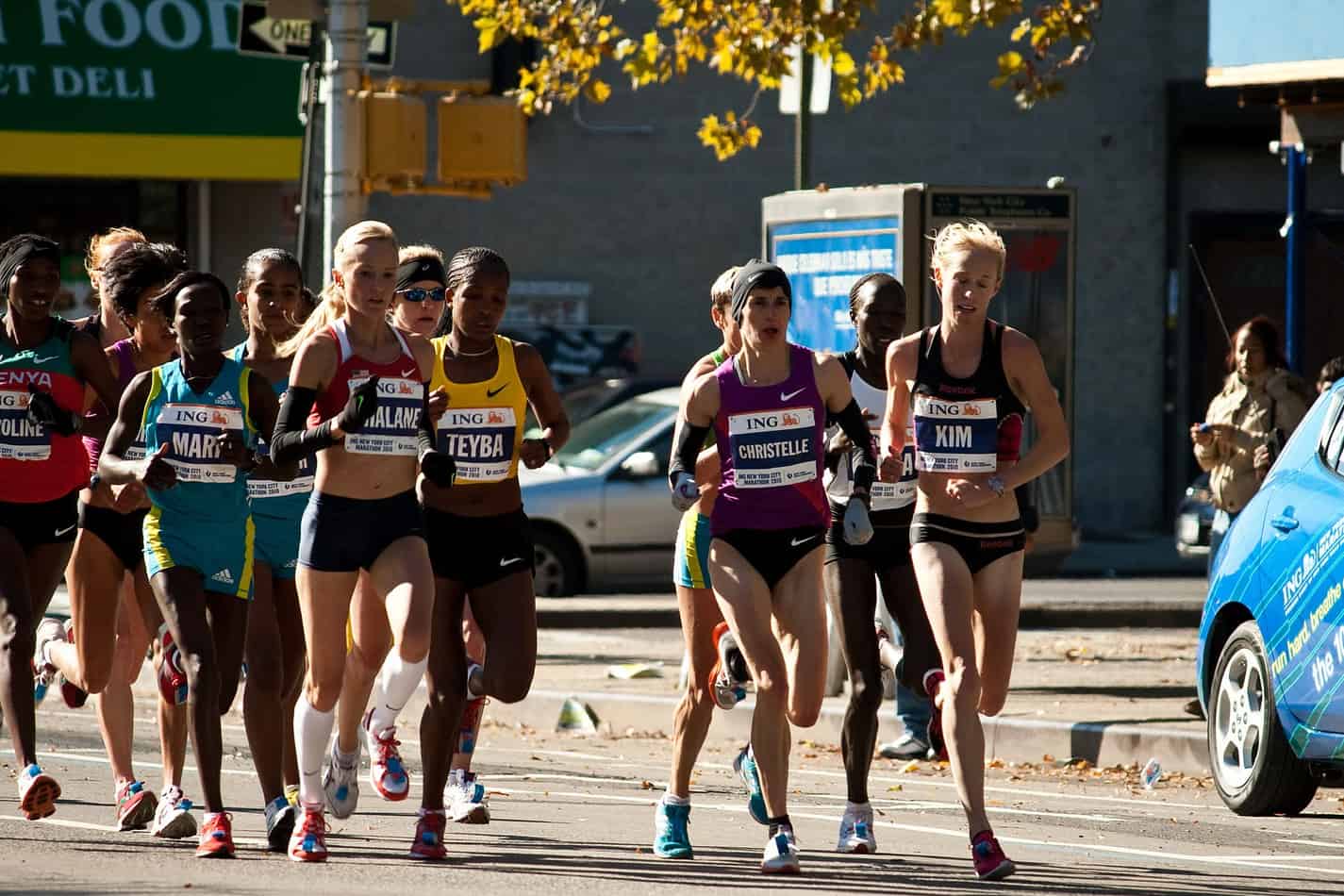 Here's the thing. I'm short and I'm also far below the national weight average, as well. (And not an elite marathon runner, by the way – haha.) What's different about these runners is that they fall in the "underweight" category for BMI. Though I don't put a lot of stock into BMI (I think at times it's used way too readily to determine health), this does show that it's a characteristic that these runners share.
It's likely that these distance running phenoms were born with a body shape conducive to the sport. However, when logging up to 120 miles per week as American marathon runner Shalane Flanagan does, it's hard to avoid the body composition that comes along with so much running. Additionally, these elite runners take their diet very seriously, knowing what they eat makes a difference come race day.
So, which came first, the chicken or the egg? Either way, these small-framed, lithe bodies are the ones setting records.
But out of the approximately 500,000 runners who complete a marathon each year, there are so many that don't have this body type. More than not, in fact.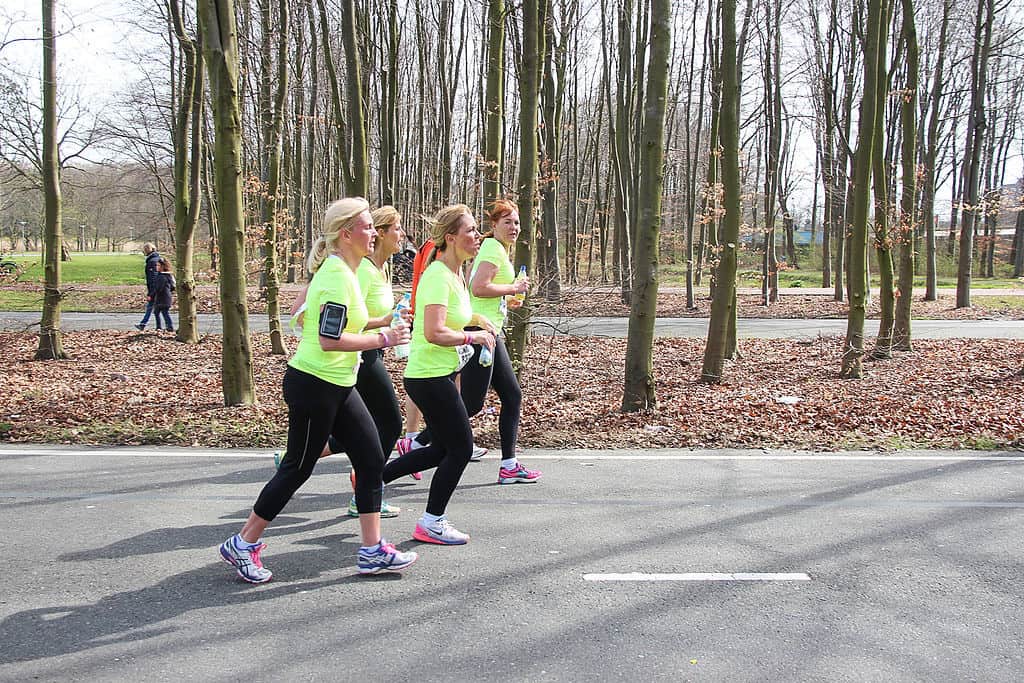 The Ideal Body Type to Run a Marathon is Probably Yours!
When determining the best body type to run a marathon, there really isn't a "best" type. As I wrote about in the article Running a Marathon – This is How Anyone Can Do It, almost any healthy individual can complete a marathon if they're willing to put in the work.
Sure, if you have lower body fat and are very physically fit, you will probably have an easier time running faster than if you weren't. In fact, some avid marathon runners have a "race weight" they try to achieve. If this is something you aspire to for your own personal records, then that's great! But you certainly don't have to.
Being at a weight in the healthy range is ideal for running marathons, however. Marathons and the training that goes with them aren't easy on the body. This article from the Arthritis-Health states, "Experts estimate that for every 1 pound you weigh, your knees feel the force of 3 pounds of pressure when you take a step. So losing 10 pounds will result in 30 pounds less pressure per knee, per step."
But that should never stop anyone from working towards a marathon! Whether it's walking one instead or exercising properly until you get the okay from your doctor saying you're ready to take one on, no one should ever lose sight of that goal.
Do also keep in mind that just because your BMI might say you're in the overweight category, doesn't necessarily mean you aren't healthy enough to run a marathon. Many muscular people end up in this category when they're clearly not overweight. Your doctor is the best person to talk to to find out if you're healthy enough.
It's not about how long it takes to get ready to train for a marathon, or how long it takes for you to run one. It's about knowing your body can do it and being willing to try.
It is common to hear the phrase "runner's body." I'll admit that I've said it, too. Just today, my husband and I ran past an effortlessly running young man and I immediately said to my husband, "I bet that guy is fast." It wasn't just about his body but how he glided across the path as he ran by. Making these generalizations and assumptions is fine as long as you don't let it deter you from doubting your own capabilities and dreams.
Recently we've seen the #ihavearunnersbody movement. It's really such a great message. What does that mean exactly? Well if you run, then you have a runner's body! It's as simple as that.
View this post on Instagram
"So you don't look like a runner or a marathoner? Running doesn't care. You're a runner and that's all that matters!" -Patrick Cutter (2:34 personal record marathon time)
Using the Body You Have to Your Advantage
We already know our weight can fluctuate. What we eat, how much we exercise, and how much we lift weights contributes to what our body can do. The important thing is to not make running a marathon about losing weight.
Yes, you very well may lose weight from running so much, but honestly, sometimes you don't. Surprised? This article will tell you why. If you have a little extra weight, that by no means will keep you from running a marathon. Completing a marathon comes from strength, perseverance, confidence, and a helluva lot of mileage. Running a lot builds endurance and a healthy heart. So if you can run 3 miles, you can get to a half marathon, and ultimately a marathon. People may try to tell you that you can't run a marathon because you're "too big." Or you're "not skinny enough" like those runners they see on TV. Let that be your fuel to show them they're wrong.
Because guess what? Most marathon runners don't look like that. We come in all shapes and sizes. You can be big AND fast. You can be skinny AND a back of the pack runner. It's about setting personal goals and smashing them and not setting limits on what your body can do.
View this post on Instagram
"It's about chasing a dream that feels twice as hard when you're not naturally gifted or innately good at something." -Kelly Roberts
There is no denying that certain body types lend themselves better to running a very fast marathon. But we also have to remember that those people only take up a teeny tiny percent of all the runners completing marathons. You can absolutely take what God gave you and turn it into a marathon running machine.