Not everyone wants to run a marathon. As much as I try to convince every runner I meet that they should run at least one before completely writing it off forever, it's understandable why people would prefer to stick to shorter distances. That was definitely my jam for a long time, too. But one way for people to be a part of the marathon experience without making the huge leap is through a marathon relay.
So, what is a marathon relay exactly? Like a marathon, a marathon relay is an event that covers 26.2 miles of distance. But instead of you running all of those miles by yourself, a team of two to six runners completes the challenge together. 
If you're not quite up for running a full marathon by yourself (or are just looking for something different to add to your running repertoire) I definitely recommend getting a team together to complete a marathon together in the form of a relay. It's a lot of fun!
How do running relays work?
You're likely familiar with relay races that are held on a track. A couple of popular relays in track are the 4 x 100 and the 4 x 400. If you've ever watched these events, then you know that the runners are required to stay within a certain distance as the previous runner passes the baton off to the next runner. They are very fast and pretty intense! And dropping the baton is basically a recipe for disaster.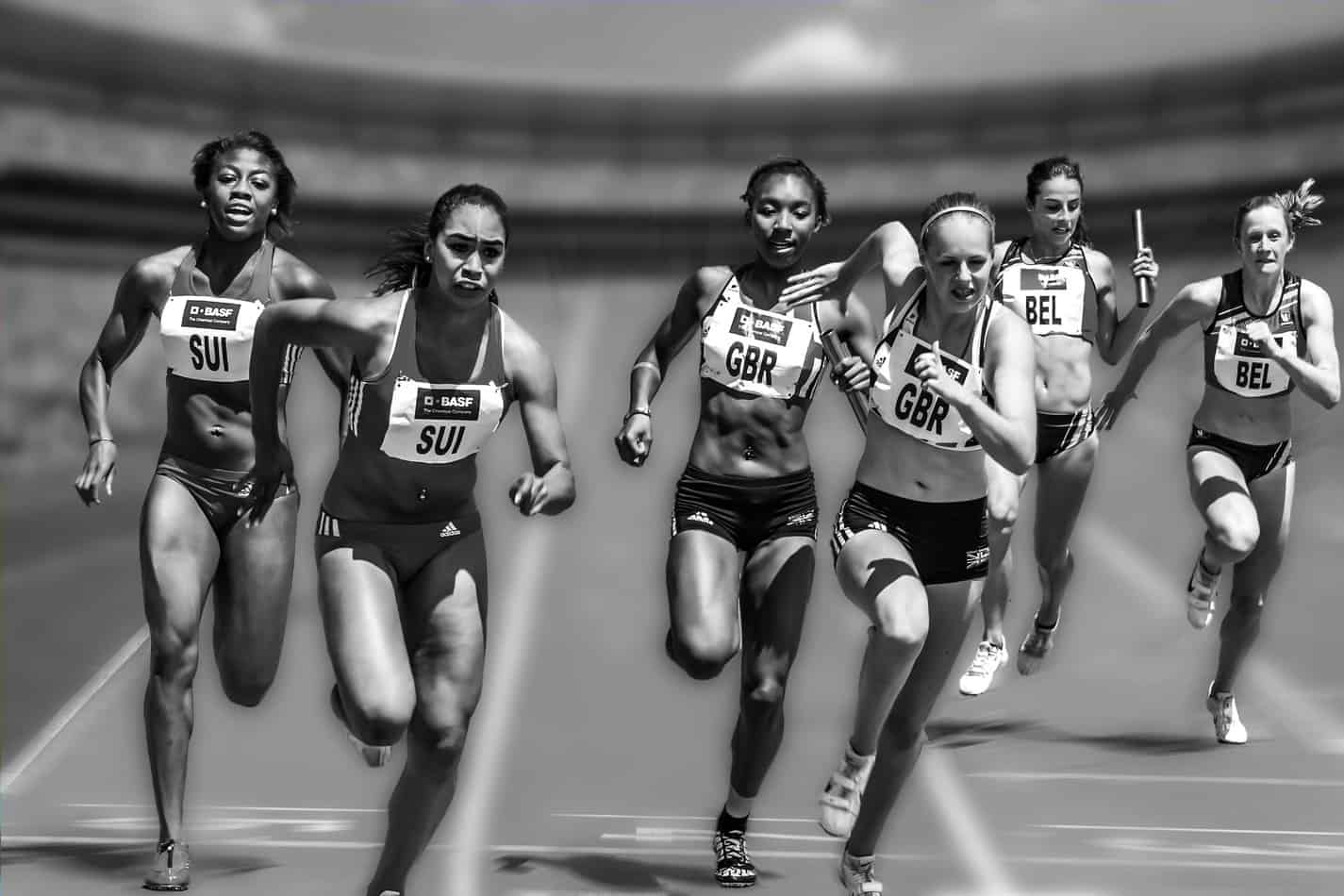 Marathon relays work in a similar way as the track relays you've watched. Even right down to the baton. But don't let that part scare you.
Not that you'd want to drop your baton in your marathon relay, but I'd venture to guess that the stakes aren't quite as high. Of course, you want to get the best time possible for your team, so getting a good baton handoff is a good idea…but remember this is a 26.2 mile race. Losing a few seconds during the handoff isn't a big deal. But don't lose it!! This is where your timing chip will be (though some relays have you hand off something like a bracelet or bib instead.)
Getting Entered into a Marathon Relay
Not all marathon events offer a relay option. The logistics of setting up a relay definitely take a little more effort on the part of the race directors, so it's understandable that they aren't always offered. But that doesn't mean you can't find one happening close to you in the near future!
In fact, ahotu Marathons lists 173 different marathon relays across the country over the course of the next year.
Most marathon relays require 4 or 5 members for a team. However, the Knoxville Marathon offers a 2-person relay and the Brookings Marathon in South Dakota utilizes 6-member teams for their relay. So other options do exist, they just aren't as common.
Here's a step-by-step plan if you want to complete a marathon relay:
Find a marathon relay you want to do. You'll likely want to choose one somewhat close to you as that will probably make it easier for you to find teammates. But, if you have runner friends who love to travel, then pitching them the idea of a marathon relay out of state might be the perfect excuse for a getaway!
Become a captain and register your team. Depending on your race, you may have to indicate whether your team will be all women, all men, or coed. If you don't yet have all of your members for your team, you can probably still register before that happens. There are a lot of runners out there, so you probably won't have any trouble putting a team together even if you don't have those people nailed down just yet.
Gather your team. Find out how many people you'll need for your team (number of "legs" equals the number of runners you'll need) and start recruiting! You'll definitely want teammates who are committed to the challenge and are someone you can trust to be ready for race day.
Determine which leg each participant is running. This matters in terms of training. Not all legs of a marathon relay are equal. One person might be running close to a 5k and someone else might be running more than double that. So get this figured out early on.
Review details of your specific race. Make sure each of your team members is prepared for the race day logistics. Since you're running a relay, each of you will have a different starting and finishing line, which is different from a "normal" race. You won't all be hanging out together…except everyone should meet up at the end to celebrate!
Be ready to race! There is definitely an added incentive with the team mentality to race your heart out. It's fun to see what type of marathon time you can accomplish when you're all in it together.
Some relays, like the Colfax Marathon Relay that my husband ran in, have a corporate division, too. This is an excellent way to promote health among your professional community while also raising money for charity.
The Marathon Relay Experience
Training for a full marathon is a huge commitment. A marathon relay, on the other hand, allows you to get in on the marathon action without actually having to spend your entire summer training for one. This can be quite appealing for many runners! The neat thing is that you'll probably be running among the actual marathon runners. (Though don't be offended if you catch a dirty look when you jump in for your leg at mile 22 fresh and ready to go!)
The runner who is designated as "leg 1" will be at the start line. You may or may not start with those competing in the marathon individually depending on your particular race. Leg 1 will run their distance and then meet up with the Leg 2 runner in a zone sectioned off to the side of the race route (sometimes called the relay exchange corral). You'll be responsible for watching out for your runner.
This is why it's a great idea to know ahead of time each runner's predicted finish time. It's ok if you end up being off by a few minutes or so, but this gives your next runner a good idea of when you'll be showing up. Many larger relays races will also have an app you can download to keep track of when your team crossed certain markers.
And the relay will continue like that until the final leg runs to the finish line. The final runner will be responsible for collecting everyone's race medals to hand out when you reunite…hopefully close to food and beer!
Are you wondering about how far you will have to run in one of these relays? Well, it's a lot less than 26.2 miles, that's for sure! And almost always less than a half marathon, too.
Here is a chart that outlines some common distances you might run depending on how many "legs" are included in your marathon relay.
| # of Legs (People) in Relay | Leg 1 | Leg 2 | Leg 3 | Leg 4 | Leg 5 | Leg 6 |
| --- | --- | --- | --- | --- | --- | --- |
| 2-Leg Relay | 12.8 Miles | 13.4 Miles | N/A | N/A | N/A | N/A |
| 3-Leg Relay | 9.7 Miles | 10.3 Miles | 6.2 Miles | N/A | N/A | N/A |
| 4-Leg Relay | 4.8 Miles | 5 Miles | 7 Miles | 9.4 Miles | N/A | N/A |
| 5-Leg Relay | 6.5 Miles | 4 Miles | 5.5 Miles | 4.1 Miles | 6.1 Miles | N/A |
| 6-Leg Relay | 4 Miles | 5 Miles | 3 Miles | 5 Miles | 3 Miles | 6.2 Miles |
The Marathon Relay that you sign up for won't likely follow these distances exactly, but it gives you an idea of different distances offered depending on how many people will be splitting up the 26.2 mile distance. What's awesome about relays is that not everyone runs the exact same distance. That way, runners who prefer shorter distances or runners who have more success running longer distances can all join in on the fun together. I also think it's fun because you get to race some uncommon distances. 9.4 miles, for example, would be right up my alley!
Other Types of Relays and Group Races
Marathon Relays are pretty popular these days, but they aren't the only way to accomplish big running goals with teammates. Here are a few other team race options that might interest you.
Ragnar Relay – Ragnar offers an ultimate ultramarathon relay experience. My husband has done one and it's definitely on my bucket list! Ragnar holds races all over the world. Each one is approximately 200 miles in distance. Teams either consist of 6 or 12 members and each runner completes multiple legs of varying distances. Like a marathon relay, not every person will run the same total number of miles, so you can have team members of varying ability levels. These are overnight races where you will camp together with your teammates so there is a high level of encouragement and camaraderie among this type of relay.
"Ragnar is about coming together to do things that we could never do alone." -Ragnar Website
Half-Marathon Relays – Looking to cover a shorter distance than a marathon? Half-marathon relays can often be found, too. These will only be 13.1 miles in length and are usually split among 2 or 3 runners, but otherwise similar to a typical marathon relay race.
Spartan– If you're looking for more challenges that go beyond running, and don't mind getting dirty, this type of group event might be just what you're looking for. This is one of the most popular running/obstacle courses in the world. Elite athletes, those new to the sport, and everything in between can find a place among those competing in Spartan races. These aren't really considered a relay, since you'll actually all be completing the course together. But you'll still get the bonding and motivation of accomplishing something as one. There are different distances of race courses with one being the "Beast" – a 13-mile challenge that includes 30 obstacles.