There are a lot of reasons to take your phone with you while you run, the number one reason being for safety. Some runners do have cellular-enabled smartwatches that allow them to leave their phones at home, but many of us haven't made that investment. Ultimately, heading out for a run with your phone is a wise decision. And believe it or not, there are actually some pretty convenient and comfortable ways to bring it with you so you don't have to carry it in your hand.
Here I'll share with you 5 great ways to carry your phone while running and which ones I've found work best!
Read on to find out my favorite options in each category as well what to think about before your make your selection. Prefer to watch a video instead of reading? I compiled this information in a YouTube video!
What to Consider When Choosing a Product to Carry Your Phone on a Run
When deciding which phone carrier will be best for you, there are some questions you'll want to ask yourself before making the purchase.
Will it be comfortable?
Can I easily access my phone if I need it mid-run?
Will it fit my particular model of phone?
Can this product do something else besides just hold my phone?
Comfort
Finding a way to carry your phone comfortably is number one. I think we've all been on a run while wearing something uncomfortable or doesn't quite fit right, and that's never good. Instead of enjoying the experience or staying focused on the goal for your run, you're constantly fidgeting with the thing that's bothering you in hopes of trying to make it work.
I recommend purchasing a product that you know you can easily return if it doesn't end up being compatible with running. Because if it's a bother every time you run, there's really no sense in using it. At that point you might as well hold your phone.
Accessibility
Certain ways to wear your phone lend themselves better to easy access to the screen than others. In most cases, you're going to have to be able to pull your phone from a pocket, etc. in order to utilize your phone. An arm band is one option where you wouldn't have to do this, but sometimes those bring their own challenges which I'll speak about below.
If you have a bluetooth enabled watch that works when it's connected to your nearby phone, than this part may not really matter to you. But if you know that you're going to have to take your phone out to skip songs or read a text message mid-run, be sure you can easily grab your phone without having to stop.
Phone Holder Size
Whatever route you decide to go in terms of carrying your phone, it's going to have to fit in a pocket or pouch of sorts. Obviously most new products will try to cater to the newest models of popular phones, but be sure you're taking time to read the dimensions to be sure it will fit your model. If you're on Amazon, you'll often see questions from potential buyers like, "Does this hold an iPhone 11 Pro?" in which there will be an answer. Read the details before buying.
Double Duty
If you can find a way to carry your phone with a product that pulls "double duty" that could be the best route. Not only is it the more economical choice, but you also have one less thing to worry about finding before you head out the door. Plus, if you're a minimalist runner like me, the less you have weighing you down during a run, the better.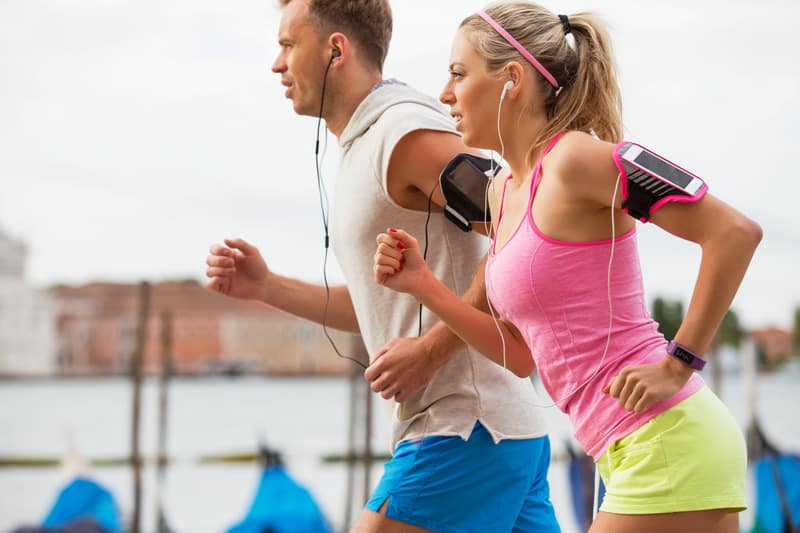 One last consideration is if you're going to be using headphones that have a cord. Be sure that whatever phone holder you use allows you to use your headphones in a manner that they won't be getting in your way. With that said, I strongly urge you to get bluetooth-enabled wireless headphones…it was one of the best decisions I made in terms of upping my running gear game! You can find out my top choices in, "Best Bluetooth Headphones for Running (That Won't Fall Out)."
5 Different Ways to Carry Your Phone While Running
Here I'll go through 5 different ways to carry your phone with the best options in each category. Much of this is going to be personal preference, but I've included my particular experiences, as well. It's always nice to hear from someone who's actually tried these out!
1. Compression Shorts or Pants with a Side Pocket
Hands down this is my favorite way to carry my phone on a run.
I currently only have two pairs of compression shorts with side pockets (the ones below!) and I get sad when they're both in the wash. Clearly I need to invest in a couple more pairs stat. And I finally got a pair of running leggings this year with a side pocket, too. Game. Changer.
If you've never tried to carry your phone this way, I'm telling you that you're missing out. That goes for men, too. My neighbor was just telling me the other day how much he loves his running shorts with the built-in compression shorts that have a phone pocket.
I have ZERO cons on the women's side, as far as the men's, the only con I can see is that you have to pull the top portion of the short up to grab your phone which could be a bit of an annoyance.
Here are 4 great options! (Women – go for a high waist option of compression shorts and leggings. This will provide the best fit and prevent you from having to tug them back up as you run.)
If you're a dude and the thought of wearing compression shorts turns you off, you might love this other option of running shorts from Kippo.
So I personally don't like to wear anything around my waist or hips when I run. I tried a couple of belt-type water carriers way back when and I could never get the fit right. Because of that, I avoid anything belt-style, though I know products have come a long way with fit. The FlipBelt gets amazing reviews and one of my best running friends ran an amazing 10k race wearing one last summer and it didn't budge an inch. This is definitely a design that's been perfected to work for multiple body types.
The FlipBelt is a sized product so be sure to note the size specifications carefully. What's also fun about this product is the choice of various colors.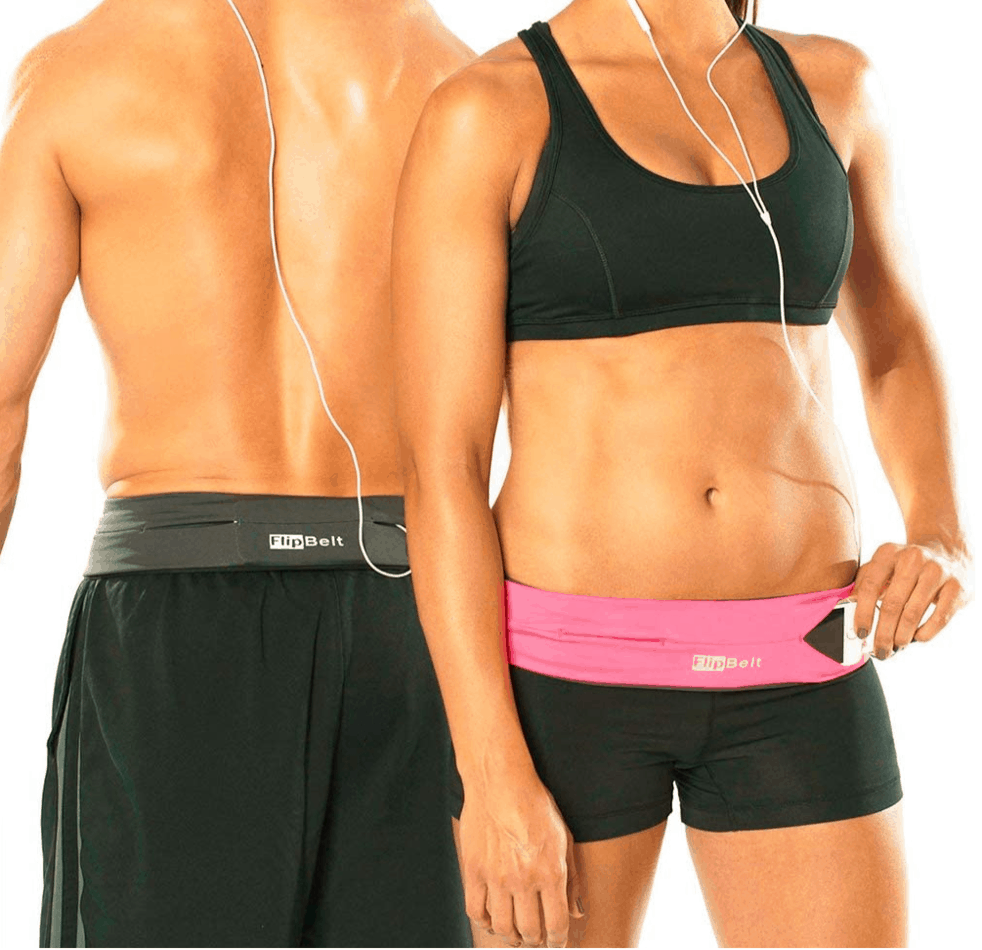 In my article, "Is it safe to run at night? 10 Tips for Running in the Dark," we talk about the importance of using something to stay visible to cars that also helps you see. If you're a night runner, using the Flipbelt to carry your phone while also using the FlipBelt Running Light would be a great option!
3. Armband
Most people are familiar with the armband option of carrying your phone. It's main purpose is for phone carrying and lots of different styles have been around for a while. If you've been a runner for a long time, chances are you've tried an armband at some point. I think they're ok, but not amazing. This is the way my husband takes his phone on a run, but often just leaves his phone at home instead because he thinks the armband is kind of annoying. I think if you get the right one and it fits well, it's not an option that's off the table.
The big pro of an armband is that you don't actually have to remove your phone to use the screen. If you know you'll need quick access to your phone, this may be the best option for you.
Here are two phone armbands with really good reviews, including the option from VUP, that is 360-degree rotatable which means you can more easily view the screen as needed.
4. Pocket Sports Bra
I'm going to be honest, the options in this category aren't as wide as I would've thought…I figured all the top athletic brands would have them. It's easy enough to reach back over my shoulder, so figured it was something pretty widely available. In fact, I've even hacked a couple of my tighter sports bras by simply tucking my phone between the back straps. But maybe it just hasn't caught on? I personally think it's the next best option after wearing them in a side pocket of shorts or pants if you won't be wearing any sort of water carrier on your back (at least if you're a woman). Luckily I did find a couple of great options – one that I'm wearing consistently and loving!
I have this one from Amazon and it works perfectly for carrying my phone. The support is perfect for what I need and it's simple to grab my phone and take a peek at it even while I'm running. The Brooks Drive 3 Pocket Bra is on my list to get next. Though the price point is a bit higher, this one also has additional small side pockets that would easily fit a key, id, or cash and comes in more specific sizes (18 of them in fact!) Getting the right fit with a sports bra is important, so I appreciate that they sell 30 A/B all the way up to 40 DD/E in this bra.
One other option that's out there is the Koala Clip. I've personally never tried it, but it attaches to the inside of your sports' bra on the back. It works in the same way as these sports bras with the built-in pocket, so if you're picky about which sports bras you use, this would be a great way to go.
5. Water Carrier with Phone Pocket
For your shorter runs where you wouldn't bring water, a water carrier is probably going to be too cumbersome just for the purpose of bringing your phone. Even with some being pretty comfortable, options 1 – 4 above would probably make more sense.
On the other hand, if you're going for a run longer than 1 hour on a warm day, you should bring water with you anyway. As I said in my article, "Best Water Carriers for Runners," you need to replenish fluids because when you sweat, your blood volume decreases which makes it more difficult for your heart to get oxygen to your muscles. Hydration is really important.
So, in that case, you might as well have a water carrier that can also easily hold your phone. Here are four different options in each water carrier category, depending on your preference.
This is the hydration vest I have (the VaporHowe women's version) and I absolutely love it. It's really comfortable and has plenty of storage. You can put your phone in one of the front pockets or there is also a larg zipper pocket in the back.
You can also go with a backpack or hydration belt:
One other option in this category is a water bottle that you hold in your hand that has a pocket for your phone. Even though it's in your hand, these types of carriers tighten to your hand so you don't have to be gripping tight onto something throughout your run.
No Excuse Not to Carry Your Phone On a Run
With so many easy and comfortable ways to carry your phone, there is really no excuse not to head out for a run without it (unless of course you're one of the lucky ones with a super cool watch that allows you to make phone calls). Even if you're just headed out for a 30-minute jog, you never know when an emergency might arise when you'd need it.
*As an Amazon Associate, I earn a commission from qualifying purchases.