As a runner, you need to find a pair of bluetooth earphones that checks all the boxes, with one of the most important being that they won't fall out of your ears. Nobody wants that when they're out for a run! So in using that as a starting point, I've found the best bluetooth earphones for running that are sure to stay put.
Here's a quick preview of the best earphones for running that I'll cover:
Best Completely Wireless: Powerbeats Pro Totally Wireless
Best Battery Life: Powerbeats High-Performance Wireless Headphones
Best Adjustable Size: Apple Airpods Pro 2nd Generation
Best Looking (Lowest Profile): Samsung Galaxy Buds+ Plus
Best Bone-Conducting: Shokz OpenRun Pro Open-Ear Wireless
Best Waterproof: Jaybird Vista 2 True Wireless Waterproof Earbuds
Best Budget: Otium Bluetooth Earphones
Why Bluetooth Earphones are Great for Runners
Before we go any further, let me just start by saying that I'm going to use the term "earphones" throughout this article to help us all remember that I'm strictly talking about listening devices that go inside your ears. However, you may hear them referred to as headphones, too. That's actually the term I use for mine even though they fit inside my ear…for example I often say, "Has anyone seen my headphones?!" I'm sure you can relate.
I wouldn't ever suggest to anyone to wear outer-ear headphones when they run. That to me just seems hot, uncomfortable and sweaty. I know some people go this route because they have a hard time finding earphones that won't fall out of their ears. But I'd encourage you to keep looking, and every pair on this list is highly rated! I had the same problem for a long time, but my last two pairs (Bose and Jaybird) have been great!
So to repeat, you want earphones, NOT headphones.
And why is Bluetooth so necessary for runners?
Bluetooth earphones keep you connected wirelessly to your phone or smartwatch so you can listen to your favorite playlist, podcasts, or audiobooks. No runner wants a wire whipping around them as they run if they can help it. Before Bluetooth earphones were an option, we just dealt with it. But now you don't have to. Bluetooth earphones come in a range of prices, which means you don't have to spend a fortune to get a pair that works for you.
What to Look for in Bluetooth Earphones For Your Run
There is a lot to consider when it comes to choosing a set of bluetooth earphones. Some are the features to pay attention to:
Size Adjustability:
If you're someone who deals with earphones that fall out of your ears, this part's important for you.
Some earphones are "one size fits all" whereas other pairs off a customizable fit. If you struggle with getting earphones to stay put, this part is really important. You're likely to have more of an issue if you choose a pair that offers a "universal" fit.
Earbuds are supposed to fit snugly into the ear canal, and even a slight difference in the size of someone's ear canal can cause "universal" sized earphones to not stay put.
My current set of bluetooth earphones from Jaybird includes 3 different sizes of the silicone eargels so that every wearer can get their perfect fit. This is a feature you'll want to look for when purchasing headphones.
Battery Life:
Battery life is really important when it comes to bluetooth earphones. Unlike wired earphones that will work no matter what, a wireless set needs to be charged up in order to be ready to go.
When you're shopping for a pair of wireless earphones, you might see two different numbers for charge time. This is because wireless headphones sometimes also come with a wireless charging case, too. For example, Apple Airpods Pro has this accessory. So even though the charging case can give over 24 hours of battery life, the headphones themselves can only be played for 4.5 hours of listening time before they need to be charged again.
So, why does this matter? Well, longer battery life is nice for anyone, but it's essential for endurance runners. You have a lot of long runs on your schedule and you don't want to be caught with a pair of earphones that are dead before you even start your run or die mid-run. Of course, if you're always really good about charging between runs, you should be good for the most part, but endurance runners probably want to go for a pair with longer battery life.
Low Profile:
Earlier I said that I was still running with wired earphones when I ran my marathons in 2018. Which is true, but I actually DID have a Bose pair for several months a year prior until I left them at the rec center never to be found again. Bose has definitely upped their game in the bluetooth game since then, and though that pair was amazing in every other way, they stuck out of my ears and made me look a bit like Frankenstein. It was a small price to pay for how awesome they were, but some definitely look better than others so this is something to pay attention to.
Wired vs. Wireless:
Ok, so you thought we were talking only about Bluetooth wireless headphones here, and technically we are. However, as you get to shopping around, you'll notice that some earphones are strictly the buds that go in your ears, while others are connected by a wire that connects the two behind your head (but not your phone).
Completely wireless might seem like the best way to go, but it may not be for some. In fact, my husband lost one of his earbuds for an entire week recently. Thankfully he found it, but sometimes the ones connected by a wire are a bit easier to keep track of. On the other hand, the ones without a wire have lower profile. So, you'll have to weight what matters more to you.
One other bonus of complete wireless earbuds is that you can wear them just one at a time. This is great for runners in terms of safety so they can keep one ear available to hear what's going on around them.
Water-Resistance:
Runners sweat, that's no surprise. And through a great sweat-reducing hat can eliminate some of the sweat that will get in your earphones, eventually it will make its way toward your ears. That's why you need water-resistant earphones. And if you're someone who runs long or sweats more than average, you may want to look into a waterproof pair such as the Jaybird Vista 2 True. With an IP rating of 68, this offers great waterproof protection.
Earphones with a rating of IPX4 or above are considered to be water-resistant and should be a quality pair for running.
Top 6 Bluetooth Wireless Earphones That Won't Fall Out While You Run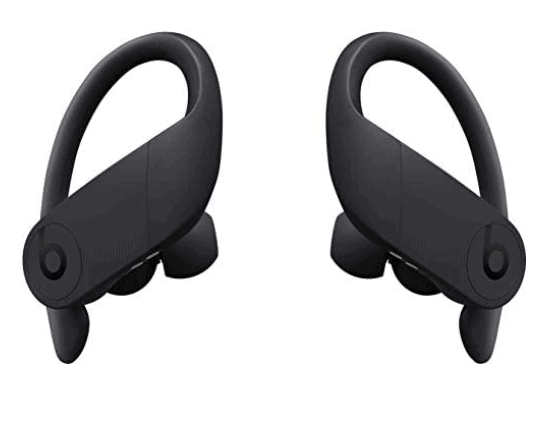 You'll notice that the Powerbeats Pro have a different look about them. But the fact that they have a piece that goes around the ear as well as a piece that goes across the ear is for good reason. When you sweat, it will eventually drip down into your ears. The reinforced design offered by this pair does a great job of counteracting that. For people who sweat a lot, live in warm climates, or need their earphones to staty put for a longer run will definitely want to check this pair out.
Features to love about the Powerbeats Pro Totally Wireless:
9 hours of listening time
Only takes 5 minutes of charging time to get 1.5 hours of playback time
Can wear just one at a time
sweat and water resistant
adjustable, secure-fit earhooks
multiple eartip options for the perfect fit
voice capability
One other point to note about the Powerbeats Pro Totally Wireless is that they have a "speech-detecting accelerometer and multiple microphones that target your voice and filter out external noise." If you like to make phone calls while out on your easy run days, this will make a huge difference for that.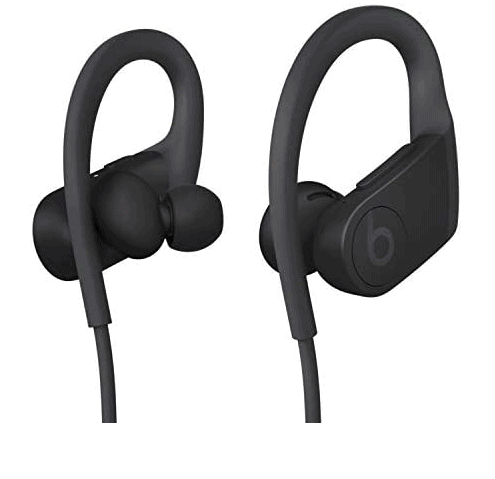 If you are an endurance runner who trains for marathons or ultramarathons, you're going to want a pair of earphone with excellent battery life. This is also helpful for anyone who may have trouble charging up their earphones day-to-day. With the Powerbeats High-Performance Wireless Earphones, you'll get 15 hours of listening time! That's a lot.
Features we love about the Powerbeats High-Performance Wireless Earphones:
up to 15 hours of listening on one charge
5 minutes of charge gives 1 hour of playback
adjustable, secure-fit earhooks
sweat and water resistant
extended range bluetooth
integrated on-ear controls
voice-capability
You'll notice the profile of these looks different from the PowerBeats Pro in that they are not completely wireless. Instead, these connect the two buds behind the head. The downside is that you won't be able to listen with only one earbud in at a time if you're looking for that option.
Since the release of the 1st Generation Apple Airpods in 2016, users have been all about them. Like all Apple products, they're synonymous with quality and give users what they want. However, runners haven't always loved the design for their daily exercise, and they weren't really designed to be worn during a sweaty workout since they're not water-resistant. Fortunately, Apple has come out with the Apple AirPods Pro (Gen.2), which is exactly what many runners have been hoping for.
Features to love about the Apple AirPods Pro (2nd. Generation):
Sweat and water-resistant
active noise-cancellation
can switch to be able to hear outside noise if you need to interact with your surroundings (a great safety feature)
get a great fit with one of three different sizes of tapered silicone tips – vents keep the pressure equalized on both sides to keep them snug
4.5 hours of listening time

And if you are an Apple user to the core, it's hard to pass up the ease of cross-use between all of your products…such as asking Siri through your earphones to play your favorite song. For many this is probably worth a decrease of listening time (4.5 hours) as compared to some of the others on this list.

These are the earphones my husband has and I'll be honest, I'm jealous. I might have to snag them for a run of these days when he's not looking. Though I do like wireless earphones, I would love to be able to only run with one earbud. Not only do these allow that, but how little they're able to be seen when they're in your ears is also nice. Anyway, he loves them and runs with them several times a week.
Features to love about the Samsung Galaxy Buds+ Plus:
Another great pair with long battery life – up to 11 hours
3 minutes of charge gives 1 hour of playtime
external and internal microphones ensure your voice is heard and to filter outside noise when on phone calls
3 different sizes of eargels make for a customized fit
Choose from four different colors: black, white, red, and cloud blue
Something else that you have on these earphones that you'll see on some other comparable models is the tap controls on the sides of the earphones. This makes it super simple to receive calls, jump to a new song, etc.

The Aftershokz brand is the anomaly in this group of earphones in that they look much more like headphones than earphones. But, they're really in a class of their own. The reason they're included here is they're a great pair to have without having to worry about anything falling out of your ears. Additionally, they use bone conduction to hear your tunes, making them a safer alternative to (double) earphones when running because you'll be much more aware of what's going on around you.
Features to love about the Shokz OpenRun Pro Open Ear Wireless:
Bone conduction technology delivers sound through your cheekbones
Ears remain open to surrounding sounds – great for running safety
Choose among 4 color options: black, grey, navy blue and red
lightweight wraparound headband stays comfortable through extended wear
repels sweat and moisture
eight hours of continuous listening
work well on phone calls
I received a pair of the 8th Generation Aftershox Aeropex (the previous name of these headphones) for Christmas and I cannot tell you enough how much I love them for running! The sound quality is great and I can still hear traffic around me or know when cyclists are coming up behind me on the trails. I've worn them for long runs up to 16 miles!
Want to know more about how bone-conduction technology works? Read this article from The Sound Guys.
If you are a triathlete and need a pair that can also go in the water, try the OpenSwim, featuring four gigabytes of MP3 storage!
If you are distance runner, heavy sweater, or often find yourself stuck out in the elements, these earphones are perhaps just what you are looking for. As the only pair on this list that is completely waterproof and sweatproof, you can feel confident that they'll stay put and continue working out well no matter what.
Features to love about the 2nd edition of the Jaybird Vista True Wireless Waterproof Earbuds:
fully waterproof, sweatproof, earthproof, crushproof (military-grade durability)
6 hours of sound on a full charge
5-minute quick charge gives 1 hour of playtime
incredibly small and lightweight for a low profile
3 sizes of ear buds included so you can get secure fit
high quality stereo sound for both music and calls
stay aware of surroundings with "Surroundsense"
And if you're concerned about losing your nice pair of earphones because you know your track record of being able to find things when you need them (that would be me over here), you'll love the "Find My Buds" capability through the Jaybird app.
The truth is that running gear can add up, earphones included. Often times we get what we pay for, and less expensive earphones may not stand up to the competition. But staying within your budget is important, and luckily, there are some pretty well-rated earphones out there that won't break the bank. This pair from Otium looks similar to the PowerBeats above.
Features to love about the Otium Bluetooth Earphones:
1.5 hours of charge gives up to 9 hours of listening (240 hours in stand-by)
3 different sizes of eartips
comfortable earhooks will allow the earphones to stay put during your runs
noise suppression technology gets rid of static and outside noise
upgraded sound quality
IPX7 rating makes this pair waterproof
If you're looking for a pair of earphones that won't fall out of your ears (with a price tag that's easy on the eyes), these would be a great option.
How to Keep Your Earphones from Falling Out of Your Ears on a Run
Ultimately, the best way to keep your bluetooth earphones from falling out of your ears is by getting the fit right from the get-go.
You should definitely buy a pair that offers size customizability through different sizes of ear gels. The ones that offer earhooks such as the PowerBeats, offer secondary reinforcement to help those earbuds stay put and the Aftershokz have a stay-put universal fit. I recommend finding a pair with a good return policy in case you just can't get yours to fit right. Earphones can be expensive, and you want to ensure you have a pair that are so comfortable on your run that you forget you're even wearing them.
Looking for other top recommended running gear? Read:
Best Running Sunglasses for Small Faces
Top 10 Marathon Runner Must Haves
5 Best Ways to Carry Your Phone While Running
*As an Amazon Associate, I earn a commission from qualifying purchases.