Running when it's freezing isn't most people's idea of fun. But as we runners know, the training can't stop just because it's cold outside. Instead, it's important to find the gear that keeps you comfortable while you brave those frigid temps. If you're considering skipping the gloves and mittens for cold weather running, there's a good chance you'll be sorry.
So that you don't make the mistake of trying to go for miles with bare hands, I've put together this list of eight of the best winter running gloves and mittens your running budget can buy.
Here are the seven running gloves and mittens I'll cover in this article:
1.) Best Glove/Mitten Combo: Lululemon Hooded Gloves Men and Women
2.) Best Mitten/Fingerless Convertible: TrailHeads Power Stretch Convertible Mittens Men's and Women's
3.) Best Reflective Running Gloves: ReflecToes Touchscreen Reflective Running Gloves
4.) Best Running Mittens: Trailheads Convertible Zip Mitts for Men and Women
5.) Best Touchscreen Running Gloves: New Balance Lightweight Touchscreen Running Gloves
6.) Best Very Cold Weather Running Gloves: Outdoor Research PL400 Sensor Gloves for Men and Women
7.) Best Waterproof Running Gloves: OZERO Winter Thermal Gloves for Men and Women
I'll cover each pair in depth so you can get the best pair of gloves or mittens to align with your area's conditions. Before purchasing a pair you'll want to know what to look for, find out when it's best to wear gloves or mitten for running, as well as get the answer to the question…gloves or mittens?!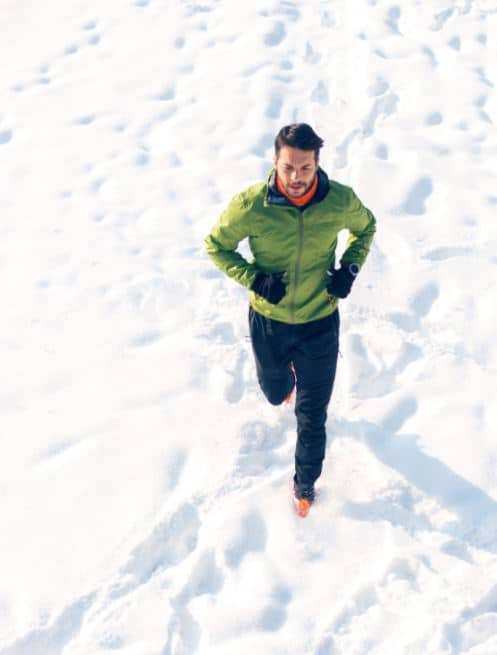 Are gloves or mittens better for cold weather running?
It's true that sometimes all you need is a simple pair of inexpensive, touchscreen gloves like these ones. A thinner pair of gloves (even those dollar-store ones!) are perfect for taking the cold edge off and easy enough to hold or stuff in a pocket when your body warms up.
But that's not really what I'm talking about here. I'm talking about those COLD running days…like temperatures 32 degrees and below. Much colder than this and those cotton gloves just don't really cut it.
But should gloves or mittens be the go to when it gets below freezing?
When it's colder, it's generally best to opt for mittens. This is because it allows your fingers to be all together which generates more heat than when they are separated by their own pieces of fabric. With that said, this is only true if everything else is the same. So if the gloves and mittens are the exact same fabric (outer and inner), and the they're both properly-sized, than the mittens will be warmer.
But that doesn't mean you can't find really warm gloves. And sometimes, the extra dexterity that gloves give makes finding a great warm pair worth the extra work. I'm not sure claustrophobia for hands is actually a thing, but I feel like I might have that and maybe you do, too.
This list has both, including a couple great convertible pairs, too.
Why You Need Gloves or Mittens For Cold Weather Running
When it's really cold outside, your first thought is probably to grab a coat or vest to keep your core warm. And while you definitely should, you don't want to forget about keeping your fingers and toes warm, too.
When your body gets cold, its first reaction is to send blood and warmth to the essential organs in the chest and abdomen first, according to Medical News Today. This makes sense of course as it's our body's way of keeping us protected against the elements. So for sure grab that jacket or vest to do your part to protect this important part of your body, but that doesn't mean you want to skip the gloves/mittens or warm socks. If you do, you'll be mighty uncomfortable and likely cutting your run short to head back home.
When should you wear running gloves or mittens?
It's best to wear running gloves or mittens once it gets below 40 degrees. As you warm up you can always take them off if they get too hot. Any temperature below 30 degrees and you should always opt to wear running gloves or mittens to stay comfortable on your run and keep your fingers from getting too cold.
What to Look for in Cold Weather Running Gloves and Mittens
Mittens Vs. Gloves
So, we covered this. If it's really cold and you don't mind not having great use of your fingers, go for the mittens. But there are awesome pairs of running gloves that will keep your fingers warm, too.
Waterproofing
Many gloves are either water-resistant and you can even find some that are completely waterproof. Well, you can find a lot of gloves that are completely waterproof, but that doesn't mean they're going to be great for running. For example, a pair of bulky ski gloves aren't going to be a good choice here. Instead, if you live in a really wet and cold climate, be on the lookout for a thinner pair of waterproof gloves. For most of us, water-resistance will be plenty fine even if you're running in a bit of snow.
Touchscreen Compatibility
I think most of us are running with our smartphones these days. With plenty of great ways to hold them, as I discuss in this article, it's usually a no-brainer to head out with our phones so that we can stay safe (and have access to our favorite music.) This means having a pair of gloves that allow you to answer a call or scroll through to find our favorite song comes in super handy. Just be sure the touch-screen compatible gloves that you're using fit well, otherwise the cumbersome fabric will negate this great feature.
Fit
Paying attention to sizing is important when it comes to running gloves and mittens. If you have too much excess fabric, the gloves won't keep you as warm as they should. And if you end up with a size too small, you'll just end up yanking on them to keep your wrists covered and that's just going to annoy you. A little big is better than too small, but finding the perfect fit is ideal. Most gloves and mittens have a size chart, so use that to your advantage (and be ready to do a quick hand measurement, too.)
Dexterity
When it comes to dexterity, or how easy it is to move your fingers around, clearly gloves will be better than mittens in this category. If you want to be sure that you can move your fingers around easily and perhaps tie your shoe or adjust other clothing you'll want a pair of gloves with the least amount of bulk. You're going to end up sacrificing a bit of warmth if you choose a thinner glove but if the temperatures you're running in aren't too cold this could be a great choice.
Reflectivity
Will you be running before dawn or after dusk? Wearing as many reflective elements as possible while running in the dark is crucial for your safety which I cover in my article, "Is it safe to run at night? Tips and Gear for Running in the Dark." Plenty of gloves have great reflective elements making them perfect for cold running at night…in this case, the more the better.
7 Best Running Gloves and Mittens for Cold Weather
I highly suggest using a pair of gloves or mittens that are specifically designed for running and/or other similar outdoor sports. With so many great running-specific or outdoor gear companies, there are lots of options to choose from. I've narrowed down that list with 7 of the very best.
1.) Best Glove/Mitten Combo: Lululemon Hooded Gloves Men and Women
Deciding between gloves and mittens can be a tough decision, especially when you want the dexterity of a glove, but the warmth of a mitten. So why not have both? I love that I discovered this style years ago to gift to my husband (his were Saucony – similar to these). They provide the perfect amount of warmth for cooler days, are easy to pull the mitten back and tuck in when not needed, with little bulk. If they're great for us in these cold Colorado winters, chances are they'll work great for your cold-weather running needs, too.
I'm loving my new pair for winter running from Lululemon!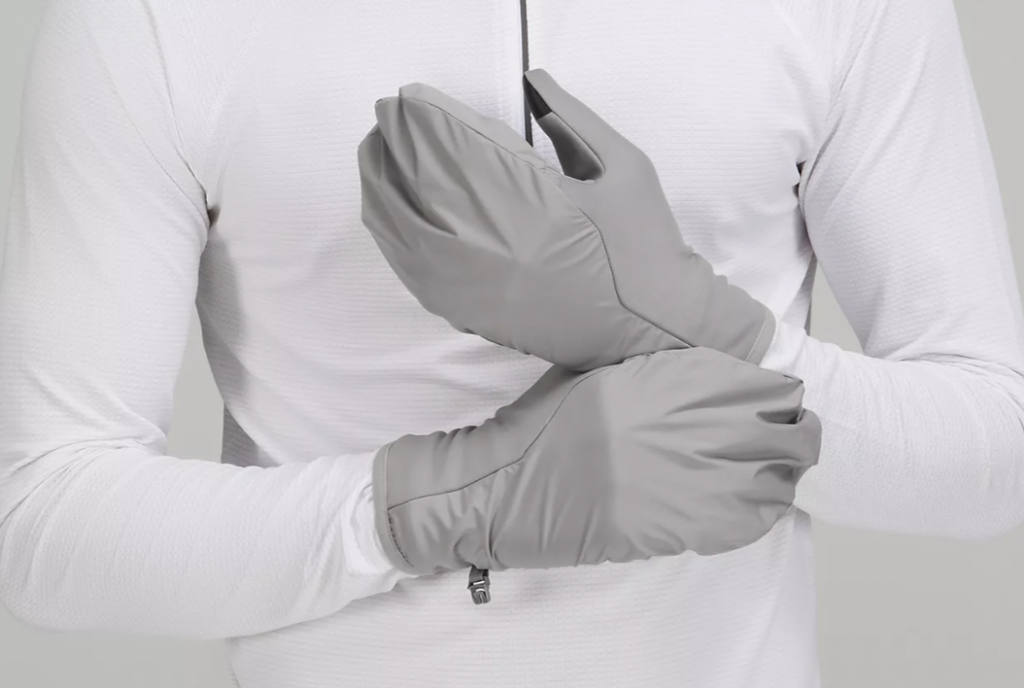 Features of the Lululemon Hooded Gloves include:
Can be used as gloves on cool days and mittens on the coldest of days
Wind and water-repellent outer mitt for weather protection
Specifically designed for running
Pocket for the mitten is used for easy stowing when not needed
Touchscreen compatible on texting finger and thumb
Reflective accents are perfect for visibility in low light conditions
Soft fleece thumb is great if you need to wipe your nose (ok so this sounds gross, but when your nose starts running I promise you will use it)
Machine washable for easy care
2.) Best Fingerless/Mitten Convertible: TrailHeads Power Stretch Convertible Mittens for Men and Women
If you want the warmth of a mitten, but want the use of your fingers when necessary without completely taking your gloves off, these are an excellent way to go. Lack of dexterity is something you normally have to give up in order to have the warmth of mittens, but the convertible design of these means you won't have to. Don't you love when companies just think of everything?!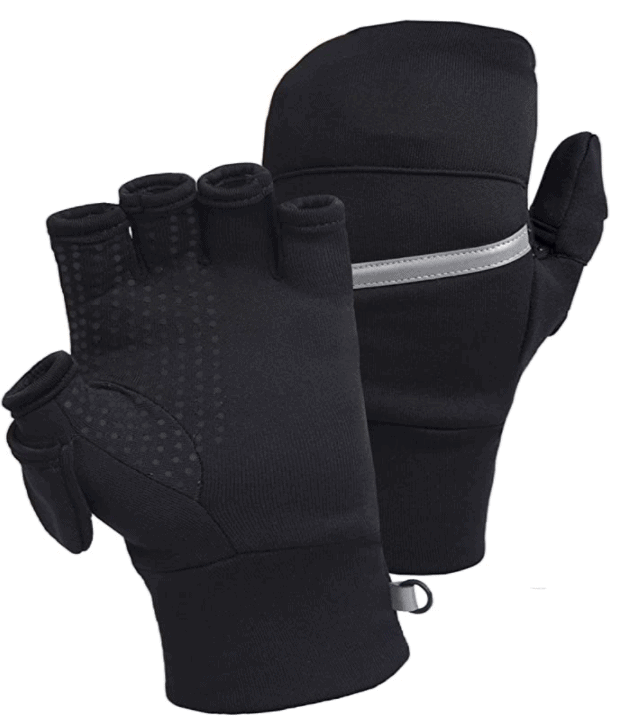 Features of the TrailHeads Convertible Mittens include:
Versatile style means you can switch between mittens and fingerless gloves with ease
Stow the mitten in its pocket when not in use
Made from Polartec Power Stretch Pro Fabric make these perfect for aerobic activity in cooler weather
Thumb tops are separate and stay in place with an easy to use magnet
Reflective stripe for better visibility at night
Maybe it seems like overkill to have fully reflective gloves when you already have other reflective running gear you're wearing, but for anyone who runs at night, you know you can never be too careful. Not only is it important to to be able to see, but perhaps it's even more important to be seen. Check out my other night running gear here, and don't forget the reflective gloves when it's cold.
Features of the ReflecToes Reflective Unisex Gloves include:
Made of top-quality thermal materials
50% of the gloves are made from highly-reflective material for great visibility in low light
A quick wave enhances safety to catch the eye of drivers
Offer lightweight warmth for great dexterity
Soft, fleece lining
Touchscreen compatible technology makes for easy smartphone use
Three great color choices means you don't have to just go with boring black
If you need full waterproofing, I recommend trying the reflective cycling gloves from the same company.
4.) Best Running Mittens: Trailheads Convertible Zip Mitts for Men and Women
If true mittens is what you're after, look no further than these from Trailhead. (And if you haven't yet tried mittens over gloves for cold weather running, I highly suggest you do!) Mittens keep your hands incredibly warm, especially when they're made well.
These are especially awesome because you just have to unzip them to free your hands. And everyone knows it's not convenient to completely take a mitten off and tuck it somewhere when you need to use your hand, so these are super "hand"y! If you'll be running a lot in very cold weather, these are a fantastic bet.
Features of the Trailheads Convertible Zip Mitt Mittens include:
Windproof and water-resistant
Primaloft insulation keep your hands very warm
Zip open so you can use your fingers or hands
Long cuffs protect your wrists from the cold
Eco-friendly by using recycled polyester construction
Reflective detailing
For a great budget mitten option for women, check out the Trailheads Touchscreen Running Mittens. I have these and they are fantastic! And if you live in an extremely cold place and need the warmest of the warm, check out the heavily insulated Hestra Moon Mitt, a high-quality brand that only makes the best of the best of gloves and mittens.
Many gloves have smartphone compatibility, but if there is any bulk to them it can make actually using your phone correctly a bit tough. Though I would say to opt for the bit thicker gloves anyway if you'll be running in colder conditions, sometimes those 20-30-degree temperatures don't need that extra material. In that case, opt for a thinner pair of gloves that allow you to use your phone with ease while still keeping your hands warm.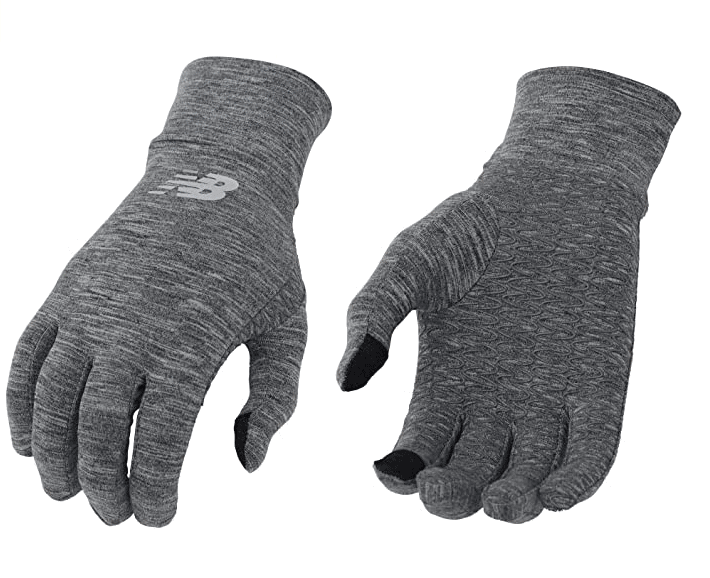 Features of the New Balance Lightweight Touchscreen Running Gloves include:
Touchscreen compatible thumb and index fingers on both gloves
Smooth fleece finish made from 95% polyester and 5% spandex
Come in four different colors including a high-visibility bright yellow
Easy pull-on closure
Grip on inside of gloves helps to hold your phone without dropping it
Made with antimicrobial properties to protect against odor
6.) Best Very Cold Weather Running Gloves: Outdoor Research PL400 Sensor Gloves for Men and Women
So there's cold weather running and then there's COLD weather running. Like, I'm not going to sit here and act like I know what it's like to run on the worst days of a Minnesota winter. I'm going to guess you put on whatever keeps you the warmest and don't care one tiny bit about how you look. But if you want to keep your hands toasty and you're not running in something crazy like sub-zero temperatures, give these gloves from Outdoor Research a try.
By the way, if you haven't tried OR products, they are top-notch. I don't know what I would do without my Outdoor Research jacket for winter marathon training!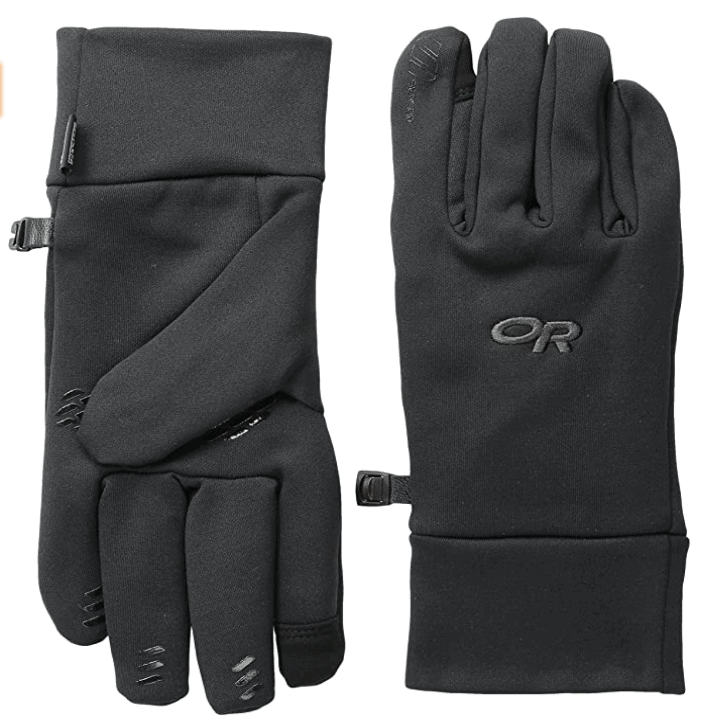 Features of the Outdoor Research PL400 Sensor Gloves include:
300-weight fleece and 100-weight fleece liner (this is wear the "400" in the name comes from)
Breathable, Wicking, and Quick-Drying Fabric
Silicone grips make it easier to hold onto items
Touch-screen compatible
Clips keep gloves together when not in use
*Keep in mind that these OR gloves aren't waterproof. Our next option is perfect if you run a lot wear it's both cold AND wet.
7.) Best Waterproof Running Gloves – OZERO Winter Thermal Gloves for Men and Women
Not only will the following gloves keep your hands completely dry when it starts to rain, sleet, or snow, but they're also an incredible value if you're on a budget (I mean, aren't we all?!) The insulate cotton, windproof polyester, and waterproof TPU outside will make sure your hands stay toasty and dry during all of your winter running.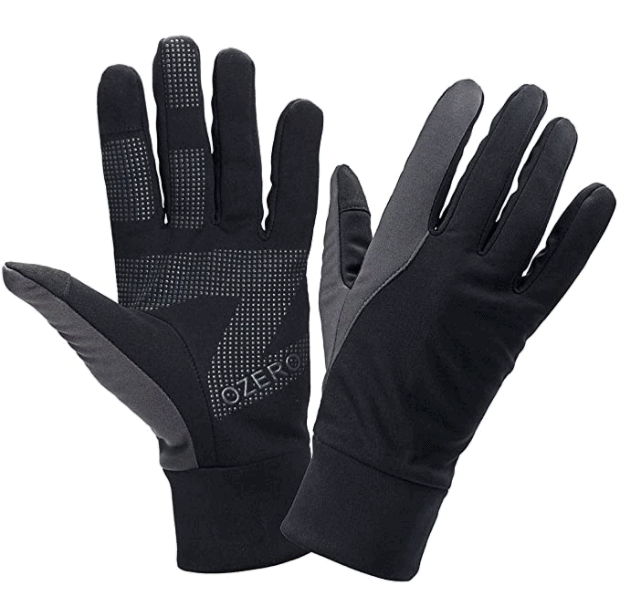 Features of the OZERO winter thermal gloves include:
High-quality water resistant shell combined with a waterproof TPY component means you can be confident that your hands will stay dry
Silicone grips mean you can have a better hold on your phone, etc. while running
Coated with conductive fabric makes them compatible with touchscreens
Easy pull-on closure
Work best above 14 degrees
Size up one for the best fit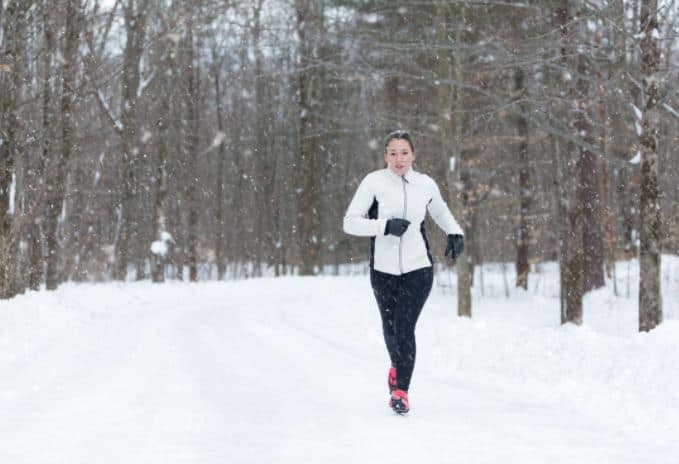 Other Tricks for Keeping Your Hands Warm While Running
Where I live in Colorado, I mostly get sunny weather running days in the winter even if it's cold. But every once in awhile, those single-digit and cloudy days come my way and I decide to brave it instead of opting for my treadmill. Chances are you have those days, too, and may need a bit more warmth than what your gloves alone can give you.
These are small and will fit well inside most gloves. The great thing is that you can start with them inside when your hands are colder and then ditch them in a trashcan or stuff them in a pocket when (if) your hands warm up.
If it is cold, I'm not leaving the house without a shirt that has thumbholes. What I love about these with gloves is that then there is no gap where your skin might end up showing. They even have shirts with watch windows so that your miles and pace are always in view, too. I just got this one and I love it!
And if you do find yourself out on a run without gloves or mittens (and you wish you would've brought them) these kinds of shirt usually have long enough arms where you can ball up your hands and wrap them around the outside.
Really thin glove or glove liners can be used inside of another gloves as long as there is enough space. If it is frequently very cold wear you live, you may want to consider using a glove liner along with a pair of mittens.
And when all else fails, just reach for your super bulky ski gloves and go. You'll just be happy that your hands and fingers are warm that you'll forget how silly you might look. (Plus, you're putting in those miles and that makes you simply amazing!)