Nothing kills a run faster than a pair of fogged up sunglasses that keep sliding down your face. Maybe that sounds dramatic, but finding a pair of running sunglasses that you can just pop on and forget about can be a gamechanger. I have a small face, so many sunglasses don't work for me on a run.
Turns out lots of runners have small faces and heads…imagine that! In order to make the process go a lot faster for you to find a pair that fits just right and makes you look super cool at the same time, I rounded up some small framed running sunglasses that will give you just the edge you need on a run.
Here are the top 7 running sunglasses for small faces that I'll cover in this article:
Best Overall Sunglass: Tifosi Swank in Polarized or Non-Polarized
Best All Polarized: Knockaround Classics
Best Sporty Style: Tifosi Wisp
Best Eco-Friendly Design: Smith Lowdown Slim 2
Best Splurge: Roka Rio Titanium
Best Budget: Goodr OG
Best Youth Frames (That Easily Pass for an Adult): Oakley Youth Holbrook

What to Look for in Running Sunglasses
Just because our faces may be a bit smaller than the average human's doesn't mean we need to sacrifice the characteristics that make for a great pair of running sunglasses. And I think the sunglass companies finally figured out they were missing out on a big chunk of the population with just a one-size-fits-all approach because there are SO many great options available now.
So here's all you'll want to consider when making your sunglasses choice:
Size
We'll start with the obvious here and get it out of the way. If you're reading this, then you likely have struggled already with the size issue. When sunglasses are too big, they'll slide right down your face. Not good for everyday wear, and definitely not good for running.
Buying online can be tough but sunglass companies will often have a size guide on their website or will designate a pair of glasses as a good fit for a certain size head.
Be on the lookout for sunglasses that fit a "small to medium head." Don't discount youth sunglasses if you like the look – for your small face these just may give the perfect fit.
You also want them to be snug enough that they'll stay on top of your head while you're running while the sun isn't out (I do this a lot)!
UV-Blocking
Don't buy a pair of sunglasses that won't offer full protection for your eyes! According to the American Academy of Ophthalmology, only about half of all sunglass wearers check to check the UV ratings of the sunglasses they choose before making a purchase. Don't let this be you! You want to make sure the running sunglasses you buy are labeled UV400 or 100% UV Protection. If they don't, that's a hard pass…not matter how good they make you look on your run.
You don't have to pay a lot to get 100% UV protection – every pair on this list offers this!
Skin protection and eye protection go hand in hand from the sun's harmful rays. Don't forget the sunscreen! Read: Best Sunscreen for Runners to Keep You Safe Through Sun and Sweat
Polarization
For a long time I assumed polarization meant more protection for my eyes, but my eye doctor finally set me straight! Though polarized sunglasses can be great for reducing eye strain and discomfort in bright sunlight, they don't protect from UV-blocking rays. Polarization is simply a filter in the lens that cuts light on a horizontal plane as a way to reduce glare. In other words, it helps you see better. If you don't like to squint while running and live in an extra sunny area (such as over a mile above sea level like where I'm at in Colorado), polarization could be a good choice.
However, SportRx doesn't recommend polarized sunglasses for trail running where there are a lot of hills because it can affect your depth perception.
Anti-Fog
Not much can kill your run faster than a pair of foggy sunglasses (unless you went out to fast and are dragging yourself to the end…that's probably worse). The best way to avoid this is to buy anti-fog sunglasses.
You can also buy something called "anti-fog treatment" that can clear this problem right up if you find that your sunglasses still can't keep away the fog (for those in high humidity areas – this could be great to have for back up.)
Slip-Resistant
Getting the perfect frame fit will help drastically with the slippage factor, but that's not all you need. Recently I was in a rush to get out the door for my run and grabbed my pair of "fashion" sunglasses in a pinch because I couldn't find any of my 3 pairs of running sunglasses (I know, I know). Well even though those fit me great for driving in my car, as soon as the smallest amount of sweat hits the nose bridge, they slowly start sliding down. It was a reminder to me how important it is to have a pair of running sunglasses!
The most slip-resistant sunglasses will be made from a slip-resistant material, have a special grip coating, or have nose pieces put in place for that very purpose. This is EXACTLY why those cheap and chic Target sunglasses will never work for running.
If you end up with a pair that ticks all the boxes except for this, you can give Nerdwax for a quick anti-slip coating.
Style
So maybe chic and running don't typically go together, but you still want to look cool right? I love this line from one of the Goodr creators, "One day while on a run, I happened to catch a glimpse of myself in a car mirror looking the biggest toolbag you could imagine, and I passed out." He goes onto mention "lame performance sunglasses" which is how I would describe running sunglasses of the past, as well! Now there are so many fun styles that help you look supercool while getting all those miles in. You really CAN have both!
Durability
There are some pretty awesome sunglasses out there these days for an excellent price. But you need to do your research because sunglassess that cost significantly less too often end up broken if you're not extra careful with them. And runners are notorious for tossing their sunglasses in their car, etc. so just be sure the pair you get can withstand what you're going to put it through. Paying a little extra for a pair that lasts makes for a more economical (and eco-friendly) choice in the long run.
7 Best Running Sunglasses for Small Faces
As someone with a small face myself, I know how hard it can be to get the perfect fit. But since there's a lot you'd prefer doing with your time than running around tyring on a bunch of pairs of sunglasses, I've narrowed down the list to these top 6 – with the range of choices you're sure to find a pair you love that comfortably fits around your small noggin.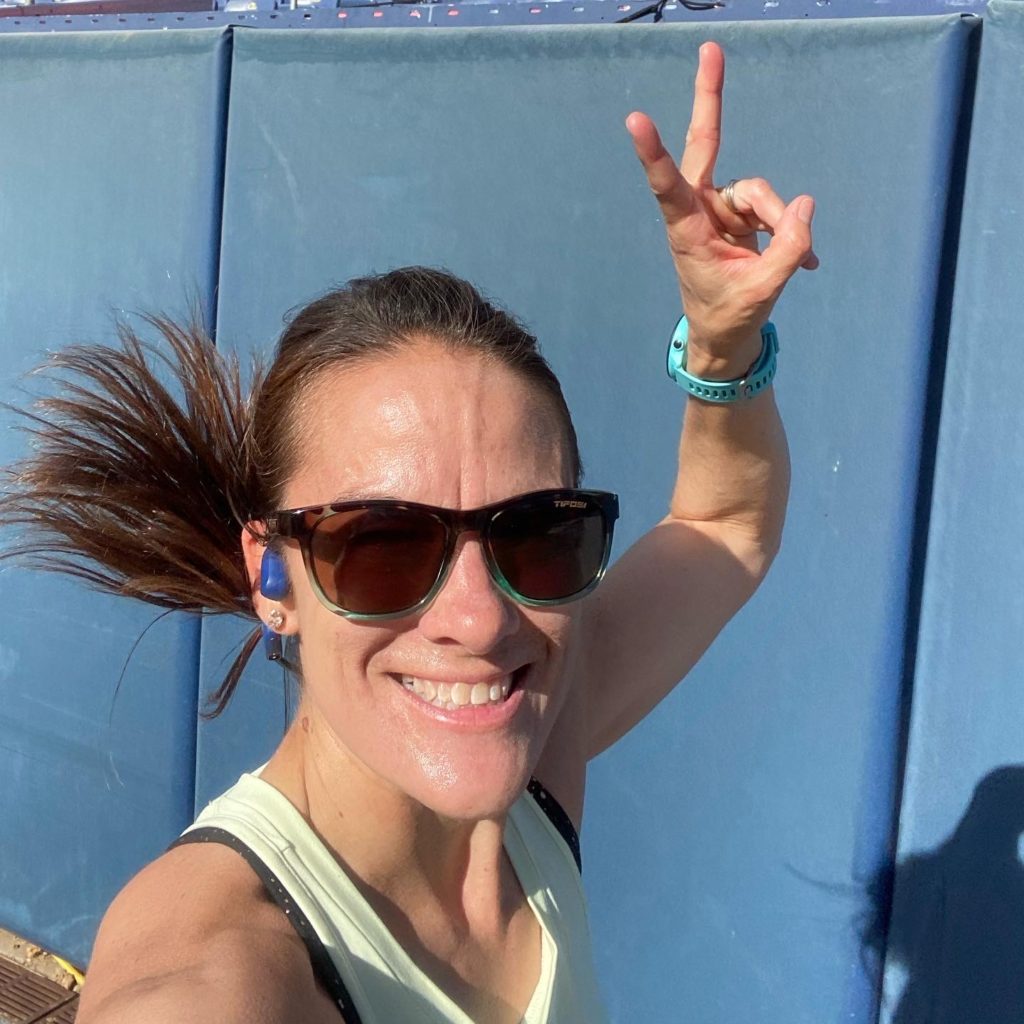 For so many years, I was wearing just about the nerdiest sunglasses there probably ever were. But they fit my small head and I could never find anything that fit as well. Luckily there are so many options out there now – even those will small faces can find an awesome pair of sunnies that won't slip and slide. My current favorite are the Tifosi Swank. I sprung for the polarized option (for a more crisp view in sunny CO) – they fit perfectly, I love the color and are shatterproof and scratch-resistant. This is what I need since I pretty much just throw my sunglasses around and expect them to continue looking great day after day. These do that!!
Top features of the Tifosi Swank:
Lens width: 51mm
Optimal fit for small to medium profiles
100% UVA / UVB protection from UV Rays
Nose pads that grip
RX available – I'm personally a contact lens wearer so though I don't need this, as someone who has pretty poor eyesight, I love that this is available
Super lightweight yet durable enough to withstand a high impact
Price is right! You can easily justify multiple pairs of these at the low price point; even the polarized pair is just a smidge over $50
Unisex – too many color combinations (lens and frame) to count means you'll find exactly the one that's right for you
We want UV protection, polarized to reduce glare, low pricepoint and cute…is that too much to ask?! I don't really want to sacrifice quality either…so this can be tough to find. But I'm just amazed at the awesome pairs of running sunglasses available now at a great price, including these from Knockaround. Plus, they are super fun keeping your fashion while running on point – I had a hard time choosing which color to purchase!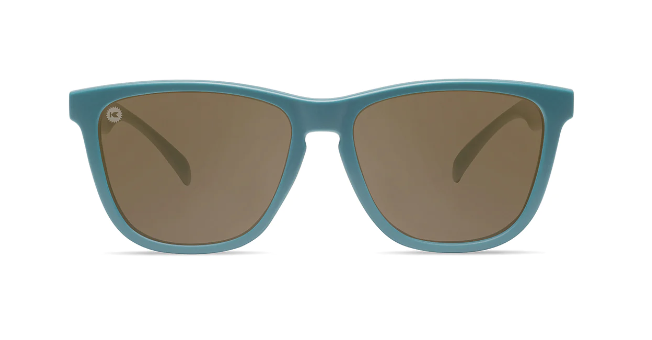 Lens width: 49mm Lens
Polarized to reduce glare and eye strain in the sun
UV400 – count on 100% UV protection
Rubberized frame stays put
Comfortable and form-fitting
Lightweight – made from polycarbonate material
Impact resistant lenses
For small to medium head size shape
Though they don't say they are for running, I'm tempted to try the Seventy-Nines because they're just so dang cute…and inexpensive!
3.) Best Sporty Style: Tifosi Wisp
If that sleek, sporty style people typically associate with fast-paced runners is what you like, the Tifosi Wisp is a great option. Plus, they have that wraparound style that helps them stay in place no matter what.
Many reviewers with very small heads/faces said this was finally the pair that worked for them after trying many others (and the website states they offer an extra small to small fit). If you've been a wild goose chase finding a pair of running sunglasses that fits snugly enough, I'd for sure give these a try.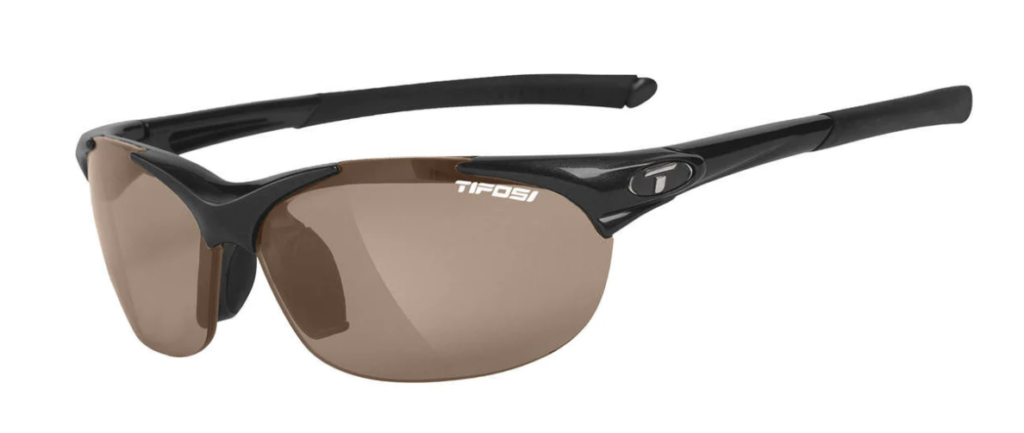 Top features of the sport Tifosi Wisp include:
Lens width: 63 mm (wrap styles will be larger but still fit a small face)
Shatterproof polycarbonate lenses – eliminate distortion
Some pairs come with multiple lenses – great for mixing it up or for different activities (be sure to check the description as some only come with one option). You can also purchase different lenses to change out for different outdoor activities.
Polarized and Nonpolarized – The Wisp offers both options depending on which you choose
Adjustable hydrophilic rubber ear and nose pieces – this means they'll stay in place!
Lightweight – on your face or on top of your head you'll forget they're even there
The Smith Lowdown Slim 2 sunglass frames are incorporated with 53% bio-plastic Rislan Clear (a renewable resource derived from non-GMO castor seeds). This makes Smith one of the largest eco-friendly sunglass collections in the world.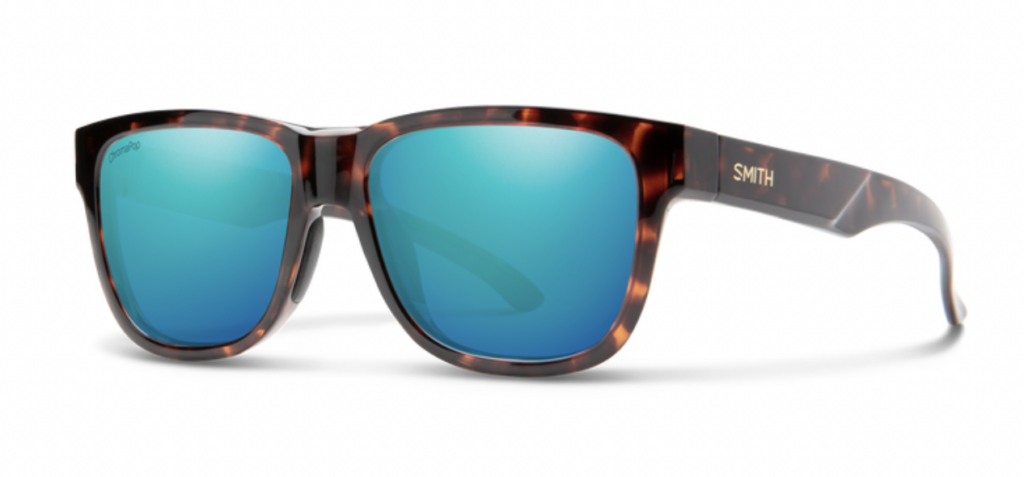 Top features of the Smith Lowdown Slim 2 incude:
Lens width: 53 mm
Unique ChromaPop lenses – enhance contrast and natural color for the best clarity (Learn more about the ChromaPop lens color differences here)
Water and Oil Proof Coating – Water will bead up on these lenses and won't leave streaks (great for those living in humid or rainy areas)
Eco-Friendly – made from 53% bio-based resin Evolve frame material and Megol (bio-based) nose pads
Gentle grip nose pads – grip increases when moisture comes in contact with them….how cool is that?!
RX Available
Small to medium-sized head shape – this is the slimmed-down version of the original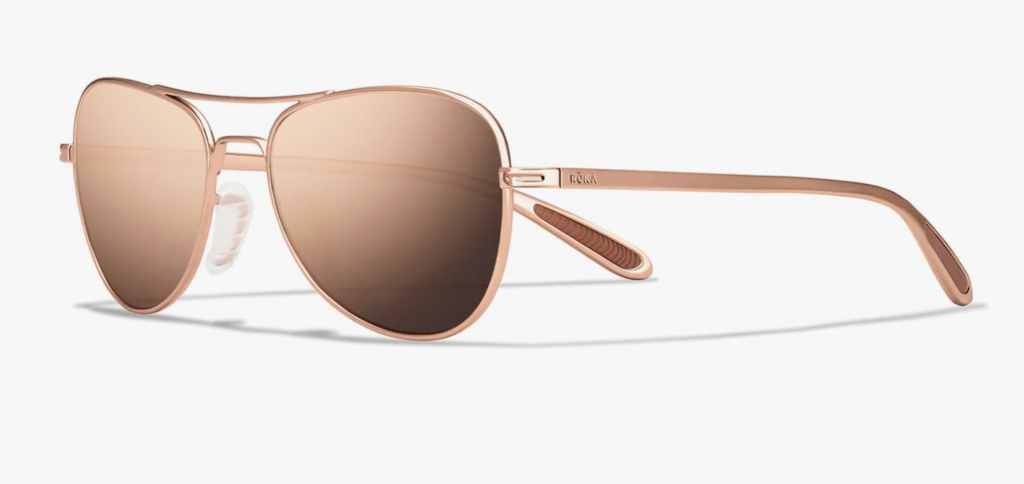 I know many people out there are more responsible with their things than I am, so if that's you, I would definitely check out Roka for running sunglasses. Out of all the sunglasses on this list, I would say these are the most versatile. Perfect for running, but can also be your all-day wear sunglasses for whatever you may have in store. Which definitely makes the higher price tag easier to swallow.
I have been eyeing these for awhile and they are definitely on my list, and I can prove to myself that I can care appropriately for my less expensive sunglasses, I may just have to take the plunge. If you want something that doesn't scream "I just worked out" during your post-run lunch, I'd definitely check these out.
Not your typical aviator sunglasses, here's what you can expect:
Lens width: 54 mm
"These won't fall off your face" – a big claim straight from Roka's website
Nylon lenses offer it all – optical clairty, anti-scratch, anti-fog, anti-reflectance
Various lens choices – From rose gold mirrored lenses for those ever-changing light conditions or the dark arctic mirrored lenses for the most bright and sunny conditions, you'll be able to find what you need
Designed by Athletes for Athletes – the most serious runners will know they're getting the best!
Patented GEKO fit and retention system – the hydrophilic nose and temple pads give even more grip when they come into contact with moisture
Ultra-lightweight
Extremely durable – withstands to high stress you'll put them through
When Santa put these in my stocking one Christmas, I was so excited! These are such a great price point, iso t's hard to pass these up even if it has to be with your own hard-earned cash and not Santa's. And if you are a frequent loser of sunglasses (like me…oopsies), a budget pair is always a good idea.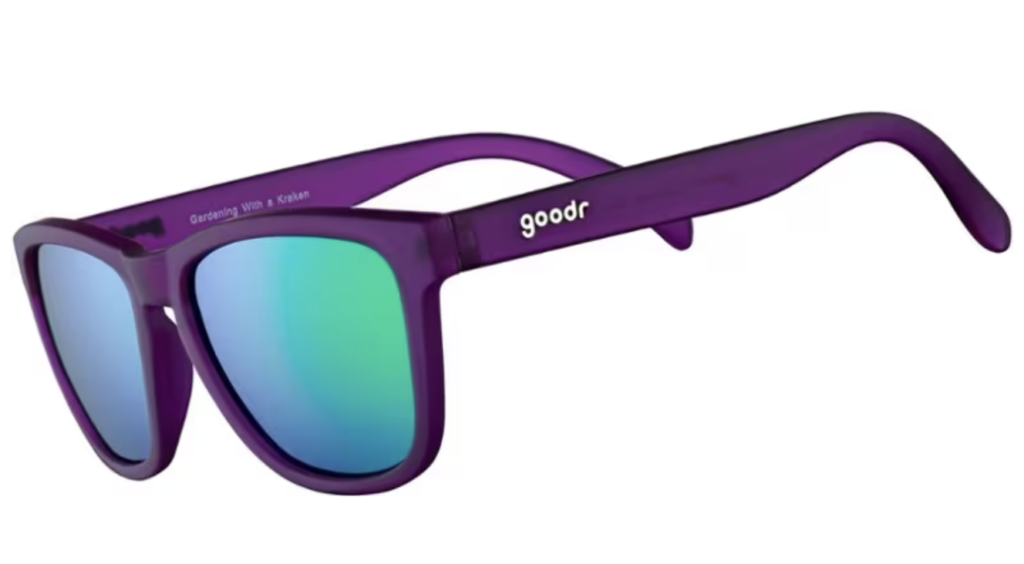 They really nailed it with these running sunglasses (and that's exactly what they were made for). This style was made for both men and women and work perfectly for anyone with a small to medium head size. The color choices seem almost endless, and they seem to be coming out with new patterns and colors all the time. Can't say enough good things – these will take you through all the miles without a hitch!
Lens width: 53 mm
No-slip, no bounce – These are coated with a unique material that make them stay put on your face
Every pair is polarized – to reduce glare
Complete eye protection blocking 100% of UV rays
Offers a One-Year Warranty – It's nice to know you can get a replacement pair if something happens to yours. However, if it's just the lenses that are cracked or scratched, they will send you a pair of replacement lenses (to be more environmentally-friendly)
Featherweight – forget you're even wearing them
And for the XS head…if you still are struggling to find a pair that works, there's no shame in buying a pair of kid sunglasses. With sweet pairs like the Oakley Youth Holbrook, no one will be the wiser. My husband had a near identical adult pair (until they fell down a storm drain – RIP expensive sunglasses) and he looked damn good in them, running or otherwise.
Bottom line, if you have a small head you might as well look to youth sunglasses that are often near 1/2 the price of the adult version. These are the time I consider myself lucky to be "fun" sized.
Top features of the Oakely Holbook XS include:
Lens width: 53 mm
100% UV Protection – as well as protection from harmful blue light
Impact Protection Lenses – designed to withstand whatever you put these through
Prizm Lens Technology – for superb clarity and razor-sharp vision
Stylish accents for a cool vibe
"Youth fit" – not just for kids! Perfect for anyone with a smaller face
Small face runners unite…who knew it'd be such a large community of us? Now go get your perfect pair of running sunglasses so you can enjoy the miles and look snazzy doing it.
*As an Amazon Associate, I earn a commission from qualifying purchases.