As a Colorado resident, I run at fairly high elevation and in a lot of sun. Because of that, I have to be extra vigilant about applying sunscreen. With at least 4 days per week of outdoor running, one of those sometimes upwards of 3 hours at a time, wearing sunscreen is vital to keeping my skin safe and healthy.
The fact is that you should be applying sunscreen every time you go out for a run. Cloudy days, sunny days, long runs, and short runs all require a good layer of sunscreen.
So, what is the best sunscreen for running? When you run, you sweat. And when you sweat, you risk losing a good deal of your layer of protection against the sun. The best sunscreen for runners is one that's high-quality and sweat-resistant that has safe ingredients so you can keep your skin safe and prevent burning.
Here are our top sunscreen and sunblock recommendations for runners:
Best Overall Sunscreen/Sunblock: Blue Lizard Sport Mineral-Based, SPF 30+
Best Mineral-Based Sunblock: Alba Botanica Mineral, SPF 45
Best Non-Mineral (Chemical) Sunscreen: Alba Botanica Sport, SPF 45
Best "Stick" Sunscreen: Banana Boat Ultrasport, SPF 50+
Best Spray Sunscreen: COOLA Organic Sunscreen Spray Unscented, SPF 50
Best Sunscreen for Face: La-Roche Posay Anthelios Dry Touch, SPF 60
Best for Lips: Burt's Bees All-Weather Moisturizing Lip Balm, SPF 15

In addition to always wearing a sweat proof sunscreen while you run, you'll also want to follow our other tips to ensure you're getting the protection you require against the sun's harmful rays.
What Runners Should Look for in a a Sunscreen
Everyone needs to wear a sunscreen or sunblock to protect themselves from the sun's harmful rays. But as a runner, your needs are different since you'll likely be sweating, too. Here's what to look for.
Sweat-Resistance – You don't need me to tell you that runners sweat a lot. However, no sunscreens are legitimately "sweat-proof." Instead you want to look for ones labeled "sweat resistant." Usually, these come in the form of a brand's "sport" or "active" line. The highest you'll find is 80 minutes sweat (or water) resistant.
SPF Number – SPF stands for Sun Protection Factor and it tells you how long it will take for the sun to redden the skin. For example, SPF 15 will allow you to stay in the sun without burning 15 times longer than if you weren't wearing any at all. As a rule of thumb:
SPF 15 protects from about 93% of rays
SPF 30 protects from about 97% of rays
SPF 50 protects from 98% of rays
No sunscreen will protect you 100%.
Broad Spectrum – You'll want a sunscreen labeled as "broad spectrum" which means it protects against both UVA and UVB rays.
Mineral Vs. Chemical Sunscreen – The main difference between these 2 is that mineral sits on top of your skin while chemical (sometimes referred to as non-mineral) is absorbed by the skin. Since mineral sunscreens essentially form a layer over your skin, they work by reflecting UV rays away from your skin. These are your "sunblocks."
Chemical sunscreens require a chemical reaction to keep the UV rays from affecting your skin. Mineral sunscreens are generally regarded as safer since chemical sunscreens are non-natural and not without risk. NPR published a great article that goes over this topic and reminds us that skipping sunscreen, however, is never a good option. These are your "sunscreens"
Though sunblock and sunscreen are technically different, most people use the terms interchangeably.
EWG Rating – If you have concerns over the safety of sunscreens and how they can affect your health, mineral sunscreens are the best way to go. However, the Environmental Working Group gives scores to sunscreens (for both mineral and non-mineral based) so that you can make an informed decision about what's best. 1 is the top rating a sunscreen can get, with anything numbered 1-3 being the safest.
Top Sunscreens and Sunblocks to Wear While You Run
In referring to recommendations from the EWG, as well as what I've personally used, I've rounded up the best sunscreens and sunblocks in each category.
As a runner, it's imperative that you're wearing sunscreen to protect yourself from skin cancer. According to the AAD (American Academy of Dermatology), 1 in 5 Americans will develop skin cancer in their lifetime. As an outdoor runner, that increases your exposure. Sunscreen also helps prevent premature aging.
If you're wondering if you can skip the sunscreen on your run, the answer is no.
Almost any sunscreen is better than none at all, but they're certainly not created equal – especially when it comes to withstanding the sweat that comes along with running.
Every sunscreen on this list is:
broad spectrum meaning that it blocks out almost all UVA and UVB rays (no sunscreen will ever be 10%)
paraben-free (parabens are believed to disrupt hormone function)
3 or lower on the EWG scale (with 1 and 2 being considered "low hazard" and 3 being the best in the category of "moderate hazard")
Additionally, you'll notice that all but one sunscreen on this list is SPF 50 or less. Most quality sunscreens won't have a number higher than that because according to the FDA, "there is not sufficient data to show that products with SPF values higher than 50 provide greater protection."
Best Overall Sunscreen/Sunblock for Runners
This is my favorite!
I have used Blue Lizard for my family for years. My oldest had a skin rash as a reaction to a chemical-based sunscreen when she was little, which put me on the search for a sunscreen. That of course led me down an entire sunscreen rabbit hole and found out that there's a big difference in sunscreen when it comes to safe ingredients. We started with Blue Lizard Baby (which our whole family used, by the way) and moved into their other sunscreens.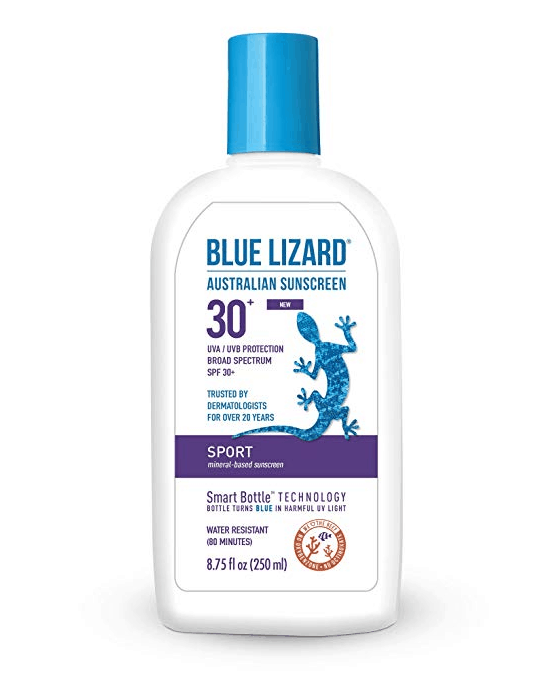 Water resistant up to 80 minutes
Broad Spectrum SPF 30+ protects from 97% of the sun's rays (both UVA and UVB)
EWG rating: 2
Fragrance-free means its good for all skin types
Something else I love about Blue Lizard is how the bottle changes color when it's in harmful UV light – leaving you no question whether you should be putting it on or not
Although Blue Lizard is a mineral sunscreen, it actually blends over skin really well without leaving a noticeable film. It works amazingly well, and the sport formula is perfect for runners breaking a sweat.
Best Mineral-Based Sunblock
Alba Botanica is another brand of sunscreen our family has used.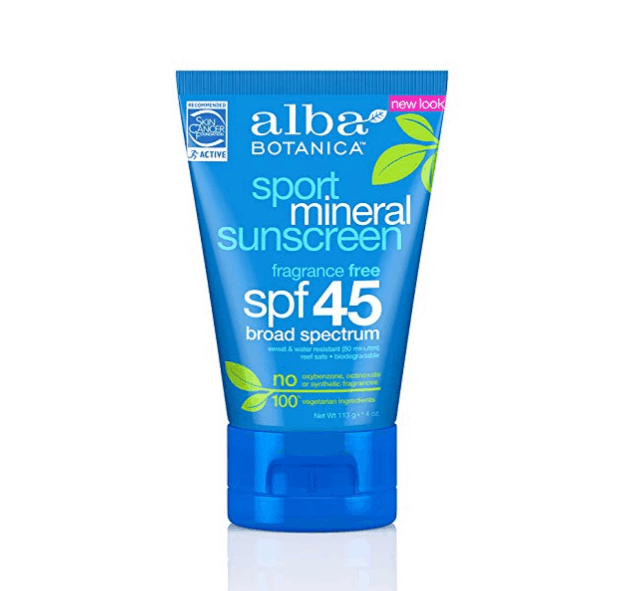 Water resistant up to 80 minutes
Broad Spectrum SPF 45
EWG rating: 2
Fragrance-free
smooth, non-greasy finish (though it takes some work to rub it in)
botanical ingredients
100% vegetarian
Since Blue Lizard isn't widely available in our local stores, I had to find another brand that I could pick up in a pinch. I like Alba Botanica almost as much as Blue Lizard and feel 100% comfortable using it with my family an on my runs. It takes a little more effort to rub it in, but you can tell your skin is full protected and that's what matters the most.
Best Non-Mineral Based (Chemical) Sunscreen for Running
If you want something that rubs into your skin better, you can choose Alba Botanica's non-mineral based version. As mentioned earlier, these work to protect you from the sun by creating a chemical reaction (as opposed to mineral sunscreen that simply creates a barrier).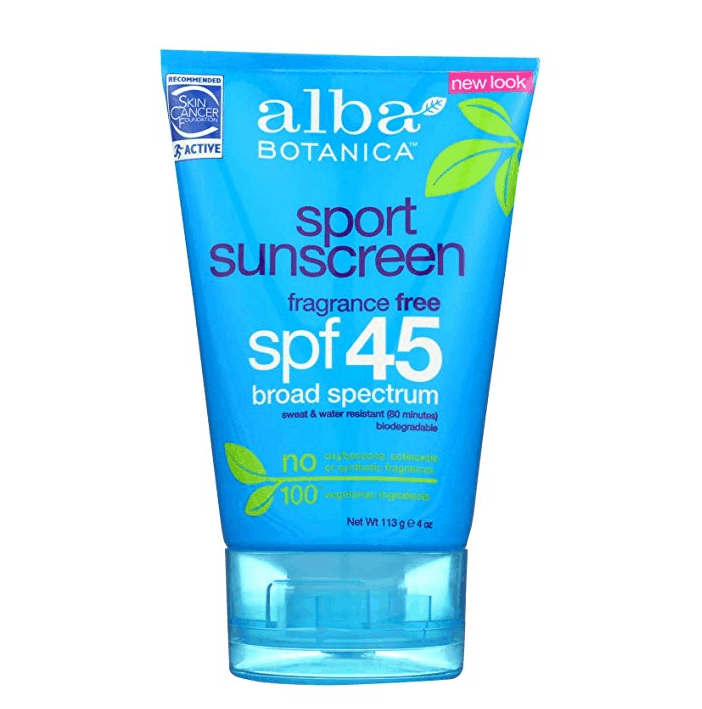 water resistant up to 80 minutes
broad spectrum SPF 45
EWG rating: 3
One reviewer loves how it "sinks right in!"
very emollient means it will also help soften skin
You can also find this brand in a SPF 50 spray.
The EWG rating is slightly higher than the mineral-based version, but it still poses a very low health risk. (Pretty much all of the chemical-based sunscreen lotions were listed as a 3 or higher.)
Best "Stick" Sport Sunscreen
If you don't want to take extra time to rub anything in, or honestly just want something quick and easy that you can reapply while out on your run, a stick sunscreen can be a great choice.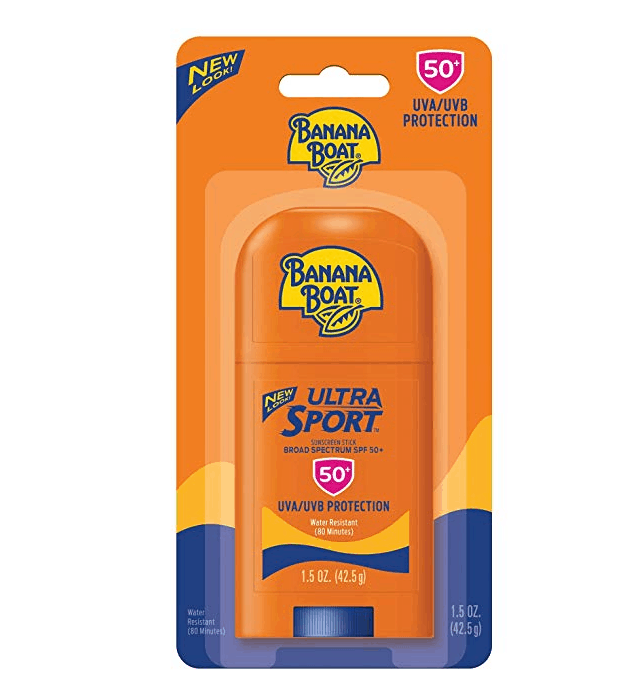 non-mineral
water resistant up to 80 minutes
broad spectrum SPF 50
EWG rating:
non-greasy feel and rubs on clear
convenient stick from for easy application
great for staying on through hot weather and sweat
If you've never used these before, you apply them like you would deodorant…but you can use them all over your body. With that said, I think lotions are MUCH better for all over body application, whereas this is better for smaller areas. I love to use these on my face to avoid lotion in my eyes.
Best Spray Sunscreen for Runners
Though I know that sprays aren't the best (due to the inhalation of particles that can occur) they are often the easiest to apply. Especially with kids. Though I do sometimes buy separate sunscreen for myself and running , in the end it's just easier to have something that works for everyone. That's because I want a bottle in the car, 1 in the swim bag, and at least 2 in my drawers at my home so that I know we always have it.
This spray from COOLA works great for both running and kids at play.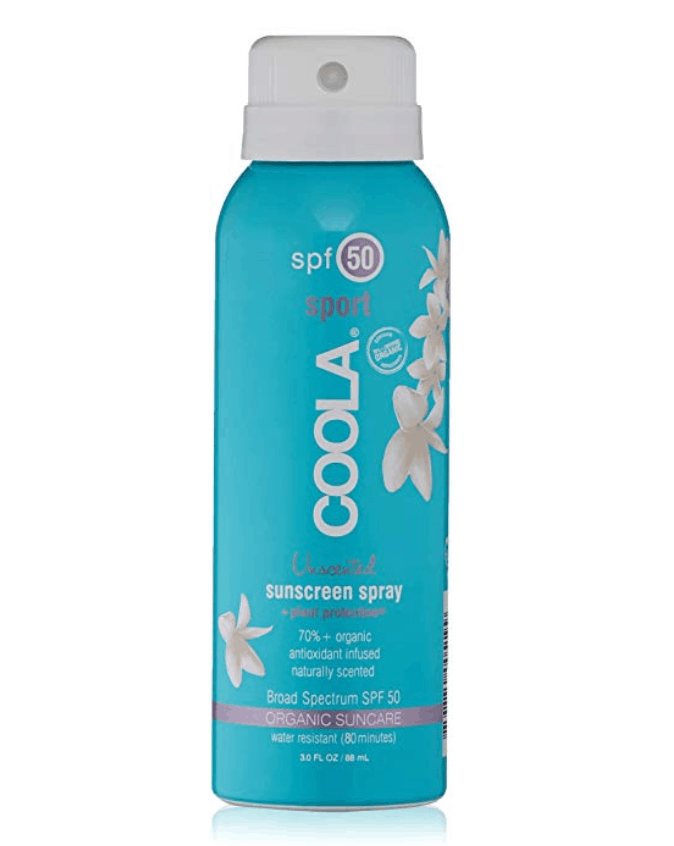 water resistant up to 80 minutes
broad spectrum SPF 50
EWG rating: 3
absorbs well without residue
holds up through sweat, swimming and sports
contains antioxidants like cucumber, algae, strawberry and red raspberry seed oil
EWG rating:
certified organic
EWG writes, "Sprays pose an inhalation risk and may not cover the skin completely." Therefore, do your best to avoid breathing it in and ALWAYS rub it in all over after the spray application.
Best Sunscreen for Runner's Face
Many people prefer to choose a separate sunscreen to use on their face. That's because facial skin can be more sensitive and some people are more prone to clogged pores which can be caused by sunscreens without a specialized formula to use on the face.
Water resistant up to 80 minutes
Broad spectrum SPF 60
EWG rating: 3
dry touch
oil-free and won't clog pores
formulated with Cell-Ox Shield technology
dermatologist recommended
suitable for sensitive skin
I am hesitant to use regular sunscreen on my face as I can be prone to breakouts. This sunscreen from La Roche-Posay goes on dry and stays that way as you sweat (I can't stand that feeling of my face melting away with the mix of sunscreen and sweat!) This is also great to use everyday since our faces are constantly exposed to sunlight.
Another option is Coppertone's Defend and Care. It also comes in a mineral-based version.
Best Lip Balm with SPF
Yes, runner, your lips need protection, too. Lip balm shouldn't be just about making your lips softer, but also protecting them against the sun's harmful rays. I have been a long-time user of Burt's Bees Lip Sunscreen and highly recommend it!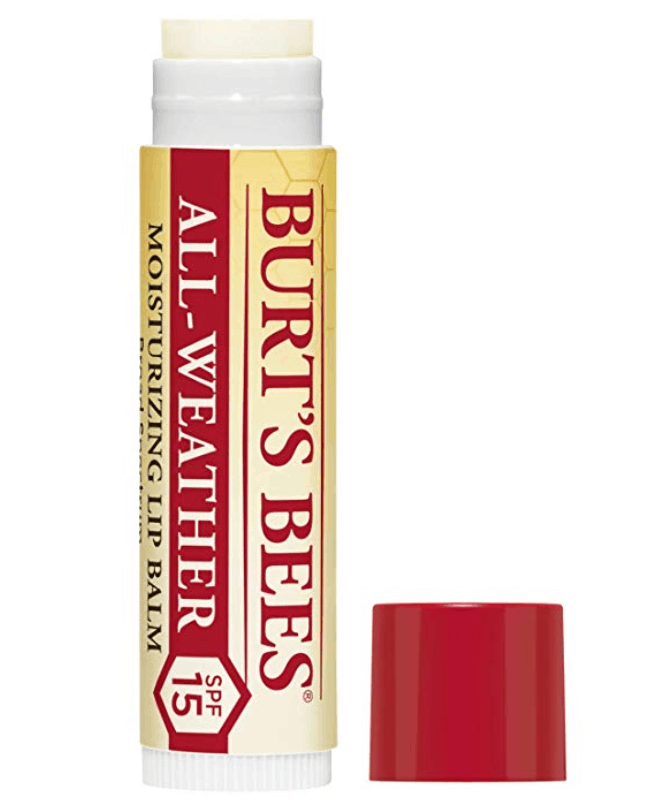 Water resistant up to 40 minutes
Broad Spectrum SPF 15
Infused with Zinc Oxide
EWG rating: 1
tint free
With only 40 minutes of water resistance, be sure to take a tube with you and reapply after 40 minutes of outdoor running.
More Tips to Keep Your Skin Safe During Outdoor Running
It's easy to think, "It's no big deal, it's just a short 45-minute run…" but think about if you did that over and over again. You should be wearing sunscreen on every outdoor run on any exposed skin (and did you know that snow increases the need for sunscreen because it reflects the sun's rays?!)
Here are a few more tips to keep your skin protected from the sun while running:
Cover up with clothing: Speaking of exposed skin…your best defense isn't actually sunscreen. It's covering up your skin so that you can completely eliminate the sun's harmful rays from getting to your skin at all. From runner to runner, however, I know this is easier said than done. I'm pretty much in a tank top and shorts for any run over 60 degrees.
If you're like me and like to wear as little clothes as possible while running in the heat, just be extra vigilant with the sunscreen, slathering it on your body, face, and lips. I also recommend wearing a hat or visor to shade your face – I listed my best running hats for sweat here.
Reapply sunscreen often: Pay attention to how long your sunscreen is water resistant for. If it says 80 minutes and you have a 3-hour run, you need to reapply mid-run. Grab a travel-sized container of your favorite sport sunscreen, such as Blue Lizard, and carry it with you in your water carrier.
Find shade: Have a shady trail closeby to run on? This is one more way you can cut down on your extra exposure to the sun.
Wear sunglasses: The only way to protect your eye's from the sun's harmful rays is by wearing sunglasses. Look for a pair that offers 100% protection from both UVA and UVB rays. My favorite brand is Native.
*Featured Image by skeeze from Pixabay
*As an Amazon Associate I earn a commission from qualifying purchases.