If you haven't already, definitely check out my blog post on my Top 10 Marathon Runner Must-Haves. Here I go into detail about some of the products and other items (like a solid training plan!) that I think no marathon runner can train well without.
For more of my favorites, check out Runner's 2020 Holiday Gift Guide
But here I wanted to just give a quick rundown of my favorite items – ones I've tried and tested that I think you will love, too.
Clothing
Shoes
I have tried a lot of running shoes and hands down, Altras are my favorite. I have gotten several of my friends to try them and they love them just as much! I wear the Escalantes, but Torins are on my list to try next.
Need shoes for winter? Best Shoes for Running on Ice and Snow
Socks
Balega and Smartwool are my go-to for running socks.
Shorts
I like my Lululemon "Speed Up 2.5" running shorts for short runs, but for long runs…I always wear my pocket "bike" shorts! They were a game-changer for me and they are all I wear for my marathons. I like the 5-inch length, but 8-inch or longer shorts are great if you need something to help control chafing (read the article, "How to Stop Chafing in Marathon Training" for other helpful hints!)
Cold Weather Pants
For the first time, I will be marathon training through the cold of the Colorado winter. I need all the cold-weather gear I can get! These Nike pants will be my go-to. I've read reviews that say they run small, but I didn't notice that. I'm always between and XS and Small, so I went with a small based on these suggestions, but actually think an XS would've been a better fit. I also included the men's version. My husband wears these under a pair of running shorts.
Here's a budget pair of pocket version leggings (I have something similar and love them) if you need somewhere to put your phone!
Cold Weather Running Gloves
These waterproof TrailHeads convertible gloves/mittens are awesome for cold-weather running. Mittens keep your hands and fingers significantly warmer than gloves, but are more cumbersome. This gives the best of both worlds. If the temperature increases or you need to use your phone, you simply flip back the mitten portion to use the touchscreen fingertip gloves.
Gear
Hydration Packs
Up until recently, I used a CamelBak hydration backpack for all of my long runs. I also wear it during my marathons because my hydration and nutrition are in a combined liquid form (see below). As a woman with a small-frame I can get away with using a kids' sized pack, and that's the CamelBak M.U.L.E. I've also included a similar adult version. They both hold 50 ounces.
Those packs work great for most people who only have one liquid to carry (water). I wanted to be able to carry both water and my endurance drink that I use for my nutrition. Luckily, I got this Nathah VaporHowe vest as a Christmas present and I LOVE it! The men's version is the VaporKrar.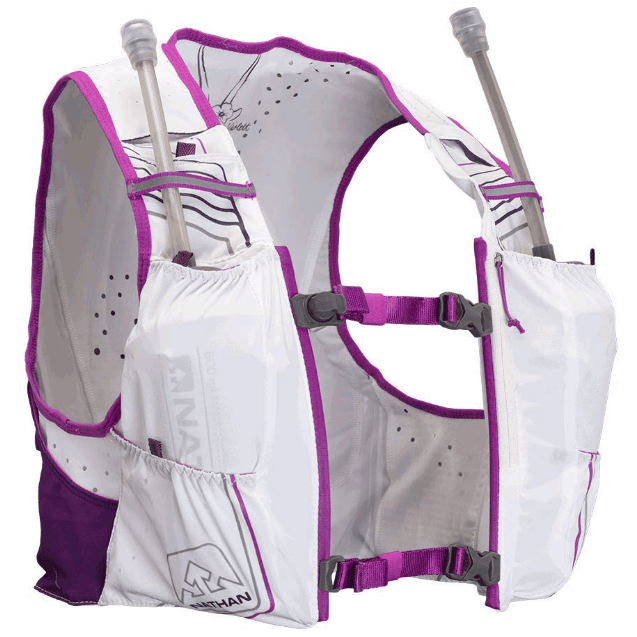 Running Hydration/Nutrition
Sword Nutrition Powder is all I use for hydration and nutrition during my long runs as well as when I'm racing marathons. It is a combined carbohydrate/electrolyte drink which is why I can drink it and get away without using any gels. It has plenty of Calories and carbs to get you through endurance events. A similar product currently more widely available is Tailwind.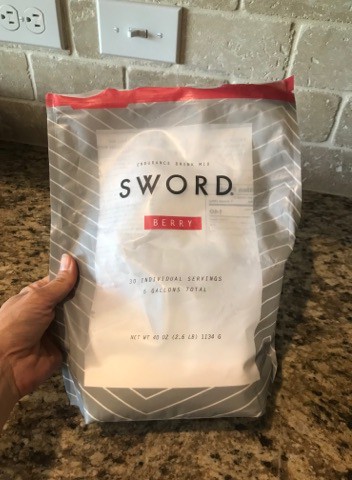 Gadgets
Garmin Watch
I've had the Garmin Forerunner 225 (it's since been updated to the 235) for several years and I never go for an outdoor run without it. Paired with the app, it tracks all of the data I need. Are there fancier ones out there? Yes. And if you do a lot of additional cycling or swimming, I'd suggest this multi-sport one. But for running, this one works perfectly for my needs!
Headphones
I have two recommendations in this category. I had the Bose in-ear wireless headphones, but lost them and opted for a less expensive pair (the Jaybird Tarah wireless) because I felt guilty about spending that kind of money a second time! The Jaybirds work great and have excellent battery life. These are your best option for getting through a full marathon if you run 4+ hours. The Bose, which my husband has and loves, are perfect if you want a truly wireless option.
*As an Amazon Associate I earn from qualifying purchases.