One of the biggest reasons that I started running was because it was fuss-free. I already owned a t-shirt, a pair of athletic shorts, and a pair of running shoes. And there was a sidewalk right outside my door that I could run on. This shortlist of must-haves carried me through a lot of years of low-mileage running. But once I started focusing on getting faster as well as running marathons, the list of what I felt I needed began to grow. Not just gear, but finding a great running plan as well as seeking out inspiration also became important to me. I have quite a few things I can't train without, so I thought I'd share my top 10 marathon runner must-haves.
I still crave those easy run days with little prep or thinking involved. But as a goal-oriented runner, I have a pretty long list of things I need to do my best.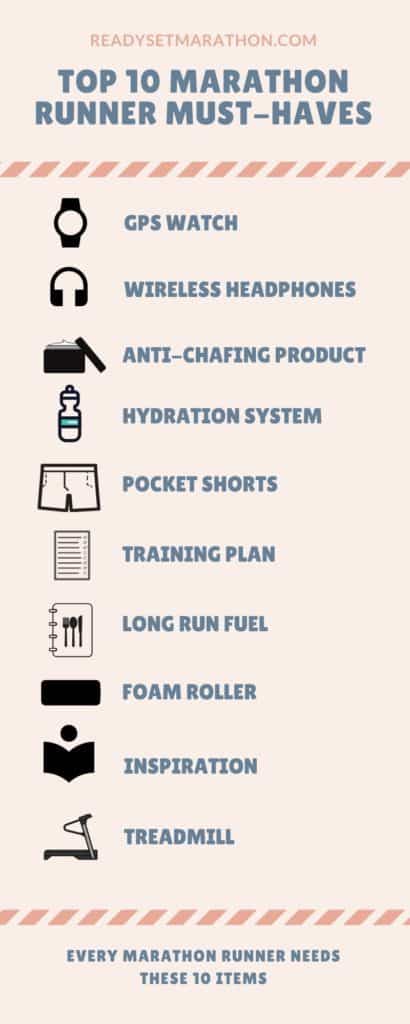 Here are my top 10 marathon runner must-haves and my best picks in each category.
GPS Watch
Wireless Headphones
Anti-Chafing Product
Hydration System
Pocket Shorts
Marathon Training Plan
Long Run Fuel
Foam Roller
Inspiration
Treadmill
1. GPS Watch
My Garmin Forerunner GPS watch is probably the number one piece of gear I just can't run without. Unless I'm running on the treadmill (which makes up about 20% of my miles), it is on my wrist for every single run that I do. Even on the easy days. Even when I run just one mile with my 6-year-old son. It tracks all my outdoor my miles near perfectly and breaks down my pace by whatever split I set it to.
Why is a GPS watch a marathon runner must-have?
If you are serious about your running, investing in a quality GPS watch is a necessity for helping you reach your goals. Here's a perfect example of how adding one in has helped with my training:
Once you're onto your second or third marathon, setting a PR is often a goal. Part of improving your time means adding in speedwork. The other day my training included speedwork with .8 mile repeats at 5k pace with a .2 recovery between each one. With my Garmin watch, I don't have to do this workout on a track – I can start anywhere I want. It knows exactly where I am and when I've hit .8 miles. You can either set this ahead where the watch does the work for you, or it's easy enough to just hit the lap button after each .8 and .2 (which is what I did).
Which GPS watch should I get?
Garmin is my preference and I don't plan to ever use another brand. I've had my Garmin Forerunner for five years and it works perfectly. I love the app they have along with it, as well. (For safety, I always turn on LiveTrack in the app for my long runs so my husband knows where I am.)
For all you Apple lovers, yes, I have an Apple Watch, too. Once in a while, I wear it for a long run just because it's easy to flip to the next song on my Spotify playlist, but that's when you'll see me wearing two watches. As far as the app used to track mileage, pace data, etc. and reliability, the Apple Watch just doesn't compare in my opinion.
Here are my top GPS Watch picks!
2. Wireless Headphones
I ran with regular (wire attached) in-ear headphones for a long time. Even during marathon training and my marathon in 2017, that's what I wore.
I'm definitely not a person who has to have music for all my runs which I wrote about here: "Marathon Runners Love Their Headphones, but is it the Best Choice?" Sometimes I like just enjoying the beautiful day and doing my own thinking. But when I started training for my marathons again, I really felt like I needed something to both distract me and motivate me during those hour-plus runs. Not sure what's best? Check out my article,
But having headphones that attached to my phone was definitely cumbersome. I knew that I needed to invest in a good pair of wireless headphones. Luckily, my husband got some for Christmas, and when it comes to electronics, he knows how to research the best.
What Wireless Headphones should I get?
Something you really need to consider as an endurance runner for this type of product is battery life. Some of the ones on the market don't last more than a few hours. If you're looking for a pair that will last you through your marathon, this is definitely a point to consider.
They also need to stay in place well. Messing with your headphones while getting in the miles is not something you want to be doing. I would be sure wherever you buy from has a great return policy just in case they don't quite work for your ears!
Here are my top 4 picks (I have the Jaybird Tarahs and they work great!):
3. Anti-Chafing Product
I have an entire article devoted to letting runners know how painful chafing can be and what to do about it. There are lots of helpful tips in "How to Stop Chafing in Marathon Training" that discusses who needs it most, where to apply it as well as the various products you can use to stop it.
Aquaphor is actually the product that I use the most, but Vaseline works great, too. This is a product I think is essential for marathon runners. I never sweat enough on a run less than 6 miles to usually need it, but otherwise I don't leave home without putting it on. There have been times I've forgotten, and trust me – I've paid the price! Chafing can literally cut your skin open and make it very painful to shower for a few days.
Before you do any long running, I highly suggest you pick up one of these products:
4. Hydration System
Staying properly hydrated during your runs is very important. Most people are fine not drinking water during a shorter run as long as they go into it hydrated, so if you're not used to endurance running you may have never taken water with you before.
At what point you'll need to begin bringing water with you on your runs is different for everyone. The temperature you'll be running is a big factor. But if you're going to be out longer than 45 minutes or so, it's wise to carry water with you.
There are a lot of different type options on how to carry water. There are hand-held water bottles as well as bottles you can wear around your waist. Nathan is a great brand for anything like these options. I personally, however, don't like carrying anything in my hand or having anything around my waist (because it never stays put).
I think having a hydration backpack or vest is the way to go. Many people will wear theirs just for training and then ditch them for the marathon (when water/Gatorade is available). But I ALWAYS wear mine (Camelbak MINI M.U.L.E. – yes, mine is kid size and is the perfect size!) in my marathon, too. Read on to the section on "Perfect Run Fuel" to find out why!
For a full list of the best water carriers, read: "Finding the Best Water Carrier for Running." Otherwise, these are your two best bets!
5. Pocket Shorts
You'd think that the perfect running outfit wouldn't be that difficult to figure out, but it's honestly taken me a while to hone. Pretty much any pair of athletic shorts and top would've worked for me in the past with low mileage. But with endurance running, I sweat a lot more and can get easily distracted by something that just doesn't fit right. I also don't feel safe leaving home without my phone, but I don't want to hold it either.
Why are pocket shorts a marathon runner must-have?
Luckily athletic wear companies are considering more and more what an athlete needs in what they wear. For me, that means finding shorts that don't rub on my thighs or my back and that have a pocket to hold my phone. I'm so thankful I found a perfect pair from Fabletics. Unfortunately, they don't seem to sell the style anymore, but these ones from Oiselle look pretty much identical.
This is my favorite pair and they come in a shorter version and a longer version:
I recommend something like these for men (which are also in my article about the best running underwear). You can either wear them as is or under a pair of looser running shorts.
6. Trusted Marathon Training Plan
If you're going to run a marathon, having a training plan in place is a must-have. Are there people who just wing it? I'm sure there are. But if you're truly wanting to be prepared for your marathon and do it to the best of your ability, it's important to choose a quality training plan.
In my article, "Running a Marathon – This is How Anyone Can Do It" I talk a lot about the importance of proper training. Whether it's by following a general plan put out by a trusted source, paying to get a tailored plan for your particular paces and goals, or hiring a coach you're ensuring you know exactly what you'll be doing throughout your 16-weeks (or more) of marathon training.
One myth is that coaches are only for the best of the best. They're not! There are plenty of coaches who excel at working with beginner marathon runners. If this is you, the place I'd start is McKirdy Trained.
But hiring a coach isn't for everyone. It's a pretty big investment for most people. So if that's out of your price range, don't fret! All you have to do is pay a little bit of money to get a great training plan that fits your level. Then it's your job to take responsibility for your training and follow the plan as closely as you possibly can!
My best recommendation is Hal Higdon's training plans. You can choose, novice, intermediate, and advanced level plans depending on your current level of running fitness.
7. The Perfect Long Run Fuel
Earlier I said that I take my Camelbak hydration pack with me even when I race marathons. From watching other runners, however, this doesn't seem to be the norm. Most people just drink the water and whatever electrolyte drink that's being offered from the aid stations. There are a few reasons I don't like to do this:I don't want to feel tied to the limited placement of the aid stations. Though great race courses usually have enough opportunities to get properly hydrated, I prefer to drink on my own timeline.
I have never really perfected drinking from a cup while running. Yes, I could walk through aid stations while I drink, but I prefer not to do this. (I do still stop for straight water a couple times during a marathon.)I don't eat anything on my long runs, but instead, get completely hydrated and fueled by a drink called Sword. (Tailwind is similar and another popular option.)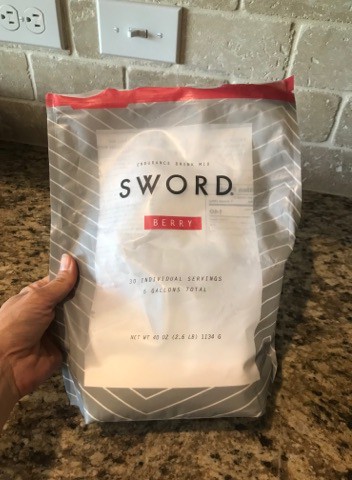 Both my husband and I have had stomach and cramping issues in the past. We knew a lot of it had to do with what we were eating both before and during our runs. As two people who really try to eat a whole foods diet, we were seeking something with minimally processed ingredients. Because of the carbohydrate amount it has, Sword is not only a great electrolyte drink but also gives enough Calories to get you through a marathon.
I've tried a lot of different products and Sword is the best I've found! The bottom line is to find something that works well for you and then stick with it. Finetuning hydration/fueling is one of the toughest parts of marathon training.
8. Foam Roller
Before I started running marathons again I had no idea how to use a foam roller. I'd seen them at my Orangetheory Fitness studio and wondered how they could actually help anyone. Now I realize how much of a marathon runner must-have it is!
When I started training for my "comeback" marathon in 2017, I ran a local 5k and took third place female. I actually won a foam roller! I had no idea how to use it. After researching online for videos on foam rolling basics, I started using it a few times per week. I personally need it most for my calves – foam rolling can get deep into the tissue. It's very different than stretching and a necessary part of my running recovery routine each week. I probably should be doing it every day, but I am working on it! Mine looks exactly like the one pictured, but you can also find smaller ones.
AmazonBasics High-Density Round Foam Roller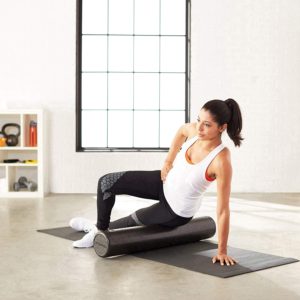 9. Inspiration
Whether it's through music, a supportive family, or fellow runners of Instagram, inspiration is a huge part of what keeps me going in my marathon training. Qualifying for Boston is something I never thought I could do, let alone break 4 hours in the marathon. That' s why this made my top 10 marathon runner must-haves list.
In 2017, after a 10-year hiatus from running a marathon, I started following runners on Instagram. I looked back on some of their journeys and realized some of them built themselves from an even lower starting point than where I had been.
There were a few runners in particular who made me realize that I was limiting myself and capable of far more than I'd imagined. Amanda Cruise @run2pr, Heather Jenson @triandrungirl, and Tommy Rivers Puzey @tommy_rivs are just a few who always leave me inspired to keep working hard towards my goals and that it's a process that takes time.
10. Treadmill
I know, I know, some people can't stand the treadmill. But as a mom of three kids, it's really something I can't train without. Anytime the minutes seem to drag by when I'm in my basement churning out the miles, I think about how lucky I am to have the option to run indoors. Sometimes, there just isn't another option for me. My article, "Treadmill Running for Marathon Training" will give you all the helpful tips you need to incorporate treadmill use into your marathon training.
I personally have the NordicTrack X22i incline training and love using it with iFit. The trainers are awesome and there is no shortage of great workouts that you complete all over the world from the comfort of your own home. But there are lots of basic options out there that get the job done. And if you're not in the market for your own treadmill, utilizing one at your local rec center can be a great option, too.
Horizon is a trusted name in treadmills and this budget-friendly option comes highly rated from Amazon.

Sometimes when I think about all the gear I need for marathon training, I have to laugh about how I first got involved in this sport since it was "cheap!" Ha! Not to mention the cost of the marathon itself and any money I put towards traveling to get there, but for me, it's completely worth it!
Those are my top 10 marathon runner must-haves. What's on your must-have running list? Let me know in the comments if there's something the rest of us might be missing out on!
*As an Amazon Associate, I make a profit from qualifying purchases.