We all have to start somewhere, but entering the marathon running world can be pretty overwhelming at first. Securing a quality beginner marathon training plan will help put you on the right track and of course the fun part is choosing your marathon race!! And that means choosing a race that's beginner-friendly that will welcome you with open arms. That's why I've compiled ten of the best options for your first marathon.
Here are 10 of the best first marathons to consider in 2022:
What To Consider When Choosing the Best First Marathon
Even though marathons are all 26.2 miles (here's the why behind that), each one offers a unique experience. As a new or beginner marathon runner, you want to choose one that's going to allow you to be as successful as possible so this isn't just a one and done experience. Here's what to think about when picking the marathon that's right for you:
Event Preparation – Choosing a marathon that's been around for awhile is a good idea so you know that it's going to be one that goes off without a hitch. New marathon runners don't need any surprises – such as an aid station where the water has run out! It may not seem like a huge deal, but you really want to make sure you're signing up for a marathon that you know will be executed by race directors according to plan.
Cutoff time – Most marathons have a finish cutoff time of 6 hours or more, but not always. Most first-time marathoners won't need to worry about this, but if you have a finish goal of 5 hours or more, you'll want to have the buffer just in case. And if you plan to walk a good amount of your marathon, plan to choose one that has a cutoff time closer to 7 or 8 hours.

Weather

– Though there's never any guarantee, look at average race temperatures through the years. Look for consistent, mild temperatures so you know what to expect (high temperatures between 40 – 70 is typically ideal for running).
Spectator Involvement – You don't need to have the crowd support of a 30,000 participant course such as the Boston Marathon. But having spectators along the course really helps to motivate you as you run your 26.2. In my last marathon, no spectators were allowed on the course until mile 25 and it got a little lonely out there!

Marathon Size

– Not too big, not too small. Some may disagree, but navigating large marathons is better left to those more experienced. You're already going to be nervous, and large crowd sizes mean more chances for something to go wrong in getting you to the starting line on time. But if a race is too small, there won't be very many spectators and aid stations might not be as well stocked. Look for races with participant numbers between 1,000 and 10,000.

Amount of Elevation

– I am recommending all flat (to very slight downhill) races. I personally think this is the best way to go for your first marathon. Adding extra elevation to your marathon is an extra challenge you can add on the next go around. And downhill races? Though fun and fast, and I wrote an article about the best downhill marathons, those can pose a different type of challenge. Stick with flat and you won't be sorry!
I hope one of these becomes your perfect first marathon! *Listed in alphabetical order.
The Fargo Marathon starts and finishes in the Fargodome. Race participants will get to see their name on the Jumbotron, and if that doesn't make a brand new marathoner feel like the star they are then I don't know what will. It is described as "flat, fast, and friendly" – three very important things to look for in your very first marathon. With 58 locations of bands and DJs, you're sure to be in good company throughout the course!
View this post on Instagram
"This is a great course! You will never be alone on the course the people of Fargo get you through the miles with music, food, cheers, and support! The organization of the race itself is wonderful! I'll always run Fargo if I am able!" -Jill
Length in Operation: Since 1994, and 18 years strong under its current sponsorship
Weather: With an average high of 72 degrees, this May marathon provides near perfect marathon temperatures.
Cut-off Time: 7 Hours
Number of Participants: 1,300 – 1,400 before Covid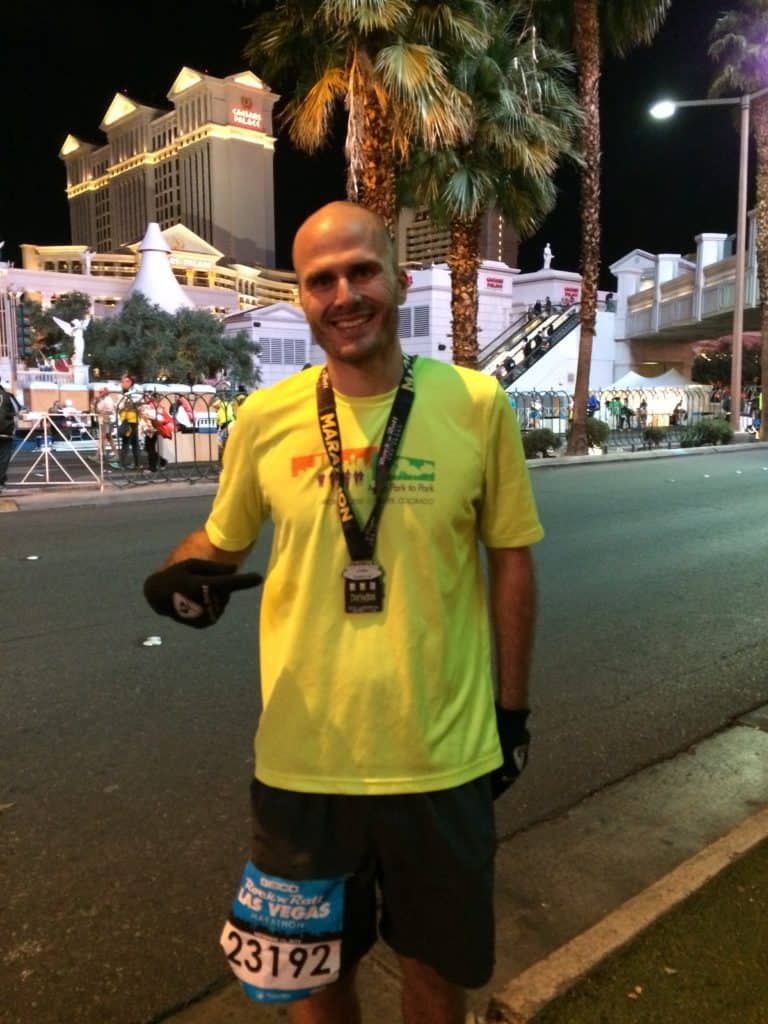 The reason I had to put this one on the list is that it's unique in that you run in at night during an event weekend that's been described as a "pop culture phenomenon". First marathons should be exciting and fun and I love that the Las Vegas Marathon stands out in this way. Plus, it was my husband's first completed marathon and that right there makes it a great choice in my book!
"The Strip is closed only twice a year; New Year's Eve and for this race. When will you ever get the chance to run down the Las Vegas Strip at night with all of the hotels lit up? Rock 'n' Roll always does a top notch job." -Jonathan
Length in Operation: Run since 1967 and acquired by Rock 'N Roll in 2009; no race between 2020 – 2022 due to Covid-19, but will be back in 2023!
Weather: Mean Temperature of 56 degrees. Temperatures will dip from the start as the sun goes down and should be close to optimal conditions. But my husband's race was very windy, so sometimes you just never know!
Cut-off Time: 5 hours (this might be tight for some, so do consider this when planning your marathon)
Number of Participants: Typically about 2,500
Running a marathon gives you all the feels. Especially when it's your first time out there. What better way to be inspired by running through our nation's capital honoring those who've made the ultimate sacrifice. I highly recommend running in honor of someone in any race, but this one really helps you remember to be grateful to be able to run 26.2 miles when so many can't. Nicknamed the "Marathon of Monuments", marathoners start between the Pentagon and Arlington National Cemetery and finish at the Marine Corps War Memorial. Running a marathon is life changing, and completing one among the bravest in our history can only make it more so. This one is on my bucket list for sure.
This coveted race will take some legwork to get into – find out the details here.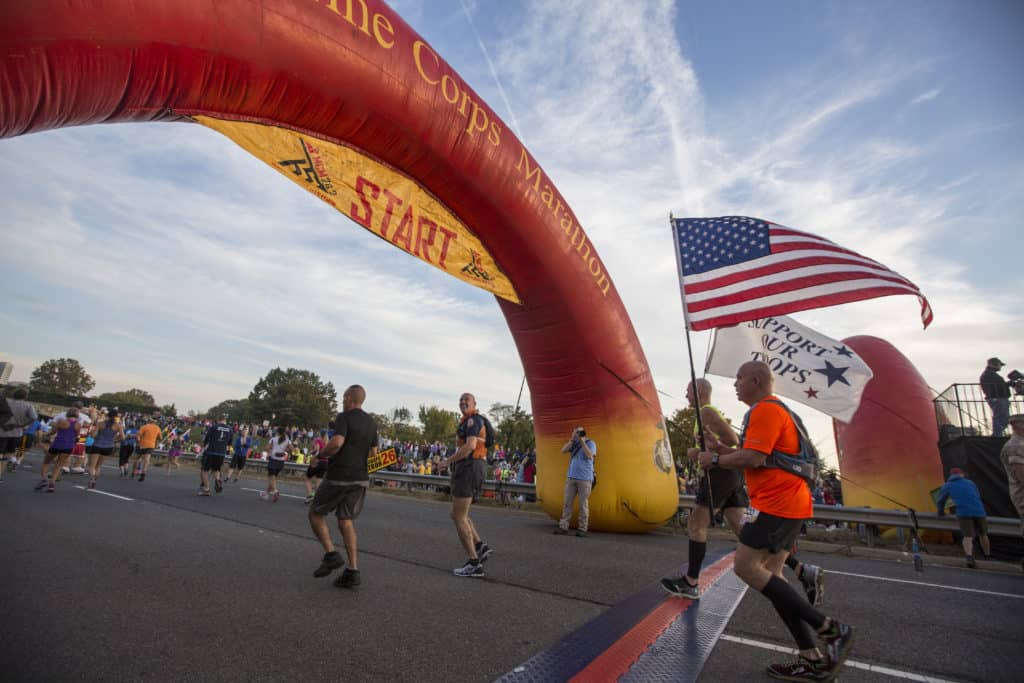 I absolutely love this message from their website:
"The MCM welcomes those finding a new path to fitness and those simply seeking to conquer a distance that once seemed impossible."
Length in Operation: 2022 will be its 46th year
Weather: For this late October race, you can plan on nice, cool weather with an average high of 64 degrees.
Cut-off Time: 7 hours
Number of Participants: 20,000. Ok, this one is the biggest race on this list. I think it's obvious why it's so popular! This one might be better suited for experienced runners who've braved crowds before in shorter distance races, otherwise, just get where you need to be early!
Just in case you needed an excuse to go to paradise, this is it. The Maui Marathon, which starts in Kahului and ends in Ka'anapali, is recognized as one of the nation's ten most scenic marathons in the U.S. You'll be running the majority of the course within 50 feet of the Pacific Ocean. That along with lush green on your other side, I'm sure it's nothing short of breathtaking!
View this post on Instagram
From their website:
"Thousands of colorful athletes and personalities have participated in this event over the years. It is the Valley Isle Road Runners who have worked with the Maui community to keep this extraordinary celebration of fitness alive and thriving."
Length in Operation: Going into its 49th year – it's the longest consecutively held running event in Hawaii
Weather: This one tops our list with the warmest weather having a mean temperature of 78 degrees. However, it does start at 5 am in order to beat a lot of that heat. But something to keep in mind, especially if you expect to go longer than 5 hours.
Cut-off Time: 8 hours
Number of Participants: At 330 this one is on the smaller side. But if you're someone who enjoys just taking in all the beauty our world has to offer, this could be a great first race for you.
Not only is choosing the right race for your first marathon important, you also need to know what to wear! Read here to find out my best recommendations for race day clothing: "What to Wear for Marathon Race Day."
Held during the month of Mardi Gras, there is no doubt that the New Orleans Marathon will be a race experience to remember. Not only will you get to run through the French Quarter during this momentous occasion, but you'll also enjoy the flat as can be course. For a first-time marathon runner, that (lack of) elevation is about as good as it gets! The vibe and great crowd support of the Big Easy are sure to get you to the finish line of your first 26.2.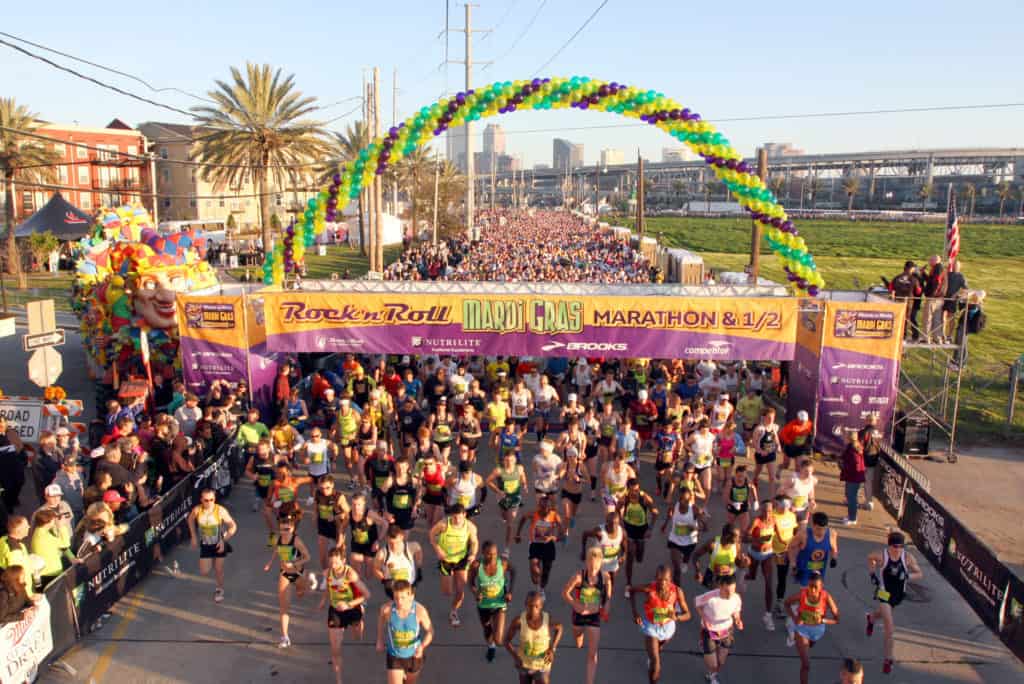 One runner's review:
"If you want a great first marathon experience, run RNR NEW ORLEANS!! The crowd support and runners are amazing! Never say you can't run a marathon!"
Length in Operation: Has run since 1965 and was taken over by Rock 'N Roll in 2010
Weather: Average high of 64 degrees – expect pretty ideal conditions!
Cut-off Time: 7 hours (also considered walker-friendly)
Number of Participants: About 1,400 in both 2019 and 2020
This sunny California marathon is one of the few net downhill courses on this list, but it is minimal, with all elevation staying within a 200 feet span. Runners will take in stunning panoramic views of the Pacific Ocean as they enter seaside villages of Orange County. The course has been changed recently to run through some of L.A.'s most popular neighborhoods which will give runners an extra boost of motivation as they near the finish line. An oceanside marathon lined with palm trees – if a marathon could ever be relaxing this would be the one.
View this post on Instagram
Length in Operation: Since at least 2004
Weather: Beat the "June Gloom" with this early May race. Average High Temperature of 70 degrees with sea breezes. Rain is a possibility, but I personally love a little rain on a warm day. Just keep an eye on the weather report (as you should with any marathon!)
Cut-off Time: 7 Hours
Number of Participants: 1,500 – a great size for a first marathon!
The City of Brotherly Love holds one of the ten most popular marathons in the country. They attribute the engaging atmosphere to their unique city and the fans who keep coming out year after year to cheer on each and every runner. If the draw of fans lining the streets doesn't convince you that this will be a great first marathon, also consider the sites you'll take in mile after mile in a city with great importance to our nation's history. Did I also mention it's fast and flat? This one's got it all.
View this post on Instagram
"Pros:
-Beautiful and scenic course
-Energetic, supportive crowds
-Fluid stations were plentiful and Volunteers did an excellent job
-Easy logistics. Convenient start/finish.
Cons:
-I don't have any!"
Length in Operation: Running on the third Sunday in November since 1954
Weather: Plan on nice, cool temperatures for this late November race. With a high of 51 degrees, this one will probably be the chilliest on the list, but still excellent running weather with the proper attire.
Cut-off Time: 7 Hours
Number of Participants: Race size has ranged from 7,700 to 9,500 in the last few years with close to 30,000 participants when including the half marathon and 10k races. That's a lot of people, but it can still be a great first marathon! Just expect crowds. This always adds a bit more of a logistical challenge for race morning.
So, technically this was not my first marathon, but I've mentioned before how I took 10 years off from running marathons. I ran two in my 20s and they were not great experiences for me – really because I did not train properly at all. After our last baby had her first birthday, my husband and I decided we wanted to run a marathon together at least once in our lives. Twin Cities was the one!
I LOVED this race. The course is beautiful. You are surrounded by fall trees changing colors and there are lakes around every turn. The fans were truly the best (over 300,000!!!), and they were what really kept me going during those last tough miles. On our day, the weather was not completely cooperative with some rain, but I actually enjoyed the cool weather. It did begin raining right after we finished, so we were pretty cold as we hurried back to our hotel, but I would do this race again in a heartbeat!
This race considers themselves "first-timer friendly" and even has a private first-timer Facebook group. And I can say from experience that this is one of the best options for a first marathon.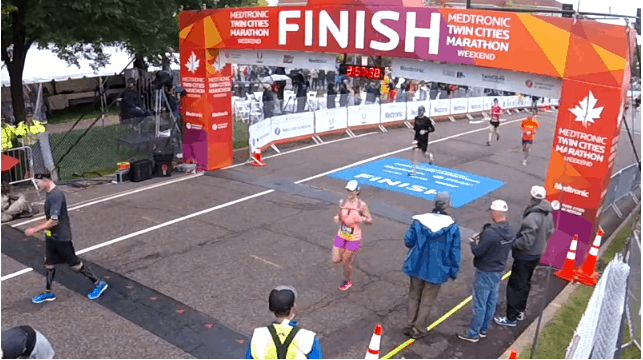 Length in Operation: They've been operating under the Twin Cities name since 1982
Weather: This early October (my favorite time of year for racing) race has an average high of 62 degrees. We got rain…you could easily get sun!
Cut-off Time: 6 Hours
Number of Participants: Likely due to Covid restrictions, the race numbers were much smaller in 2021, but typically this race brings around 7,000 participants – so on the larger end, especially when you consider the other races they have going on. However, we stayed downtown and getting to the start line was a breeze. It made for a fun atmosphere at the finish!
Every person I've talked to who has run any of the races with runDisney has nothing but amazing things to say. It truly sounds magical. As far as entertainment goes, this marathon is probably unmatched in this category. Especially if you love feeling like a kid again. Feeding off energy from the crowd is such a great way to stay motivated in your first marathon and this sounds like the perfect way to make that happen. The marathon course takes runners through four Walt Disney World Theme Parks as well as the ESPN Wide World of Sports Complex. Runners love the chance to dress up and take pictures throughout the race with all of the different characters.
View this post on Instagram
One runner's experience from findmymarathon.com:
"This is a great venue, and as is the case with all things Disney, they rock it! There is no greater feeling than when you turn onto Main Street USA and the crowd is 4 deep cheering crazy loud with the lit up castle in front of you."
Length in Operation: Since 1994
Weather: This mid-January race has an average high temperature of 68 degrees.
Cut-off Time: 7 Hours
Number of Participants: This is a bigger one on the list with 11,000 participants in 2022 and 14,000 in 2020. A plus side is that they offer free transportation from any of the event host resorts, so this can make the size very manageable for race day.
The Wineglass Marathon welcomes all runners – whether they're first-timers or someone looking to qualify for Boston (or maybe it's both!) This is an excellent destination marathon with so much to see and do both before an after the race, such as visiting local wineries and breweries. Are you a wine connoisseur? Or someone who loves to reward your efforts at the end of the day with a nice Pinot Noir? If so, then you'll definitely want to get registered for this flat, scenic marathon.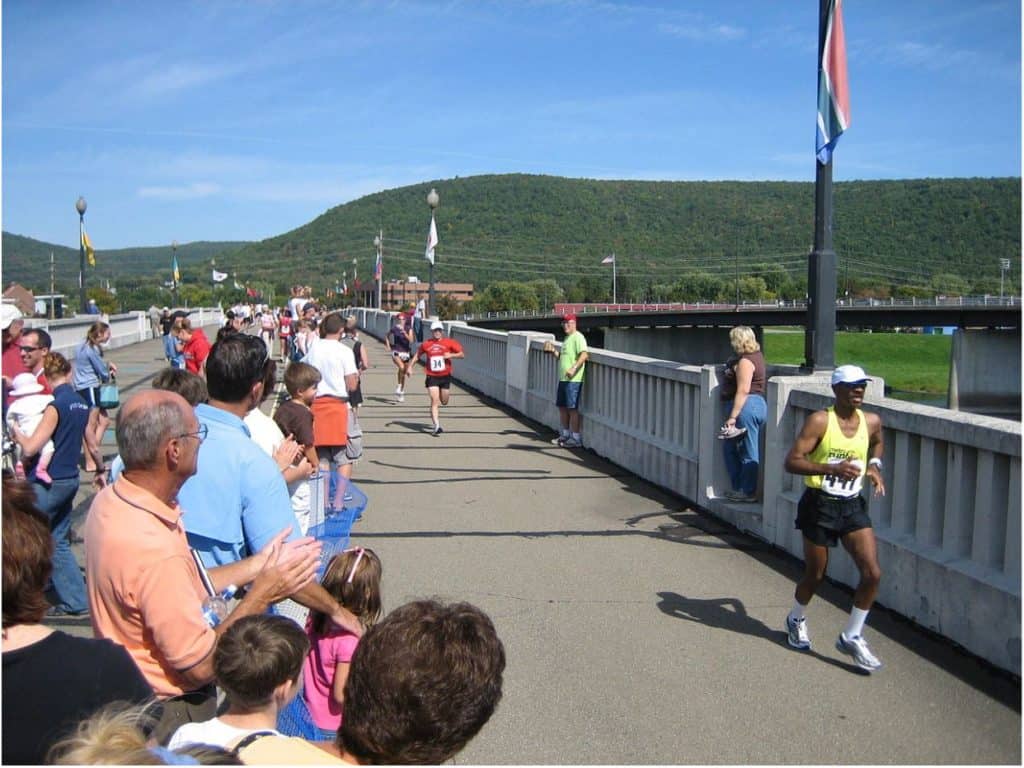 As one runner states from the website's video:
"Wine and running?! My two favorite things!"
Length in Operation: Since 1981
Weather: This early October race averages a high temperature of 64 degrees.
Cut-off Time: 6.5 hours
Number of Participants: They expect close to 3,000 this year – a great mid-sized race.
I can't wait to hear what race you choose for your first marathon! No matter what you choose I guarantee it will be the experience of a lifetime. The hard work is always worth it.