Running a downhill marathon is how I qualified for Boston last fall. I was very close in the marathon I'd run two months prior. On a high from getting a PR, but on a low from not qualifying…that night I laid in bed frantically searching Google for another marathon I could run without starting all over again another season. This isn't usually recommended, but I'd come this far and I wasn't about to care about somebody else's "rules." Revel Mt. Lemmon was the race I found.
On November 3, 2018, I toed the line ready to give it everything I had. Fear about "trashing my quads" raced through my mind since that's what everyone else seemed to be concerned about. This ended up not being an issue for me (I mean…more than any other marathon…I definitely could barely walk the next day but that's normal marathon stuff). Funny thing about this particular marathon was that the first 4 miles included some pretty challenging hills that included over 500 feet of elevation gain. That's significant, so I had to be very conservative initially. But after that, I literally ran down a mountain. And it was beautiful.
So, would I recommend downhill marathons? Absolutely!! Just ensure you are including plenty of hill training into your workouts to acclimate your legs and muscles to the significant decline you're likely not used to.
Here are my top 10 recommended downhill courses including each one's ranking from findmymarathon.com.
| Marathon Name | Fastest Marathon Rank |
| --- | --- |
| REVEL Kulia | 1st |
| Jack and Jill's Downhill Marathon | 5th |
| Peak to Creek Marathon | 6th |
| REVEL Mt. Lemmon | 9th (based on the new course for 2019) |
| St. George Marathon | 18th |
| New England Green River | 19th |
| Ventura Marathon | 22nd |
| Steamtown Marathon | 23rd |
| Whistlestop Marathon | 28th |
| American Discovery Trail Marathon | 429th |
Who's ready to run fast?
Here I've included 10 excellent downhill marathons. They are all USATF certified races you can use to qualify for Boston (if that's a goal you're seeking). I've spanned them across the U.S. in hopes that everyone can find one in their neck of the woods.
Well, obviously I'm going to start here since this was my BQ race! I'm a little biased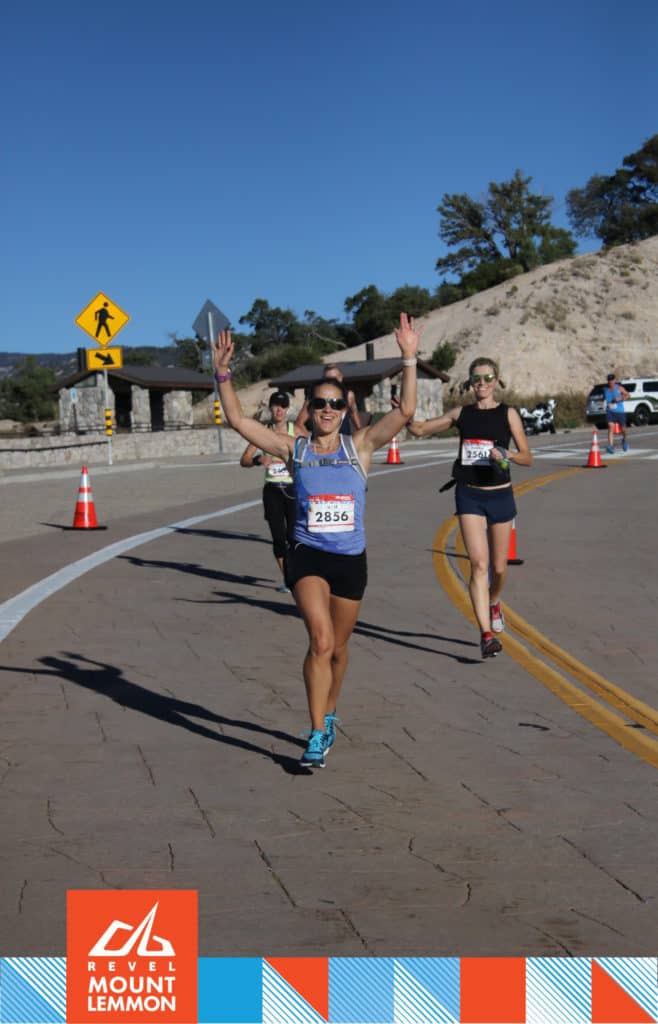 when I say this is an amazing downhill course. One of the best parts about REVEL races is since they have such significant elevation drops, they all start way up a mountain. This means all of the courses are breathtakingly gorgeous. I don't use this term lightly, I easily smiled through the pain that day because I just felt so lucky to be running this race. At around 450 runners it felt like the perfect size to me. Not crowded in the beginning, but I was never completely by myself either. This was easily one of the best days of my life and I highly recommend this course!
Where: Mt. Lemmon, Tucson, Arizona
When: Early November
Elevation Profile: When I ran this in 2018, there was a net elevation loss of 5,190 feet. With the uphills inbetween there was still 1,200 feet of elevation gain, however. They've changed the course for 2019. Now it starts just above 8,000 feet and falls to about 2,000 feet for a net loss of over 5,500 feet and very, VERY little gain. It's a drop, y'all, and it's going to be fast!
Mt. Lemmon is just one of 8 REVEL Marathons. To find out more about the 7 others and all there is to know about these fast, downhill marathons, read "REVEL Marathons and What to Expect."
This is next on my list because it's the one I'm considering running this fall. It's also included as the top choice for Utah in my article on The Best Marathon in Each State. I have heard many great things, it's come up more than once on an excellent running podcast I listen to called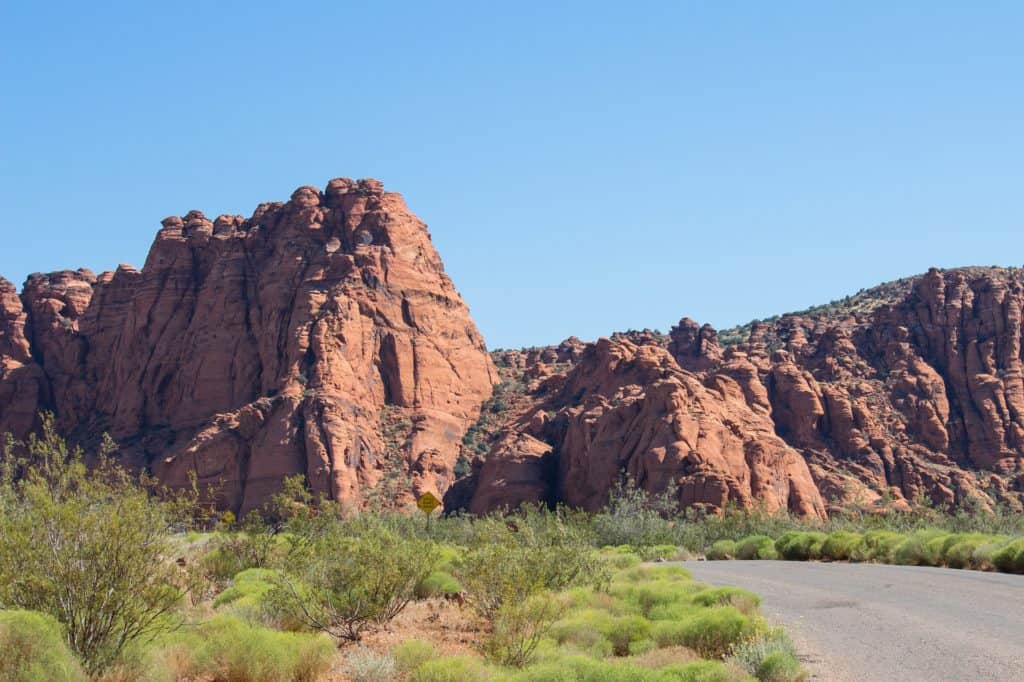 the Rambling Runner. The downhill is quite a bit more gradual than any of the REVEL races, but it looks to be no less beautiful. This would be the perfect race for someone looking for a mild-weathered downhill marathon that's not too steep. With around 4,000 runners each year, it is a popular choice without being too overwhelming. Runners share that it's a well-organized race with a fantastic course!
Where: St. George, Utah
When: Early October
Elevation Profile: Net loss of 2,560 feet with some rolling hills throughout.
Other than the fact that I like the name of this one, it also boasts only 1 tiny incline the entire race – just 15 feet of total elevation gain. If that isn't a true downhill marathon, then I don't know what is. About 40 minutes outside of Seattle, this route will lead you by rivers and waterfalls, over old railroad bridges, and through lush green forests.
Runners are even asked to bring a headlamp or flashlight to run through the Snoqualmie Tunnel, an abandoned railroad tunnel 2.25 miles long. Sounds a little spooky if you ask me! If you are afraid of the dark, this one may not be for you – but if you're into adventure, I'd say this is your race!
Where: North Bend, Washington
When: late July
Elevation Profile: Net loss of 2,000 feet…gradual allll the way down
Tip: Does July not work for you but you love the sound of this race? You can pretty much run the same course as a different marathon in June, August, or September!
Gorgeous fall colors line this smooth and steady downhill course. With just under 1,000 feet of elevation loss, you'll get to experience a gentle pull for the majority of the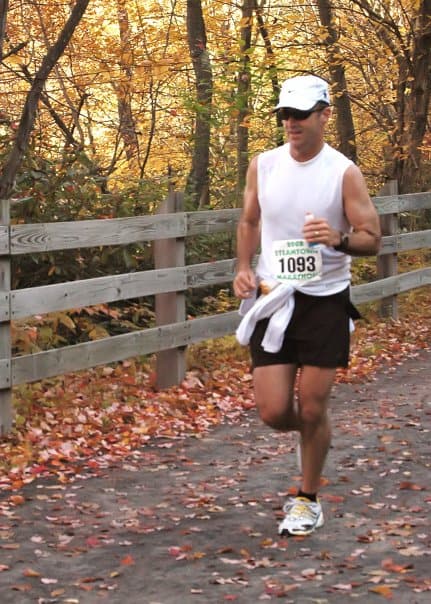 course with a feeling not too far off a flat course (1,000 feet over 26.2 miles won't be very obvious). Just don't underestimate 4 short uphills at the end. If you choose Steamtown, not only will you get the speed of running downhill, you'll also be contributing to St. Joseph's Center, a multifaceted charity serving people of various needs from birth on. The marathon has donated $1.7 million between its sponsors and runners over the past 13 years.
Where: Scranton, Pennsylvania
When: mid-October
Elevation Profile: Net loss of 955 feet with some rolling hills throughout.
As the premier player of gorgeous, downhill marathons, I could easily fill this page with REVEL races. They put on some of the most well-organized races to boot. But, I'm going to leave it to Mt. Lemmon (I'm partial to that one, obviously) and this one located on the Big Island of Hawaii. I wanted to be sure I was covering several different regions of the U.S. and our volcanic islands definitely are in their own piece of paradise. Who wouldn't want an excuse to go to Hawaii?! Being able to travel to new places while accomplishing your goal of running a marathon is one of the best parts. It's certainly a way to see parts of the world you never would have otherwise. Beyond that, findmymarathon.com puts this race as the fastest in the world based on their algorithm. With over 3,000 feet of descent in the first 10 miles, I can certainly see why.
Where: Waikoloa, Big Island, Hawaii
When: mid-January
Elevation Profile: Net loss of 5,548 with one long flat portion midway
New to marathons? Check out my 10 Best Races for Your First Marathon!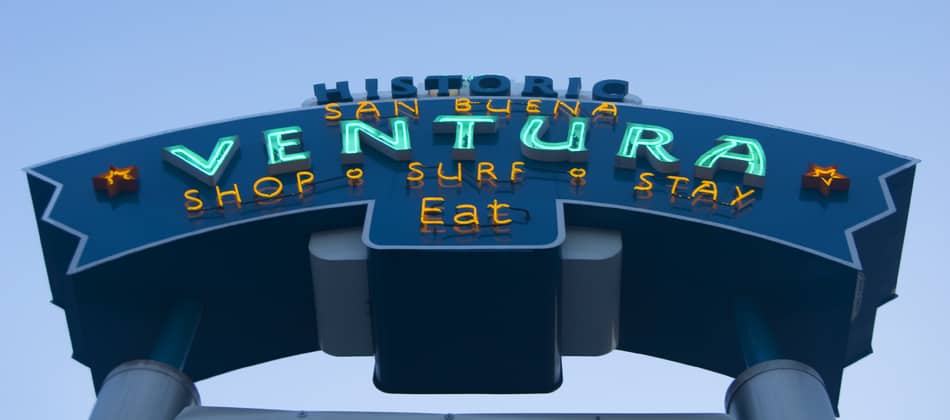 The Ventura Marathon starts in the Ojai valley where you'll be bounded by mountains, and ends in Ventura, one of California's most popular surf destinations. Finishing with an ocean breeze and flanked by palm trees sounds like the perfect way to top off your hard efforts. If you're someone who can't get enough of those idyllic coastal views, this would be an excellent marathon to race. With almost exactly 1,000 feet of elevation loss, you'll get the fast course feel of a downhill without taking it to the extreme. If you are familiar with the popular Mountains to Beach, this is a similar (albeit a smidge "faster") course.
Where: Ventura, California
When: late October
Elevation Profile: Net loss of 1,000 feet
This marathon touts its "exceptional beauty" found along the Green River of Vermont to the Deerfield River in Massachusetts. Those seeking a downhill marathon in the northeastern region of the U.S. can find that right here. Not only do you get to experience the gorgeous fall colors of the area, but you also get to be a part of giving back to the preservation of the environment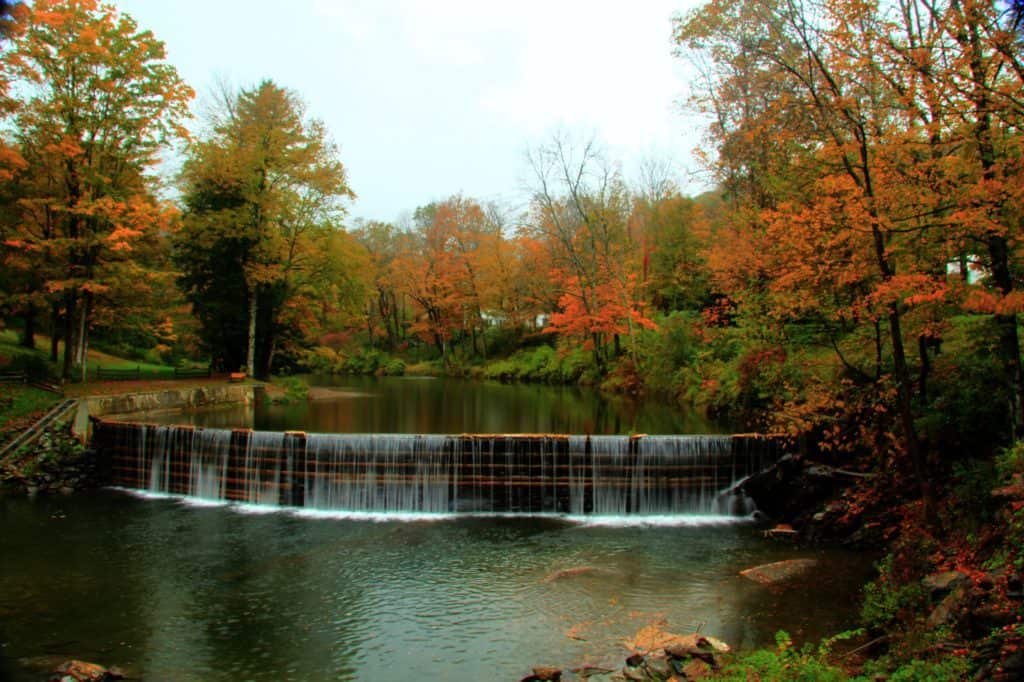 in which you are running. 50% of the proceeds go to the Connecticut River Conservancy which works to protect the natural habitat. Along your state-to-state downhill route, you'll experience forests as well as farm countryside while catching glimpses of the river which is in fact green in certain spots (hence the name). They assure you your won't race will be easy (what marathon is?!) but that comparatively speaking, it should be fast course even with a few minor hills.
Where: Marlboro, Vermont to Greenfield, Massachusetts
When: early September
Elevation Profile: Net loss of 1,459 and rolling in places.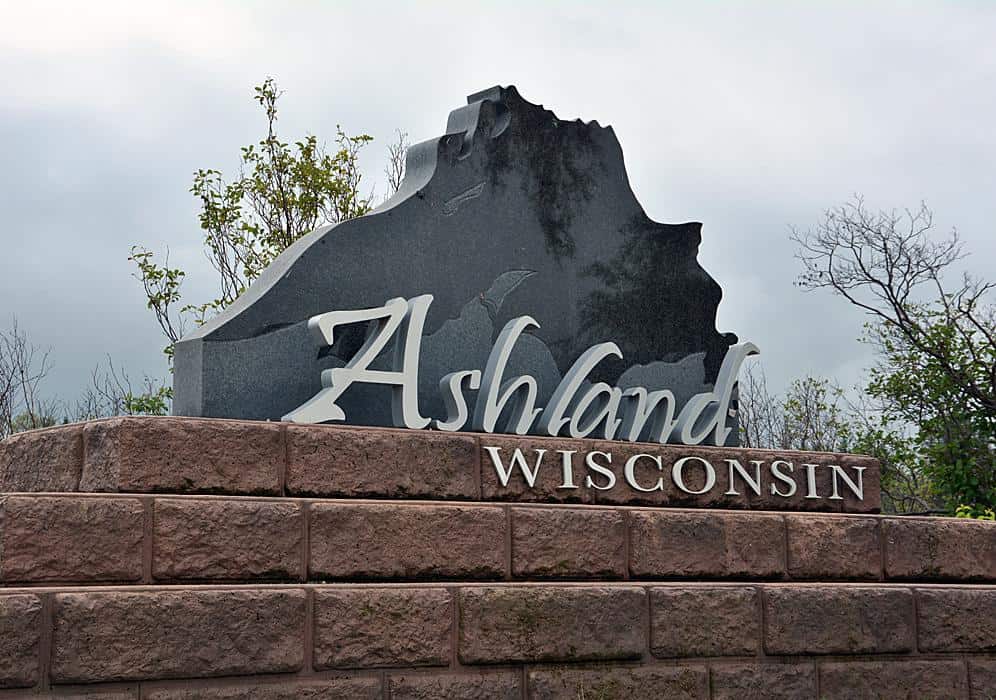 Upper mid-westerners unite! Reviewers describe this race as "scenic" and "fast." This small marathon course is run on a rail-trail paved with limestone gravel. If you are someone who has trouble with your knees when you run, this surface will be much more forgiving for you. Along this quiet route, you will see railroad trestles, wetlands, trout streams, the Chequamegon National Forest woodlands, and dairy farms. You'll probably be so busy taking in the picturesque autumn season to even realize you're tired from all that running. Averaging just under 300 runners, this is a great race for those who don't like getting lost in a crowd.
Where: Ashland, Wisconsin
When: mid-October
Elevation Profile: Net loss of 600 feet – you'll have to brave some hills for half the course but the second half is all downhill (much better than the alternative!)
I had to include this marathon because 1) it's in Colorado where I'm from and 2) I ran it last year trying to qualify for Boston. Yep, this is the race I had trained for all summer, only to miss Boston's qualifying cutoff time by 3 minutes. But I loved this course and I really hope to run it again another year. It starts in beautiful Palmer Lake north of Colorado Springs. Don't let the "trail" name scare you – though it is on a trail,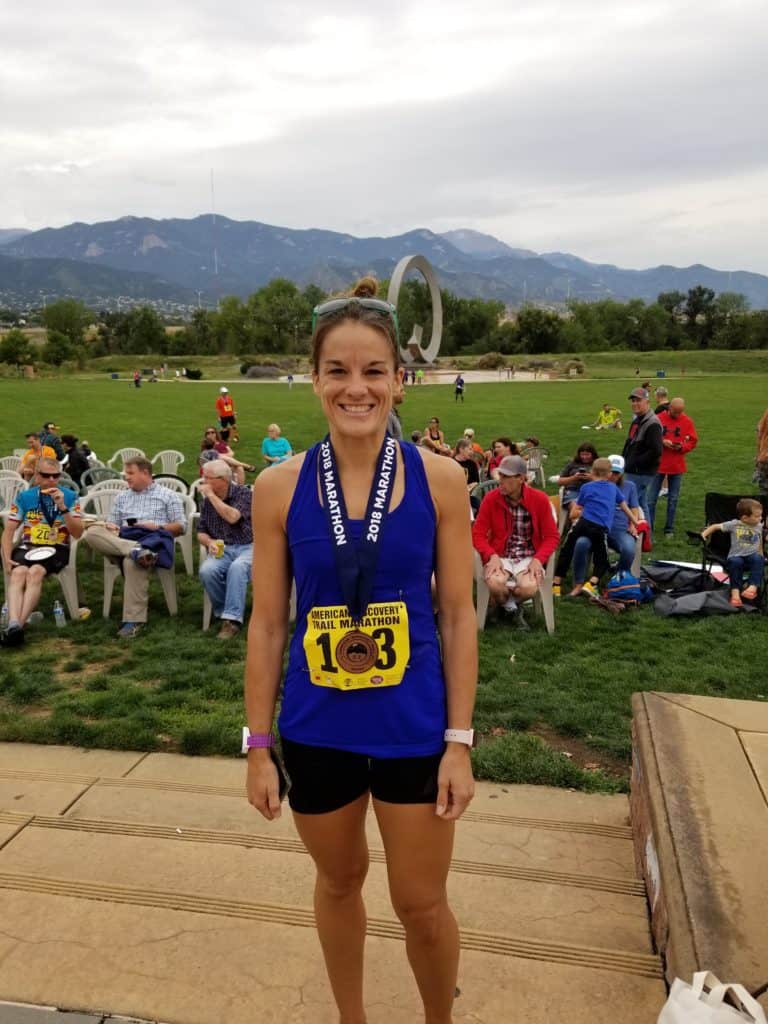 it's not like trail running with rocks and sticks to avoid. However, many parts of it had a softer sand feel and many of us runners were staying to the side to avoid getting slowed down. My favorite part was the view of the majestic US Air Force Academy and then running into Colorado Springs with Pikes Peak in the distance. It was the perfect backdrop for after race photos and recovering. Not a lot of people know about this race, and it's far from the fastest on this list, but I would definitely recommend it. And when the race is over you'll have plenty of options of other things to see and do.
Where: Colorado Springs, Colorado
When: Labor Day
Elevation Profile: Net loss of 1,200 feet with just a few short, steep hills midway.
Organizers state they want the goal of their race to be for finishers to want to come back again and again and again. Formerly of the name Ridge to Bridge, this marathon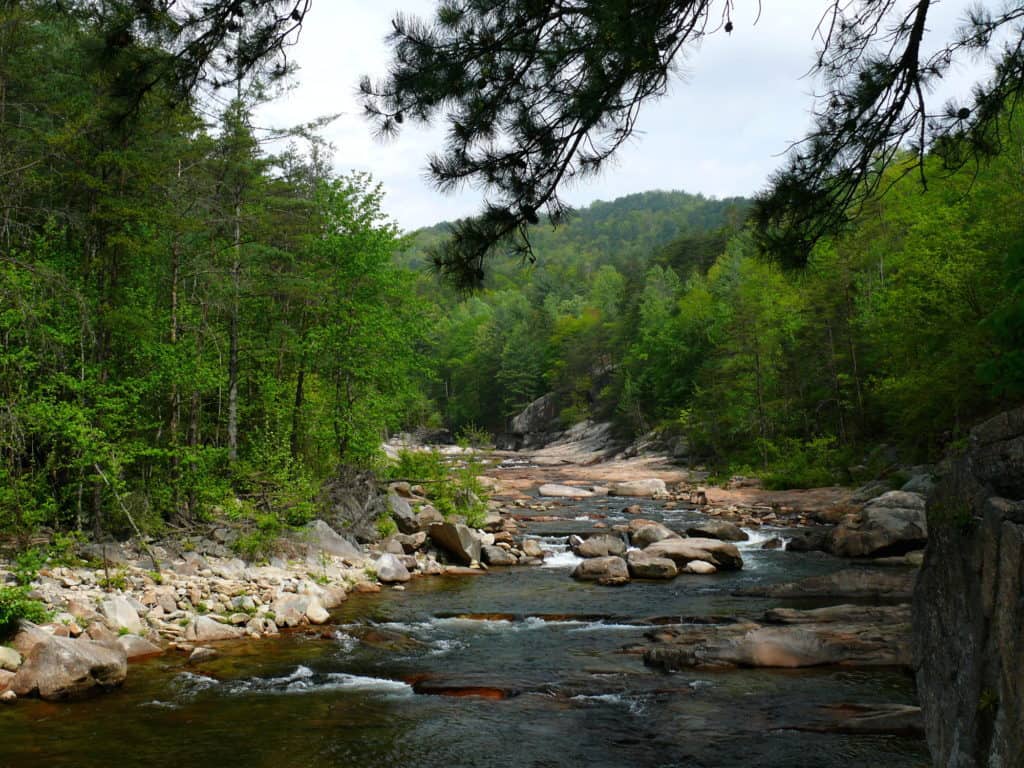 finally got a new name after having the same course since 2009 that no longer included a bridge. Makes sense! The race starts high up in northwestern Burke County (the "peak") and winds down 2,700 feet to end at Wilson Creek (the "creek"). Runners can look forward to a refreshing dip in these cool waters when they cross the finish line. And with a limit of 400 runners, this is another race great for those who prefer a small-scale race (with big miles, of course!) The weather has remained mild all these years, but organizers remind runners that due to the race taking place in mountain and foothill areas in late fall, virtually any weather is possible.
Where: near Morganton, North Carolina
When: late October
Elevation Profile: Net loss of 2,700 feet – flat until mile 6 and then downhill almost the rest of the way.
Ready to Run Downhill?
Downhill marathons can often give you a different type of scenic adventure that you wouldn't get from other types of marathons. Due to the nature of these races, you'll often be starting high up a mountain and ending down in a city below. That gives you views of the city itself as you're running down, which is spectacular in itself.
It's important to remember, too, that these will be point-to-point races. Unless you're dropped off at the start, your car will be 26.2 miles away when you finish your race. Usually, you'll park at the end of the race and a bus will take you back to the starting line. But REVEL races, known for their beautiful downhill courses, require runners to take a bus to the starting line. The most disconcerting part about this for me with my Mt. Lemmon race was passing by the mile markers in the opposite direction as we were driving up the mountain. Just one more mind game for marathon day…what else is new?! Don't worry – you got this!
Have you run any of these downhill marathons or do you have another that's your favorite? Comment and let me know!