When the temperatures start to dip, it's time to swap out your running shorts for some running leggings (also known as running tights). There are infinite styles, cuts, lengths and fabrics to choose from and prices can range from budget-friendly to all-out splurges. Here we'll help you find your perfect pair of running leggings, that of course, must have pockets!
Ready.Set.Marathon.com founder Jane and I have tested our fair share of running leggings across hundreds of miles of running, and share our favorites below.
Here's a Preview of the 6 Best Running Leggings with Pockets we'll cover:
Best Cropped/Capri Leggings: Baleaf Women's High Waisted Yoga Capris with Side Pockets
Best Leggings for Cold Weather: Baleaf Women's Fleece-Lined Winter Leggings and Senita Thermal Warm Leggings
Most Versatile Leggings : Lululemon Swift Speed High-Rise Crop 23″
Most Flattering Leggings: Fabletics On-the-Go High Waisted Leggings
Best Leggings for Runners on a Budget: CRZ Yoga Women's Naked Feeling Workout Leggings 25"
Best Leggings for Runner Safety: Athleta Rainier Reflective Tight
What kind of leggings are best for running?
Comfort is the name of the game when it comes to the best leggings for running. You want to find a pair that above all, feels the most comfortable while you're running. And comfort not only applies to physical comfort, but psychological comfort as well. Let's be honest: you will only want to wear a pair of leggings that are flattering and make you feel good about yourself!
There are several legging qualities to consider when choosing the best kind for running. These include:
Distraction-free: You want leggings that let you forget you're wearing them. You don't want to have to keep hitching them up as they slide down your waist or legs every couple hundred meters, because that just leads to major frustration.

PRO TIP: Buy high-waisted leggings to avoid the distraction and constant pulling up of slipping pants!

Quick-drying fabric: Some fabrics are better than others at dealing with sweat. Make sure the fabric with which your leggings are made is wicking and quick-drying, and intended for high-intensity exercise. This kind of fabric is typically very lightweight. Leggings made out of heavier, less-wicking fabric can lead to overheating and worst of all, chafing. Heavier fabrics are also more likely to leave embarrassing visible sweat marks after your run is finished.

Four-way stretch fabric: Find leggings that are constructed from fabrics that allow for four-way stretch. Runners need to be able to move in a full range of motion, no matter what the prescribed pace is for the day. Stiff or non-stretchy fabrics might hold you back and diminish your overall comfort on the run.

Compression…or not: Some people love the feeling of being "hugged" or "held in" by compressive legging fabrics. Others prefer a "naked," almost invisible, feel for their leggings. Try out both kinds if you're not sure which camp you fall into – there are lots of options available. Just remember that tighter is better (size down if between sizes typically) when it comes to keeping those running leggings in place.

Pockets! Most of us take our phones, a key, etc. on our runs, and though there are other great ways to hold your phones and more, leggings and shorts with pockets is most often the easiest way. More on this below!
Why You Need Pockets in Your Leggings
Probably the most important feature that I look for in running leggings is whether they have pockets.
We runners generally try to keep what we carry with us on the run to a bare minimum, in order to make our runs lighter and easier. Still, most of us need to bring small essential items with us on our runs, such as keys, ID, credit cards, sports gels, tissues, Chapstick and/or a cellphone, to name a few. Pockets come in handy to hold the small items you need to have with you, freeing up your hands from holding onto something (or many things) during your run. It is wonderful to shove my phone and other run-essentials into a pocket or two in my leggings, and to focus only on running.
Jane loves these small water bottles that fit perfectly into leggings pockets to avoid having to take a hydration vest on those medium long runs.
What to Look for in Pocketed Leggings
As you shop for pocketed running leggings, have an idea of what you want those pockets to hold, and how many pockets you might need. This will help you to narrow down the field, because legging pockets come in a wide variety of shapes, sizes and placements. For some people, the more pockets, the better. Others might only need a single tiny pocket to hold a phone or key.
Another thing to keep in mind is the kind of running you do. Someone who runs primarily when it's dark outside will likely prefer reflective details on their leggings. Someone who runs outside in the snow all winter long will undoubtedly be on the lookout for warm, lined leggings.
Keeping your wants and needs in mind will help you find the best running leggings for you!
Our Top Picks for Running Leggings with Pockets
Not every runner has the same needs which is why we have a handful of favorites so you can find what's best for you!
If cropped or capri leggings are your style, then you'll want to check out these 20" long Baleaf leggings. Both comfortable and practical, these are perfect for fall or spring for those inbetween temperature days or taking it to the treadmill at home or the gym.
Features to love:
Three pockets (one on each side and one in the front waistband). The side pockets are large enough to hold phones up to 5.5" long.
Available in sizes ranging from XS to 3XL
Made of a squat proof, stretchy material
Available in 8 different colors
Jane and I both have our own go-to cold weather leggings, and since we love them so much, they each earn a mention for the best leggings for cold weather! Both are ideal for runs below around 25 degrees Fahrenheit. Best of all, both styles of leggings are easy on the wallet, which is always a bonus when it comes to running gear.
Jane's pick: Baleaf Women's Fleece-Lined Winter Leggings
Features to love:
Budget-friendly at around $30 a pair
Come in 16 colors
Three pockets – two side pockets and a smaller one in the waistband
Lined on the inside with a light layer of fleece for extra warmth and insulation during cold winter runs.
(Baleaf also makes an amazing compression short with pockets which we talk about alongside some other favorites in this post.)
My pick: Senita Athletics Thermal Warm Leggings
Come in two colors
Lined with a medium-thickness layer of fleece on the inside – cozy and toasty!
Very high-waisted, which helps provide extra warmth for your core and keeps them up
Two side pockets large enough to hold a phone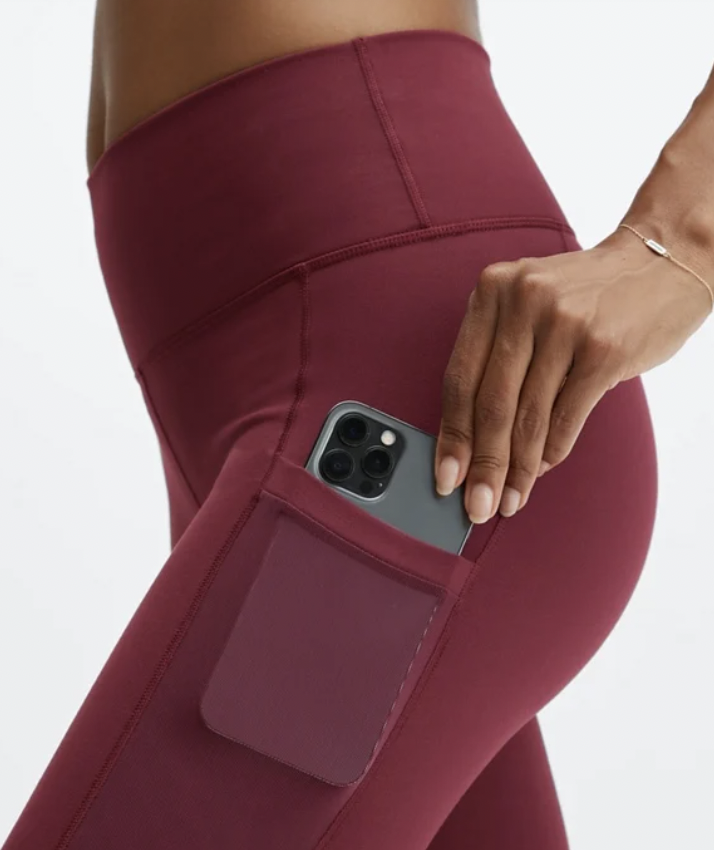 Fabletics On-the-Go High Waisted Leggings are an excellent go-to pair of pocket leggings.  Jane loves that they are made of Fabletics' Power Hold fabric, which stays put and is very flattering on all body-types! The seam detailing gives a bit of added flair and these leggings are great for just wearing day-to-day, too.
Features to love:
High-waisted
Maximum-Compression
Three pockets: two side pockets that are big enough to hold a phone, and a smaller front waistband pocket that is perfect for stashing a key or energy gels. 
Three lengths to choose from: short (27"), regular (27") and tall (29")
Incredible Range of Sizes from XXS – 4X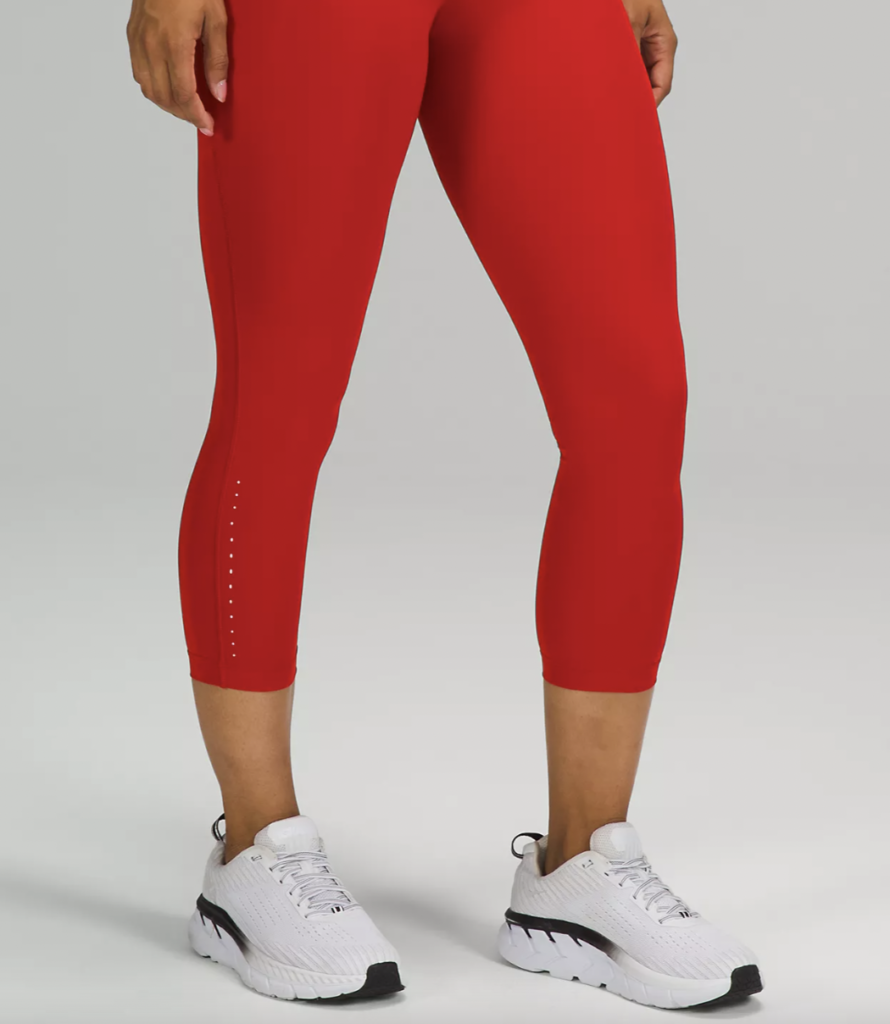 The Lululemon Swift Speed High-Rise Crop is a favorite for its versatility which means it's great for a lot more than just running! These lightweight and breathable leggings have gentle compression that will support you and keep you comfortable no matter the kind of workout you are doing (and are a great substitute for shorts on a warm day if you prefer leggings).
Features to love:
Two side hip pockets that fit your phone, gels, or even these awesome little water bottles
Back zip pocket for more storage
Great fabric to wick away sweat 
Drawcord waist gives the perfect fit
Reflective details help you to be seen in low light
Sizes 0 – 20
These were perfect for my most recent chilly fall half marathon, but have also been great to wear to HIIT classes, yoga, barre, and mountain biking with the fam!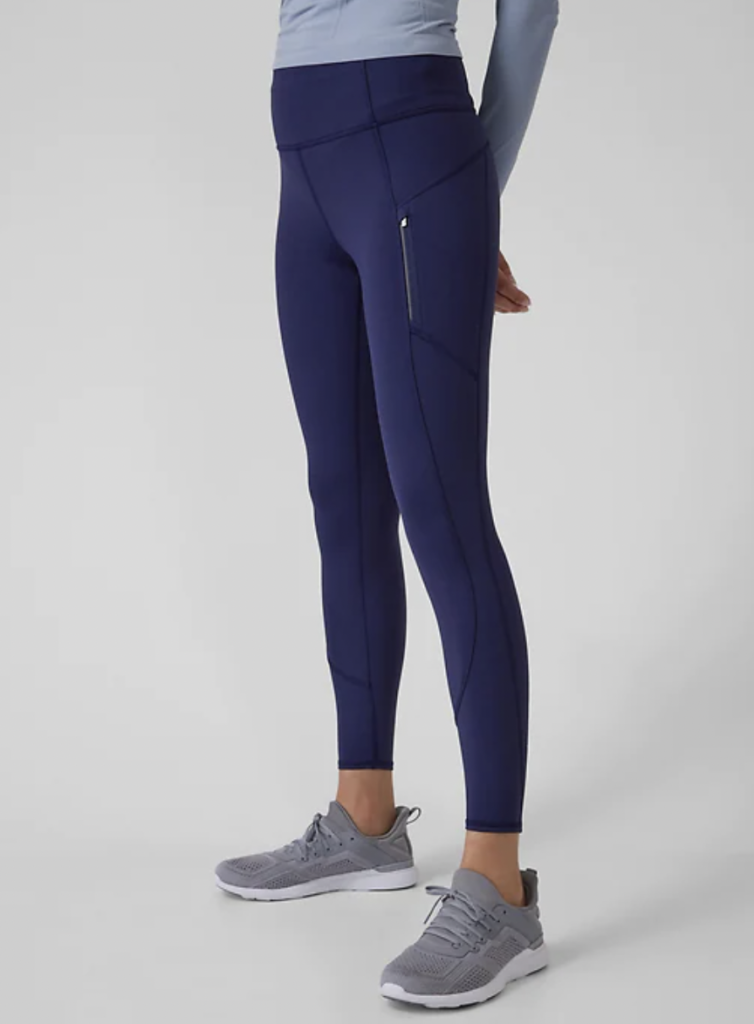 If you're someone who runs at dawn or dusk, you need to be seen. Adding in a reflective pair of leggings to your other night safety running gear is a smart idea. The entire outer camo-printed material on these leggings is reflective, so that you are certain to be seen by drivers when running in the dark. The leggings are lined with a thin, soft brushed fabric, which provides a touch of extra warmth on chilly days.
Features to love:
Two phone-sized zippered side pockets and a generous drop-in back waistband pocket
Three lengths: Petite (25"), Regular (27") and Tall (30")
Come in sizes XXS to 3XL
Lined with a thin, soft brushed fabric for extra warmth on chilly days
While they are on the pricier side at $119, the peace of mind that comes with running visibility is most definitely worth it. I have two pairs of the Rainiers – these, and a non-reflective version – and they are always the first leggings I reach for in cooler months.
The CRZ Yoga Women's Naked Feeling Workout leggings are a top pick on Amazon! These leggings are incredibly well-priced making them an incredible value. Many reviews claim they are inexpensive dupes for some well-known Lululemon leggings that offer a similar sensation against the skin. Reviewers praise these leggings for being squat-proof and having pockets big enough to carry large cell phones and keys. Hungry Runner Girl, shares here love for CRZ Yoga leggings saying "the colors, the materials, the pockets and the fit are just awesome."
Constructed from "naked feel" fabric
Two pockets, located along the side of each leg
Over 40 colors and patterns (think snake, leopard, camo!)
High-waisted
Sizes XX-Small – X-Large
Does the man in your life need a pair of pocket running leggings (men's are usually called "running tights") that holds their phone and keeps them warm on cold weather running days? UnderArmour Heatgear is an excellent budget option or go for the splurge with the 5-pocket Lululemon Surge Warm Tight.