As runners, we know that spring means it's time to pack away our long leggings and switch over to running shorts. There's nothing like a running wardrobe refresh this time of year to help revitalize your motivation and excitement for running as it warms up. And I don't know about you, but there are no better running shorts than those that have pockets. Lots and lots of pockets.
Ready.Set.Marathon.com founder Jane and I have tested our fair share of running shorts over thousands of miles of running, and we are sharing a top list with a few of our favorites below.
Our Top Picks for Women's Running Shorts With Pockets Big Enough For Your Phone:
(And if you're a mama-to-be we have a fantastic option for you, too!)
Why You Need Pockets in Your Running Shorts
We personally think it's a top requirement for any new pair of running shorts to have pockets, especially pockets big enough to hold a smartphone. Not only is it important for safety, it's also nice to have it so you can listen to music or podcasts, or to help track your running route if you don't have a fitness or running watch.
Though a phone pocket isn't always a deal-breaker, I find myself more and more reaching for the ones that do have a pocket large enough for a phone.
But at a minimum, you're going to want a pocket that at least holds an ID and a key. And for those of you running long runs, marathons and ultramarathons, you'll likely want lots and lots of pockets that can also hold gels and maybe even water bottles (these 8.5-ounce Fitly flasks fit perfectly in side pockets)!
RELATED: Top 10 Marathon Runner Must-Haves
What kind of pockets do you need in running shorts?
When looking at a pair of shorts consider what you'll need to place in the pockets. We think the more pockets the better (just in case) but here some pocket types to look for:
Side leg pockets – this is typically the best place to store a phone. And most shorts that have these types of pockets have them placed on both sides of the leg. If this is what you're after, compression shorts are the best bet or classic running shorts that have a compression liner. Really short shorts and unlined classic running shorts, however, don't usually have these types of pockets.
Back zip pocket – These types of pockets come in all different sizes – some large enough to hold a phone and others are much smaller. Be sure to read the description carefully to ensure it's the size you need.
Waistband pockets – These types of pockets come in handy for holding all kinds of small items such as gels, keys and an ID. But you'll also find that certain pairs, such as the ones from FlipBelt, have large enough pocket(s) in the waistband to hold a phone and even water bottles.
Small side zip pockets – Keep an eye out for these little pockets that are able to hold your smallest essentials.
Our list of shorts below has you covered (see what I did there?) and will help lead you to your next favorite pair of running shorts that can hold your phone as well as other additional items you might need to bring along to keep you safe, fed and hydrated.
We have included several different styles and price-points, so that you are sure to find a new favorite pair that suits your style and budget.
Our Top Picks for Running Shorts with Pockets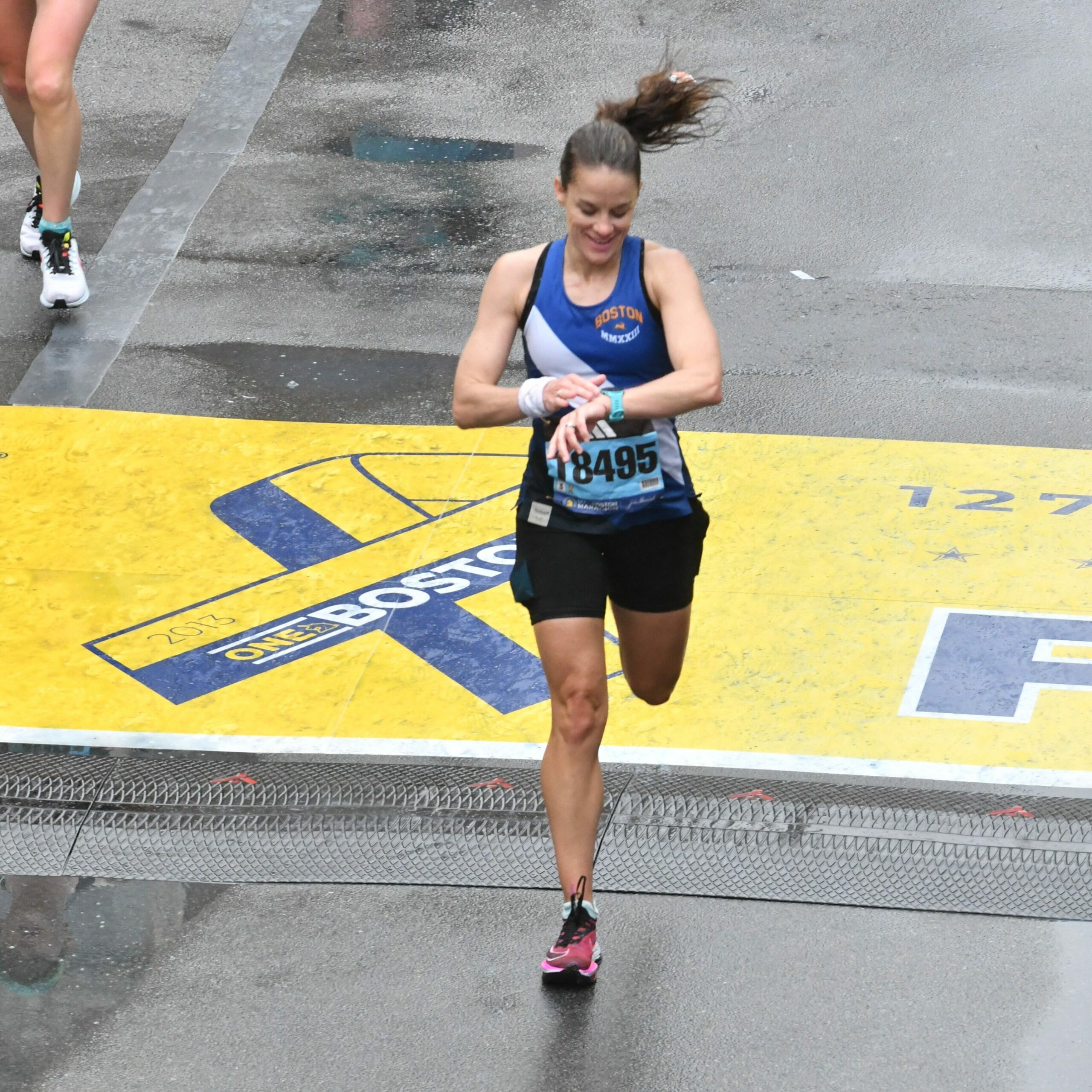 Wearing the Fabletics 6″ Short at the Boston Marathon – perfection!
We know that every woman has different preferences when it comes to running shorts, which is why we've listed a handful of our top faves. (All with pockets, of course!)
If you're a fan of compression, bike-style running shorts, look no further than Fabletics OTG 6″ shorts. Made of soft, stretchy moisture-wicking fabric that holds you in, these shorts boast multiple pockets for runners to stash their essentials. Even better, they are available in 2 different leg lengths to accommodate your personal preference. Reviewers praise these short as great for long runs because they help runners avoid the dreaded inner-thigh chafing AND have plenty of room to store all the fuel you need or small water bottles.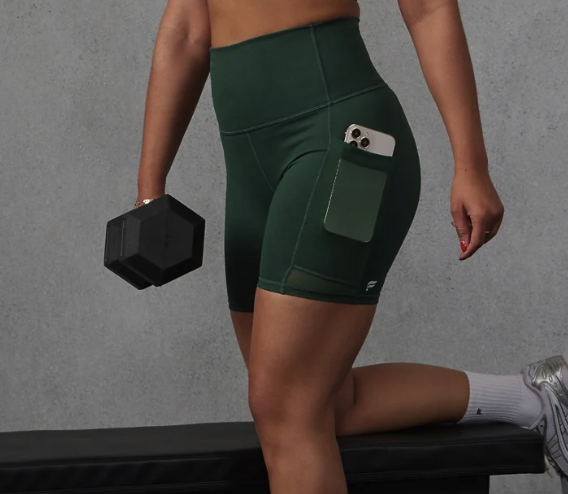 Features To Love:
5 pockets: 2 mesh pockets on the legs can hold a phone, etc., and 1 waist pocket perfect for stashing a key, a couple of gels or ID/CCs
Flattering maximum compression
Available in a 6″ inseam (not too short and not too long IMO!) or here is a 9″ option if you want longer
Inclusive sizing, from XXS – 4X (I found they run a bit small and opted to go up a size)
Lots of color options!!
If you're on a budget, these bicycle-style compression shorts by Baleaf are a great pick! Coach Jane is a huge fan of these high-waisted shorts wearing them for her last 3 marathons (watch this video to find out everything she wore for the Boston Marathon). She is not alone: over 75,000 reviewers on Amazon give them a rating of 4.5 out of 5! They're available in two different kinds of fabric: "buttery soft" and "moisture-wicking." While both perform equally well and feel great, Coach Jane recommends wearing the moisture-wicking fabric version on your warmest, sweatiest runs.
Features to Love:
3 pockets: 2 side pockets large enough for a phone, and 1 hidden front waistband pocket
40 colors
Inclusive sizing, from XS-3XL
3 inseam lengths: 5″, 7″, 8″
We have found the perfect hold-it-all running short, made by FlipBelt. These shorts can hold not only your phone, but almost anything you might need to stash on your runs! A Flipbelt (a large, tubular pocket – we sing its praises in this post about best ways to carry your phone) is built into the waistband. It is stretchy and compressive enough to hold items such as a phone, keys, cards, gels and FlipBelt water bottles all at once! There is also a rear zippered pocket to store items you want to keep secure. Reviewers on Flipbelt.com love that they can run hands-free, carrying their essentials with minimal bounce. These shorts are available both on Amazon and Flipbelt's website.
Features to Love:
Tubular waistband pocket can hold any size phone, plus more
1 zippered back pocket
Built-in liner
3″ inseam length
Sizes from XS-XL
RELATED: Should you wear underwear with running shorts?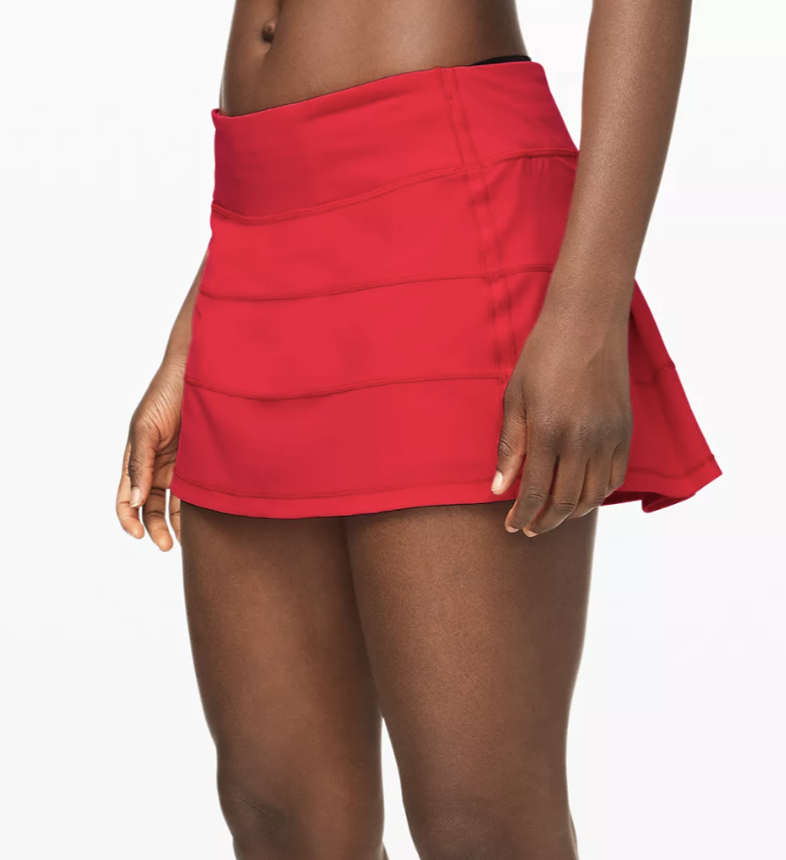 If running skorts are your jam, look no further than the highly-rated Pace Rival Mid-Rise Skirt by Lululemon. This universally flattering skirt/short combo allows you to stash your phone and other essentials in the under-shorts' 2 convenient leg pockets. The 3.5″ inseam under-short is constructed in a boy-short style. There are grippy silicone strips on the bottoms of the under-short leg openings to help prevent them from riding up during your run. Valuables may be stored in the waistband's rear-zippered pocket. Reviewers praise this skort as comfy and cute. It is also a popular choice for other sports, such as tennis, pickleball, and golf!
Features to Love:
2 side leg pockets for holding a phone
1 rear zippered pocket, and 1 hidden media pocket
Available in 3 lengths: 12″, 15″, & 17″
Sizes range from 0-14
9 colors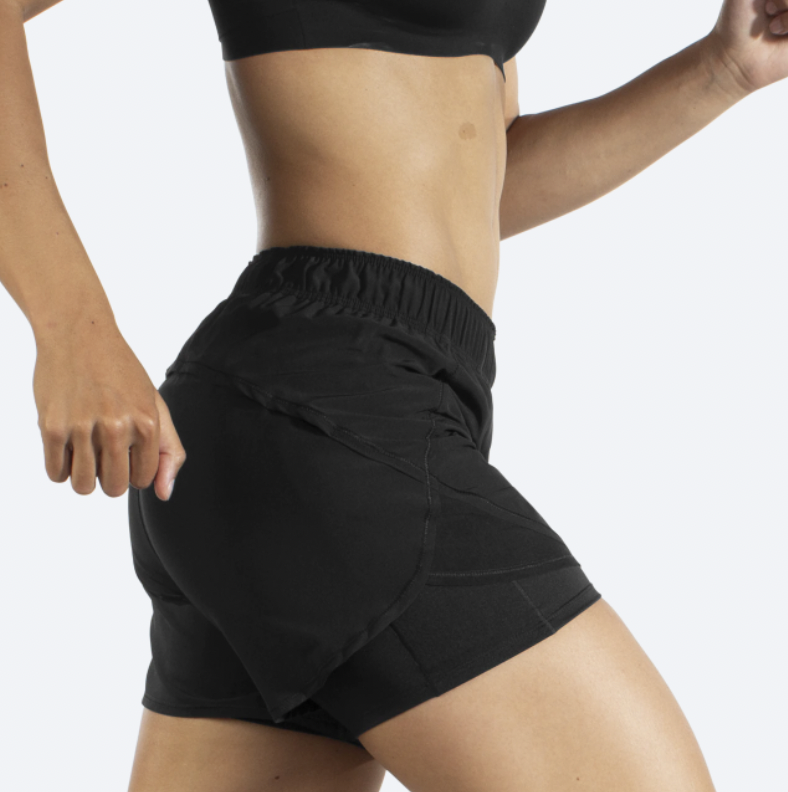 A 2-in-1 short is a great option for those who like the feel and support of a compression short, but want the added coverage and freedom of of an outer-shorts layer. These shorts have 5 pockets, 3 of which are perfect for holding a phone! The elastic waistband is customizable and can be rolled down to get a better fit. According to reviewers, the Brooks Chaser 2-in-1 shorts don't ride up or cause chafing during runs. These shorts have an impressive 4.7 out of 5 stars ratings average!
Features to Love:
5 pockets: 2 large phone pockets on the outer legs; 2 hidden pockets on the front liner, and 1 zippered back pocket that can also hold a phone.
3 colors
Sizes XS-XXL
5″ leg inseam on inner compression short
RELATED: How to Stop Chafing in Marathon Training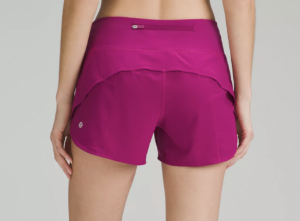 You can't go wrong with the tried and true classic running short style. Our favorite version is the Speed Up short by Lululemon. This short offers an impressive number of versions so that you can find your best fit, such as 2 inseam lengths (2.5″ and 4″) and 3 different rise options. Reviewers love the Speed Ups' wide, smooth, yoga-pants-like waistband and comfortable built-in liner. These shorts have a zippered back pocket, perfect for holding your phone on the run.
Features to Love:
1 larger zippered back pocket; 2 smaller waistband pockets for holding keys or other small items
High Rise version: 2.5 or 4″ length; many colors; sizes 0-20
Mid Rise version: 4″ length; many colors; sizes 0-14
Low Rise version: 2.5″ length; many colors; sizes 0-14
Built-in liner
For a more affordable classic-style running short, Rrosseyz Running Shorts for Women, available on Amazon, are a great find. These high-waisted shorts are inexpensive dupes for the Lululemon Speed Up short, with similar styling and features! They have a smooth, wide waistband, and a large zippered rear pocket to hold your standard sized phone. Amazon reviewers have rated these shorts very highly!
Features to Love:
2 pockets: 1 large rear zippered waistband pocket for a phone; 1 small hidden pocket in the front waistband
4″ leg inseam
17 color choices
Built-in liner
Sizes from XS-XXL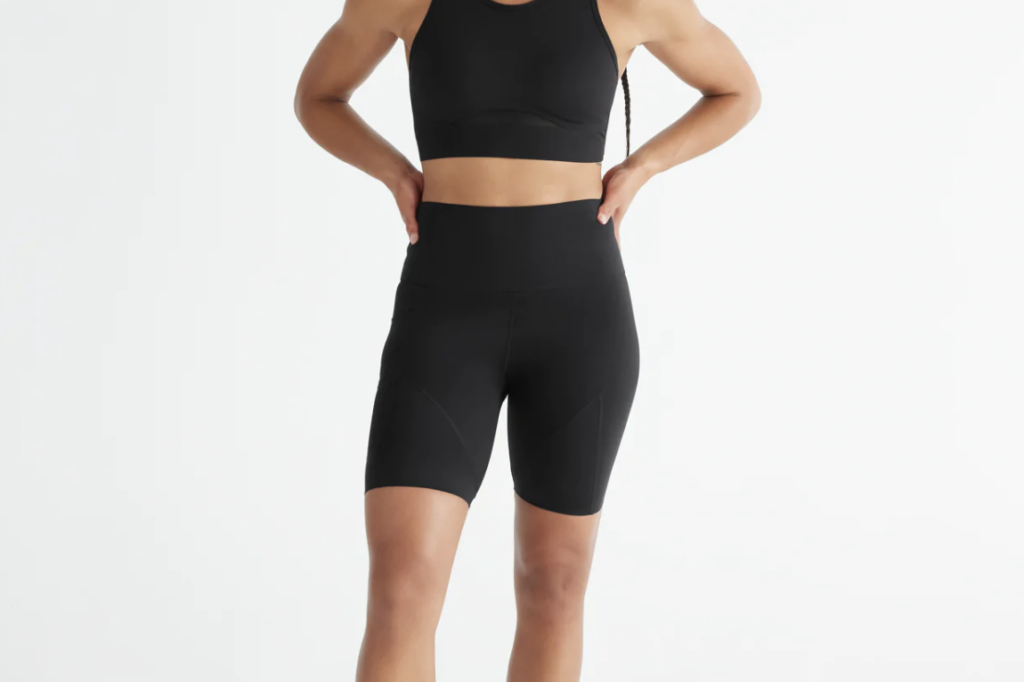 Say good-bye to thick pads, slipping tampons and inconvenient cups. These activewear shorts were specifically designed to be worn alone for leakproof protection during your period or those frustrating pee leaks. The catch-all gusseted design holds up to 5 tampons (30 mL) worth of flow, meaning no one will be the wiser that it's that time of the month or that you experience stress incontinence from time-to-time (around 1/4 of women experience this so you're not alone if this is you.) Pretty sweet we have an option like this as female runners!
Features to Love:
Compression design stays put while you run
No worrying about changing out a pad, liner or tampon mid-run
8″ inseam
A double-side pocket holds your phone and more
Sizes range from XS – 4XL
RELATED: Running on Your Period and How the Menstrual Cycle Affects Your Running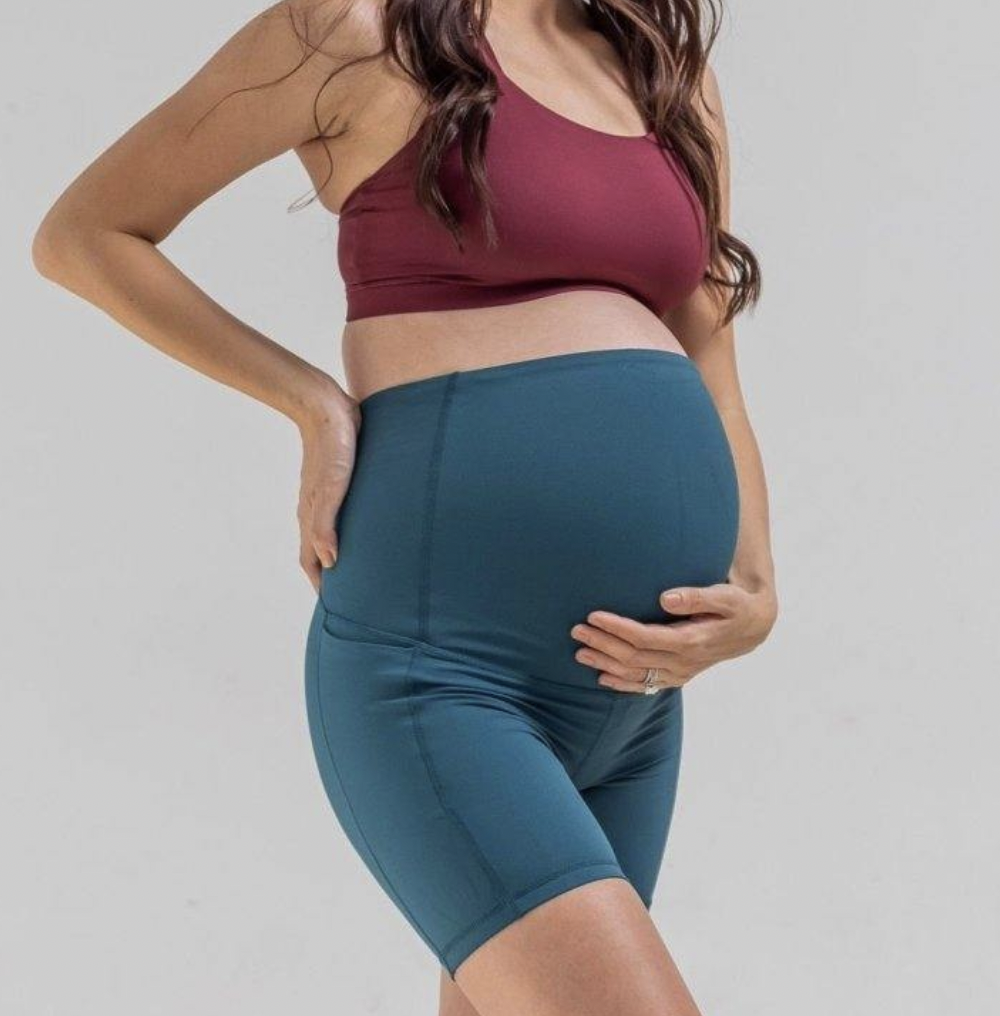 We haven't forgotten about you expectant mamas who are in need of some great shorts for running and other active pursuits during your pregnancy! The affordable Rio shorts by Senita Athletics are very highly rated, with an average rating of 4.7 stars out of 5 by reviewers. Made of fast-drying and supportive Luxe fabric, these are 5″ bicycle-style shorts featuring a full belly panel. The panel is customizable and able to be folded and worn below the belly, depending on your preference. Best of all, there is a generous side pocket on each leg for your phone and other items.
Features to Love:
2 leg pockets large enough for a phone and more
5 colors
Sizes XS-XXL
5″ leg inseam
Full belly panel that is able to be folded and worn below the belly
Affordably priced
There you have it: the best women's running shorts with pockets to hold your phone! We are sure that you will find your next favorite pair among the shorts on this list. And when the weather turns colder and you're ready for pocketed leggings or crops, we have you covered in this post!
* I earn commissions for purchases made through links in this post. As an Amazon Associate, I earn a commission from qualifying purchases at no extra cost to you. Other product links may also be affiliate links. Thank you for your support.