We have an important topic to discuss today. That's right – underwear. Think this isn't high on the list of priorities of things you need to know when it comes to your training? Think again. Once you start upping the mileage, it won't take you long to notice if it's time to up your undies game. Trust me, you'll know. Bad skivvies don't discriminate between the sexes, both men and women can experience the excruciating rubbing that can happen from an ill-fitting pair. But don't despair, today we're talking all things running underwear so you can find the best ones to prevent chafing.
What is the best underwear for running? Whether you're a man or a woman, running underwear needs to be comfortable – meaning they don't ride up and they don't chafe. Finding the right fit and fabric are key. From a running couple who knows (like, we KNOW), these are the best we've found:
Best Women's Running Underwear:
GNEPH Low-Rise Seamless Thong
New Balance Women's Performance Thong
Under Armour Pure Stretch Thongs
Reebok Seamless Hipster Panties
WoolX Lila – Women's Boy Short Underwear

Best Men's Running Underwear:
Adidas Climalite Boxer Brief
New Balance 6″ Fly Front
Fruit of the Loom Coolzone Boxer Brief
Runderwear Chafe-Free Running Underwear
Neleus Compression Shorts with Pocket

Not sure what to look for in running underwear and which type would work best for you? Read on…your thighs and ahem, crotch, will thank you.
What Kind of Underwear are Best to Prevent Chafing While Running
Everyone has a personal preference when it comes to the type of underwear they like to wear. But when it comes to running, certain styles are more conducive than others when it comes to all that movement. And of course, women's underwear styles are very different than men's. Let's get into what you'll want to look for:
Women Runners – here's what to look for in a pair of running underwear:
Thong or Hiphugger – Maybe TMI, but a thong style is all I'll wear when it comes to running. One reason is for comfort – I can't stand anything riding up my rear when I'm running, and the other is for looks – since I often wear tight shorts or pants when I run, I don't want any panty lines to show. I can't even feel a thong in the back, so that's my preference. I know other women can't stand wearing thongs and I get that! In which case you'd probably want a hip hugger style that sits at the low waist and has a full coverage bottom. You need a pair that stays put!
Moisture-Wicking – Obviously you're going to sweat a lot when you run, especially if it's a 20-mile long run in the middle of summer. You want that sweat pulled away from your body. This will reduce the amount of chafing, as WebMD reminds us. Thinner weaves and mesh help with this.
Comfortable Fabric – just as cotton should be mostly avoided in rest of your running gear, it should be in your underwear, too. 100% cotton holds sweat and is not at all quick-drying. Synthetic fabrics or blends usually work much better.
Seamless – This part is key! When women's underwear are seamless, it means that the underwear aren't pinching your body which can be really uncomfortable. Seamless underwear lay flat all over and won't dig in against your skin. This is includes the seam underneath. If you're not careful, you'll end up with a pair that rubs you raw right where your leg meets your crotch…and that hurts!
Leak Protection – According to Phoenix Physical Therapy, stress incontinence (the kind that causes you to pee when you run) affects around 15 million women in the U.S. Many female runners, especially those who've had children, are affected. Luckily there are some great leak-proof underwear options so you don't have to worry about embarrassing leaks on your run.
Men Runners – here's what to look for in a pair of running underwear:
Boxer Brief or Brief – Most of the styles that I included are boxer briefs because these are going to help a lot more with chafing than briefs. However, men who don't have thighs that rub together when they run can get away with regular briefs just fine. Otherwise, having a longer, tighter pair of boxer briefs is your best bet against chafing.
Moisture-Wicking – Moisture + rubbing is the recipe for chafing, so you want something that takes the sweat away from your skin. Most of these boxer briefs are like a second pair of shorts you're wearing so you're going to heat up very quickly if you're not wearing a pair that wicks away sweat. This will ensure you stay dry even during the longest of runs.
Comfortable Fabric – What your underwear is made of matters a lot. Cotton boxer briefs might feel great for day-to-day wear, but they're not a good choice for running. Your best bet is a synthetic fabric blend.
Stays Put – Since you want a chafe-free running experience, you need a pair of underwear that stays in place. Make sure that they fit snugly so you can be confident they won't ride up at any point during your run.
Phone Pocket – Finding a place to put your phone can be annoying, but either buying shorts that have a liner with a pocket built in or using separate underwear with a phone pocket is a great place to store it.
Related: 5 Best Ways to Carry Your Phone While Running
My recommendation is to find a great fitting pair of running underwear that doesn't pull, pinch, or rub that keeps you dry. Once you've found that go-to pair, I'd stay stick with it for all your different sports!
Top Women's Underwear to Prevent Chafing
Hey ladies – this first grouping is for you (men…scroll on down.) I've had a lot of experience with different pairs of underwear for running – I will tell you from experience, if I just throw on any random pair, I usually have regret halfway through my run. These 5 pairs will take you through a marathon and beyond.
*TOP PICK* I know this is no top running brand you've ever heard of, but I chose this for the top women's style because this is the exact type of pair I wear for running. I just picked mine up from a big box store. Super soft, lay completely flat and there's no pinching. They're my favorite all-around undies…not just for running!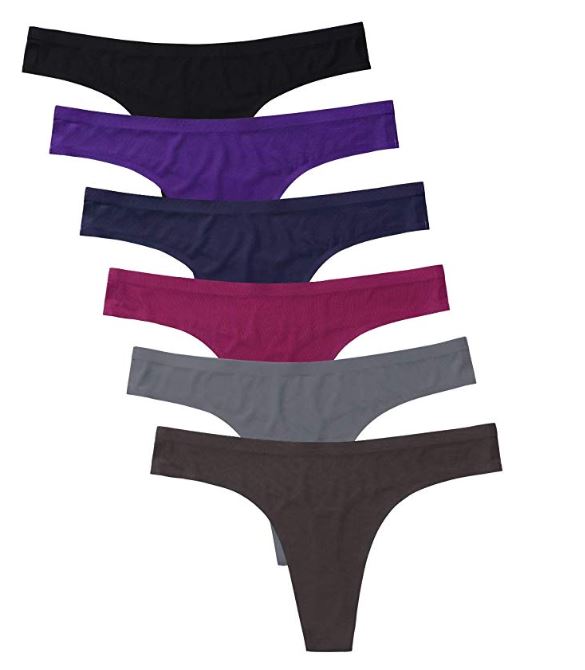 Body fabric: 86% Nylon, 14% Spandex
Seamless – no seams means no rubbing
Tagless
"Laser cut" – this means they're completely smooth against your body which means no pinching
"Second skin" like feeling
One reviewer specifically stated that these are "awesome" for long runs!
New Balance is a brand that's all about helping everyday athletes perform their best. They've been around for 100 years and create shoes and lines of clothing with exercise and movement in mind. So when it comes to their underwear, you can expect the same!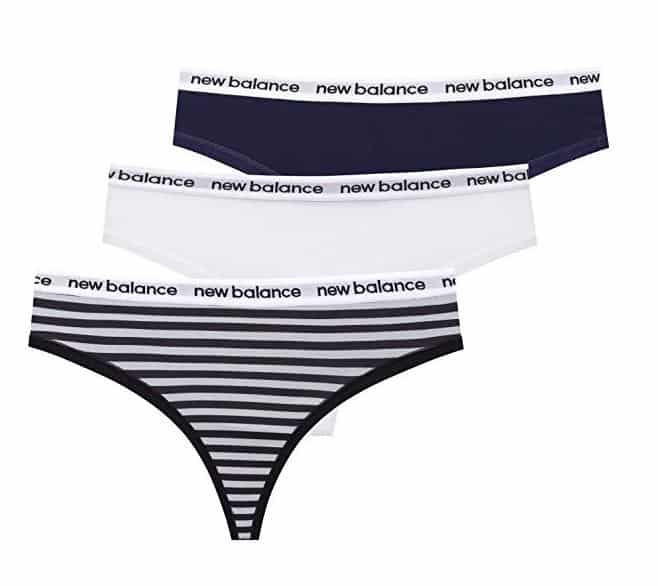 Body fabric: 93% Nylon, 7% Spandex
The fabric blend is stretchy, durable and helps absorb moisture and eliminate odor
"No side" seamless design – this helps avoid chafing
Elastic waistband sits low
There is also a hipster style available if you don't like thongs
Reviewers state the waistband is great and "doesn't dig in or roll"
With Under Armour being such a household name in the world of sports, it's no wonder that they make underwear, too. Their website states that they offer "performance solutions you never knew you needed and can't imagine living without." I guess that goes for underwear, too.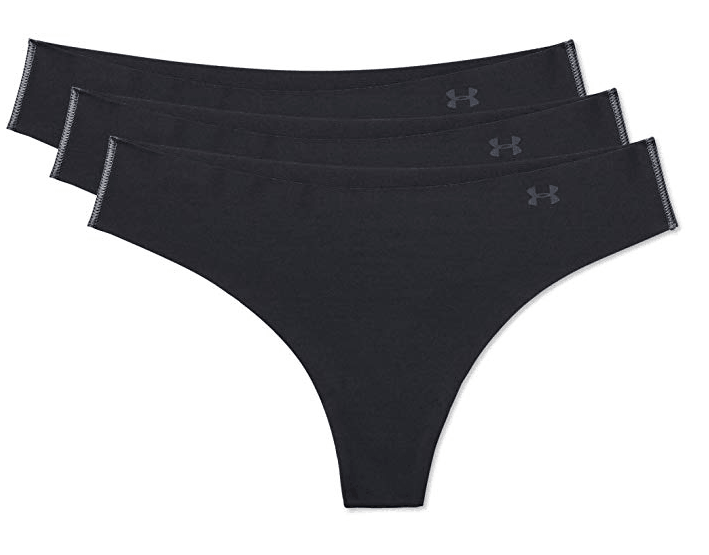 68% Nylon, 32% Elastane
moisture-wicking
helps keep you dry and clean after a run
seamless on the front, back and underneath so won't chafe or cut into skin
no panty lines
One person wrote that these are "literally the best" for long distance running
Though thongs are always my go to, I know lots of runners have success wearing underwear that offer booty coverage. These ones from Reebok actually remind me of the racing briefs that elite females often wear to run in. The fabric is perfect for running in and they'll stay put. Just say no to wedgies!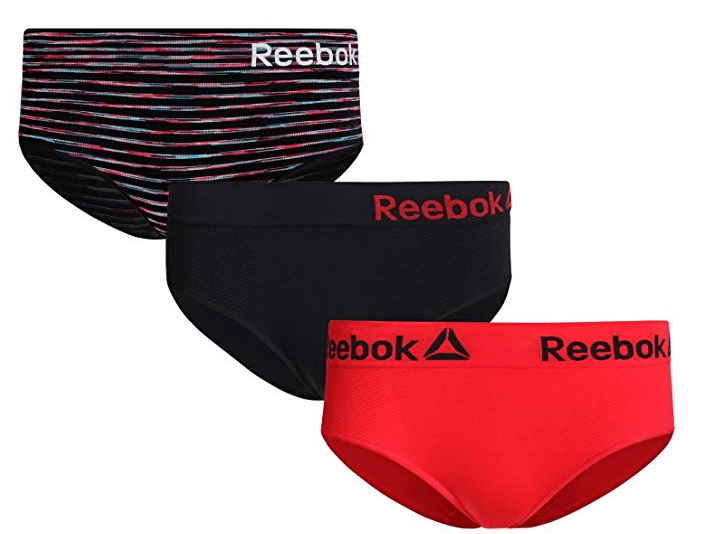 Body fabric: 92% nylon, 8% spandex
This blend of fabric is moisture-wicking to keep you dry
Seamless and tagless design means nothing is rubbing against your skin
Low, stay in place legs means they won't ride up
Here's my favorite review of these: "Athletic underwear that doesn't get eaten up by your butt!" Ha!
This pair is for those runners who want the most coverage in their underwear. Honestly, it's all about choosing what's going to be the most comfortable for you during your run. But sometimes runners want underwear that can be great for everyday wear on their days off, too. These boy shorts are great for both. Though synthetic fabrics are usually best, merino wool actually has excellent benefits. (Don't worry – it's not the heavy, scratchy kind!)
Body fabric: 83% lightweight and soft Australian Merino wool; 5% spandex
No-roll waistband means these stay put
Seams in the front deliver chafe-free comfort
boy short design means they won't cut in at the legs
optimal air flow and ventilation allows for breathability
antimicrobial removes odor-causing bacteria
There is also a thong option available
These have excellent reviews – many said they were surprised by how soft and breathable they were
That wraps up our round up of top women's underwear to prevent chafing. But wait, there's more! Are you a woman who suffers from bladder leakage? Unfortunately this is fairly common among women who've given birth. If that's you, I think you'll find the following pair of underwear really helpful.
These underwear were specifically designed for women who experience bladder leaks. I've been in this situation myself and would've loved to have this option to run in! I also like how these fit around the booty meaning they won't creep up on your run.
A mom of 7 writes, "I exercise and run, but still always leak. But these make me feel more comfortable and fit great under my running shorts. They really do work!"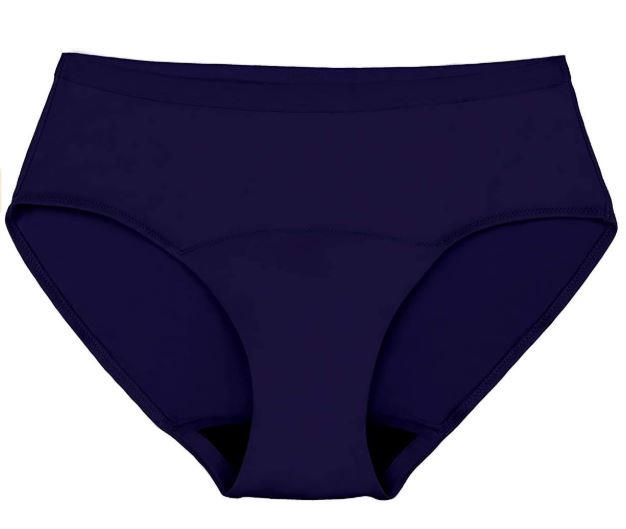 absorbent, quick drying protection
holds up to 8 teaspoons of liquid for light to moderate bladder leaks (or period)
moisture-wicking, breathable and leak resistant means your thighs stay dry and free of chafing
neutralizes odor
completely reusable meaning you can avoid waste from pantyliners
Lastly, if you are a woman who experiences chafing along the thigh area, even the best underwear won't help you there. This is something that many women experience, and there are great shorts that can solve this issue. My best recommendation is the 8-inch version of my favorite Baleaf shorts on Amazon – you can find them here in a wide range of colors (and they even have pockets which is a great way to carry your phone.)
Top Men's Underwear to Prevent Chafing
Nope, I'm not a guy, but I do have a husband who's a runner and he chimed in on these recommendations. He's all about a synthetic fabric boxer brief that stays in place. Make sure you get the correct sizing – it should be tight in the legs so they don't ride up, but you don't want it so small that it's pinching in at the waist. Make sure you choose a pair that will keep you dry and stay put for all those miles you put in – even if you decide to run a marathon.
*TOP PICK* Not only are these a great pair of underwear to use for whatever workout you might be doing, they also come in lots of different colors and designs. And I KNOW that it's not just women who care about this! Choices are always good. The reviews are crazy good on these, making them my top pick.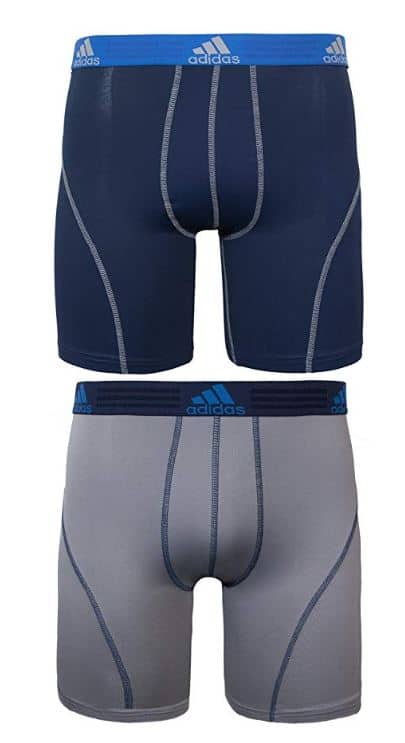 91% polyester, 9% spandex
soft and stretchy
7-inch inseam
seams prevent ride up and bunching
double lined pouch gives proper support while you run
smooth, tag less waistband
keeps wearers cool, dry and comfortable – perfect for those long runs
Like the Adidas underwear above, there are lots of color choices for these ones from New Balance. This is definitely a brand to trust when it comes to running. These are great for running, cross-training or for just everyday wear.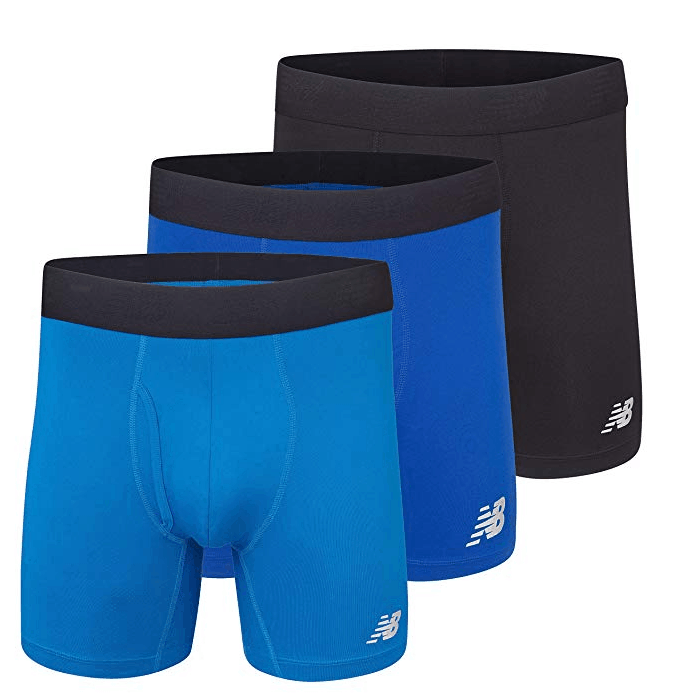 90% polyester, 10% spandex
quick sweat wicking fabric to keep you cool and dry during workouts
lightweight 4-way stretch
inseam stays in place and won't ride up
fly front pouch is another added feature
I mean, c'mon, it's Fruit of the Loom…do they really know how to do running underwear? Honestly, I might trust them better than almost anyone since they've been keeping our private bits covered since the mid-1800s. These are one of the best-reviewed pair of athletic underwear and give the right fabric you need to keep the chafing at bay during those long runs.
92% polyester, 8% spandex
soft and silky feel with no bulk
wide waistband won't pinch
moisture-wicking
functional fly
extended leg stays in place for comfort and anti-leg chafing
If you have thinner upper legs that don't rub together, than regular briefs will work great for you. If you also prefer wearing shorter running shorts, these would probably be a great underwear option. Runderwear is a brand designed by runners, for runners and were voted the "Best Underwear and Socks Brand" at the National Running Awards 2 years in a row.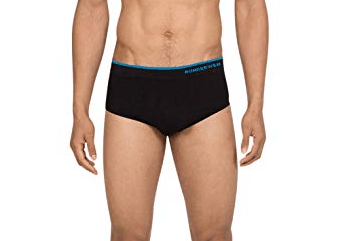 92% Polyamide, 8% Elastane
breathable with micro-perforations that increase airflow
technical fabric keeps you dry and free from chafing
360 degree seamless technology reduces the chance for unwanted skin rubbing
Technically these are "shorts" but I don't know a lot of men that would wear these with nothing over the top. Not that there's anything wrong with that though…these could work great for running shorts on their own. (I wear a similar female version so I say go for it!) But if modesty is your thing, these can work great as underwear. Having underwear that has a pocket for your phone is pretty clutch if you ask me! That you can keep listening to tunes, etc. on your run makes these a good choice.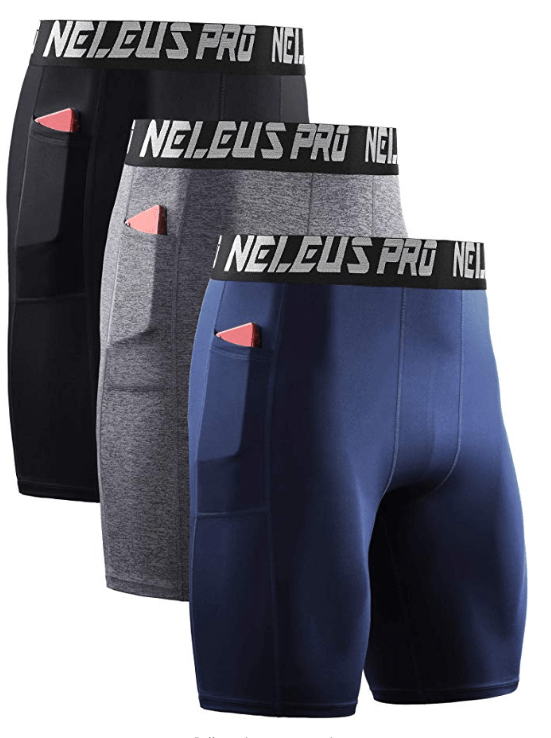 85% polyester, 15% spandex
tight fitting compression and feels like a second skin
flatlock stitching on the seams helps prevent chafing
moisture wicking fabric that's quick drying
pocket on each side means you can store your phone and whatever else you need
9-inch inseam
What about running commando?
Are you were wondering if you can be a bit more free and run without underwear for your runs? Definitely! Many runners do.
Many running shorts have a liner inside that's supposed to function as underwear and will likely feel strange when combined with a pair of underwear. Though this is not my preference, for many runners, this is how they always run. Eliminating a piece of fabric could certainly help the chafing situation for many runners. On the other hand, you'll want to be sure there aren't any weird seams in your shorts that might rub in weird spots. Bottom line – if you want to try running commando and see if that works for you – go for it!
If you'd like to give this option a try here are a couple of great pairs for both men and women.
Continuing to Stay Chafe Free
I wish that I could tell you that your underwear is all that you have to worry about when it comes to chafing, but you need to be careful about all of your clothing choices. Especially when it comes to hotter long runs. Choosing your running clothes wisely helps as does which water carrier you choose (see my favorites here). One other thing I never go without is Vaseline, which I talk about in length in my article, "How to Stop Chafing in Marathon Training."
* Featured Photo by Filip Mroz on Unsplash; As an Amazon Associate, I receive a commission from qualified purchases