Shopping online is incredibly convenient, but there are some items that are easier to buy "sight unseen" than others. Though running shoes may not be the easiest item to buy online since the fit matters so much and how everyone runs is different, it can definitely be done!
I've had a lot of success buying running shoes online, and you can, too, with these 5 tips:
1.) Measure Your Feet to Get the Correct Shoe Size
2.) Determine "How" You Run – Underpronation, Neutral or Overpronation?
3.) Know What Kind of Running You'll Be Doing the Most (Road vs. Trail)
4.) Read and Watch Running Shoe Reviews
5.) Buy From an Online Store with a Great Return Policy

Here I'll explain these tips in-depth so you can choose the perfect pair of running shoes online without spending hours poking around all over the internet wondering what the heck to buy.
Why buy running shoes online?
Before we cover the essential tips for making your online running shoe purchase, let's take a look and why buying running shoes online can be a great way to go. I love buying running shoes online and here's why:
It's convenient.
You can price compare with ease.
It reduces the pressure of buying when you want more time to think about it.
You avoid the disappointment of a store being out of your size.
You may think you can only buy one pair of shoes online and hope it works out, but with some great return policies in place (which we'll discuss) there's no reason why you can't order a few pair to find the one that works best for you. And once you find that perfect pair, you'll be able to order them online again and again without a second thought.
But there are some things to keep in mind when ordering a new pair of running shoes online, so let's get to it.
How to Buy a Pair of Running Shoes Online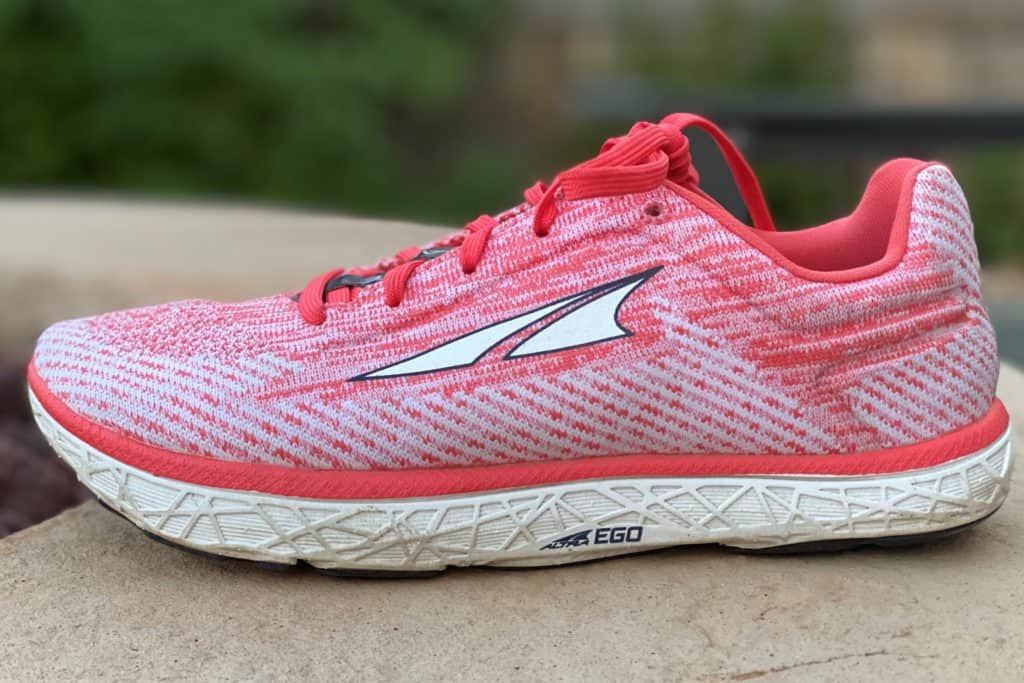 Before you willy nilly go buy a pair of running shoes off the internet, you'll want to go through the steps of this how-to guide first.
1.) Measure Your Feet to Get the Correct Shoe Size
Notice I didn't just say "know your shoe size." Unfortunately, it's not as simple as that. If you end up going this route, you may end up ordering a pair of shoes that don't fit correctly and having to go through the hassle of returning them (or worse, running in them only to find out they are the wrong size and you wasted your money.)
By having the correct measurement of your feet, you can then use that to determine which size shoe you need from a particular brand – because news flash – they're not all going to be the same.
Here's the easiest way to measure your feet before buying running shoes online:
1.) Lay a piece of paper down on a hard floor.
2.) Step on the paper (while wearing your typical running socks) and outline your foot with a marker. (Do this for each foot.)
3.) Take a ruler and measure each foot from heel to longest toe as well cross-ways at the widest point.
4.) After measuring both feet, use the longest measurement and widest measurement to determine your shoe size for different brands.
Some companies even offer a printable tool, like this one from New Balance, to find your size which can be really helpful.
These two size charts are a good example of why you can't just go with your standard size; a foot that is 23 centimeters would be a size 6 at New Balance but a size 6.5 at Saucony.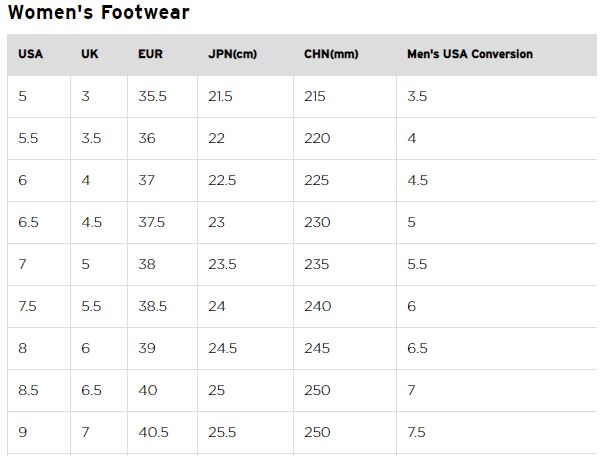 What if you're between sizes?
It's usually best to go up when it comes to running shoes. Having a bit more room in the toe box will help prevent black toenails, which I write about here.
It is common for running shoes to be 1/2 size – 1 size larger than your everday shoes. For example, Brooks Running writes, "We generally recommend that you order your Brooks running shoes 1/2 size to one size larger than normal dress shoes." I have found this to be true for me in most running shoes – I normally wear a women's size 6, but wear a 6.5 (sometimes a 7) in running shoes.
But, it's best not to assume. Measuring your foot and using that with a brand's size chart will get you the best fit.
2.) Determine "How" You Run – Underpronation, Neutral or Overpronation?
Once you know what size shoe you need, you'll also need to determine how you run.
Most runners will balance their weight in the middle of the foot (which is ideal), making them a "neutral" runner. But don't fret if you do find that you lean outward or inward, though less common, many people do run like this naturally. If when you land your foot while running, more weight is placed on the outer edge of the foot, you're someone who underpronates. You're classified as an overpronator if you land closer to the inner edge of your foot.
This information will help you find the right shoe.
| | | | |
| --- | --- | --- | --- |
| Runner's Gait | What you Run Like | Wear on the Soles of Your Shoes | Type of Shoe to Buy |
| Neutral | Foot lands mostly square to the ground – balanced | Wear on the soles is mostly even. | Neutral Running Shoe |
| Underpronation (Supination) | Foot lands toward the outer edge | Wear on the soles is toward the outside of the shoe. | Supportive Neutral Running Shoe |
| Overpronation | Foot lands toward the inner edge | Wear on the soles is toward the inside of the shoe. | Stability or Motion-Control Running Shoe |
For the majority of runners, who run with a neutral gait, buying running shoes online will likely be a pretty easy affair. For those who under or overpronate, it may take a bit more trial and error to find what helps you run your best. The following tips should help!
Neutral Running Shoes
For Neutral and Underpronating Runners
The majority of runners fall in the "neutral gait" category. And that means they need a neutral running shoe that allows your foot to move naturally without an added "guidance."
A smaller percentage of people underpronate (these people often have high arches), with the outer foot coming into contact with the ground, and they will do best with a neutral running shoe as well. However, more cushioning for someone who underpronates may be ideal – though this is where trying out a few pairs to see feels good is your best bet.
A couple of neutral running shoes most people love include the Brooks Glycerin and the Hoka One One Clifton. Underpronators may want to try a neutral shoe with a more cushioned ride such as the Asics Gel-Nimbus or New Balance Fresh Foam 1080 V10.
Stability Running Shoes
For the small percentage of runners who overpronate, there are many options of stability and motion-control shoes to help correct your running form so that you run in a more neutral manner.
For Minor Overpronation
Many runners technically have a neutral gait but will notice minor overpronation toward the outside of the foot. This is fairly common. Stability shoes, or those with more support in the midsole, often work best for these types of runners.
Two favorites in the stability department include the Saucony Endorphin Shift and the Mizuno Wave Horizon.
Motion-Control Running Shoes
For Pronounced Overpronation
Motion control running shoes offer maximum support. If you notice severe wear on the sole of your shoe toward the inner side at the ball of the foot, these shoes will likely work well for you. Heavier runners may also find that motion-control shoes work best.
These types of shoes have extra supports such as rollbars and are often more rigid than other running shoes.
A couple of top picks in the motion-control category include the Brooks Addiction and Saucony Omni.
3.) Know What Kind of Running You'll Be Doing the Most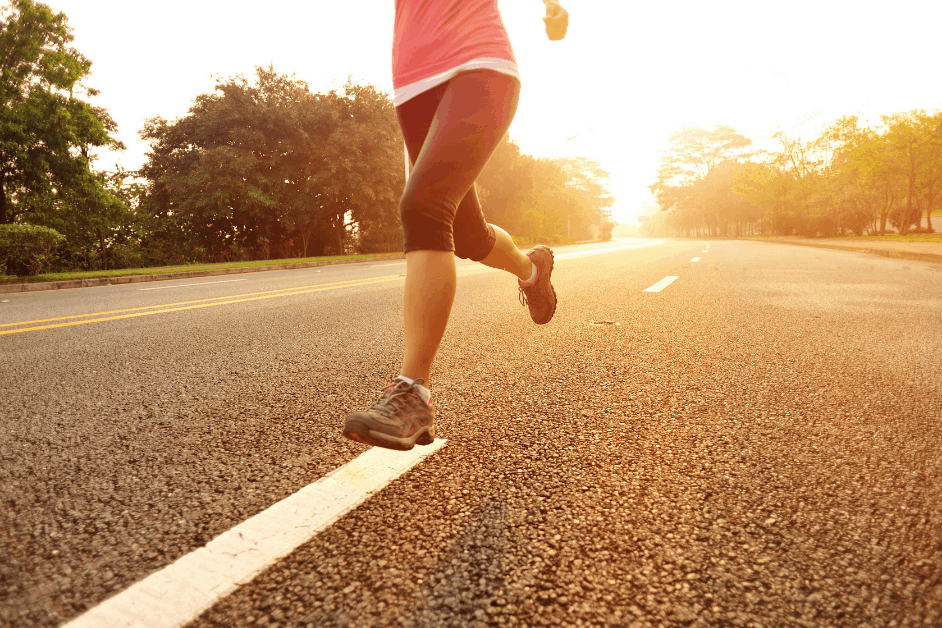 The next steps before making your shoe purchase is to nail down where you'll be doing most of your running. For most people that will probably be on roads or paved trails – and all of the shoes listed above will work great for that. These same shoes also work well on the treadmill.
If you plan to run on a lot of unpaved, dirt trails, you'll want to look into a trail shoe. These have more pronounced lugs on the bottom to offer more traction. Trail shoes are also ideal for anyone who will be running on snow and ice, as I wrote about here.
My personal favorite for trail shoes are the Altra Lone Peak, great for a neutral runner, a great stability option are the Salomon Speedcross.
Additionally, you may want to consider having a pair of training shoes for easy run days and a separate pair for speed work days and races. A shoe with more cushioning is great for easy days, whereas a lighter shoe, which I cover in my article about running shoe weight, is ideal for going faster.
RELATED: Will zero drop shoes make you a better runner?
4.) Read and Watch Running Shoe Reviews
There is no shortage of shoe reviews these days – especially on YouTube. It's easy to get sucked in if you're not careful. So instead of going there and just searching around aimlessly, have a few pairs in mind that you'd like to know more about.
For example, if you want to know more about the Brooks Glycerin, just search that and watch a couple videos to find out what people have to say. Run Like Heller does great shoe reviews.
A quick glance at the star rating and reading through some reviews will also give you a good idea if the shoe design is up your alley.
Reviews are super helpful, but don't spend too much time here. Though there will always be people who don't love a particular shoe, if there are lots of people giving it a 5-star review, there's agood chance you'll love it, too. The Brooks Ghost, for example, has thousands of reviews on Amazon with close to 90% of those being a 5-star review. That's a sing of a really greast running shoe!
5.) Buy From an Online Store with a Great Return Policy
More and more people are buying products online and therefore, companies are improving their return policies to accommodate online shoppers who want peace of mind. Shoes can certainly be tough to buy online, but this works best for many runners.
Buying from a company that offers a great return policy means you can be confident in your purchase – perhaps you can't decide between two sizes – or there are a few different pairs of shoes you want to try on before making a final decision…there are several companies that make it as hassle-free as possible – with some even allowing you to wear them outdoors before making your final decision such as REI and Road Runner Sports:
REI has a 100% Satisfaction Guarantee return policy, stating the following:
If you're not satisfied with your REI purchase, you can return it for a replacement or refund within one year of purchase. (excluding outdoor electronics)
So if you buy a pair of running shoes from REI and they end up being uncomfortable or just not the right fit for you, you should have not trouble at all exchanging them or getting a full refund as long as you have your receipt or the purchase was tied to your your REI member account.
At Road Runner Sports you can become a VIP member for a minimal price (and the coupon they give you right away will cover the cost). Once you've done that, you will have access to this awesome 90-Day VIP Test Run return policy:
VIPs always deserve the perfect fit! During the first 90 days after the initial purchase date, VIP Family Members may exchange worn footwear for credit towards footwear of a different make, style or size.
To me the couple dollars to join the VIP program is completely worth it to know I can try a pair of shoes – like REALLY try them – and exchange for something different if they just don't work.
But, give them the indoor test run first!
With all that said, many times you know without taking shoes outside for a run if they'll work or not. Walk/jog around your house for 20-30 minutes and if they don't feel right, it's the right thing to do to return them in resaleable condition if possible. But, sometimes it's not, so it's nice to know there are companies out there who understand that.
Are more expensive running shoes better?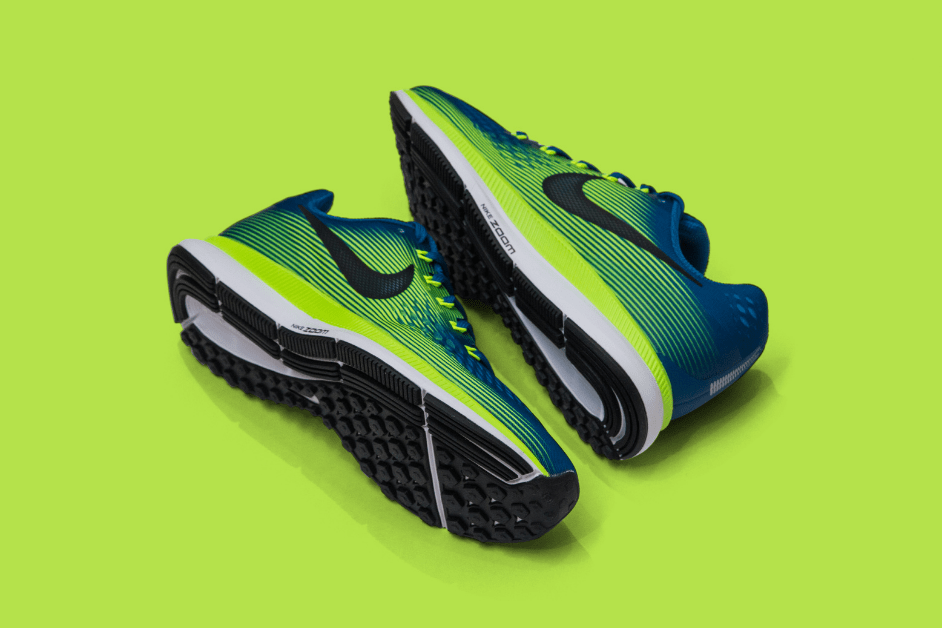 Running shoes that cost more don't necessarily make them better than those that are less expensive. Often times we are willing to shell out the extra cash if we know we're getting better quality, but that's not often the case with your running shoes.
There will be mark-ups on shoes simply because they are a more popular brand. On closer inspection you may find that a $100 pair of shoes has nearly the same features as a pair that's nearly twice as much.
Additionally, you can easily find past models of shoes at a discounted price. This is a great hack for anyone looking to save money and still have a great pair of running shoes. The clearance price is simply because they need to sell that inventory, not because the shoe isn't good anymore. For me personally, there have been times where I like the old model better than the new one and frequently buy them at a great price on Amazon (I've done this with plenty with Altras.)
With that said, you do want a good pair of shoes that are going to be supportive and takes care of your feet and last through the miles (most quality shoes will give you about 300 – 500 miles.) Stick to well-known running brands and choose a shoe that's geared toward running (aka not a "lifestyle" shoe) and you should be good to go (even if they don't cost an arm and a leg.)
Is it okay to buy used running shoes?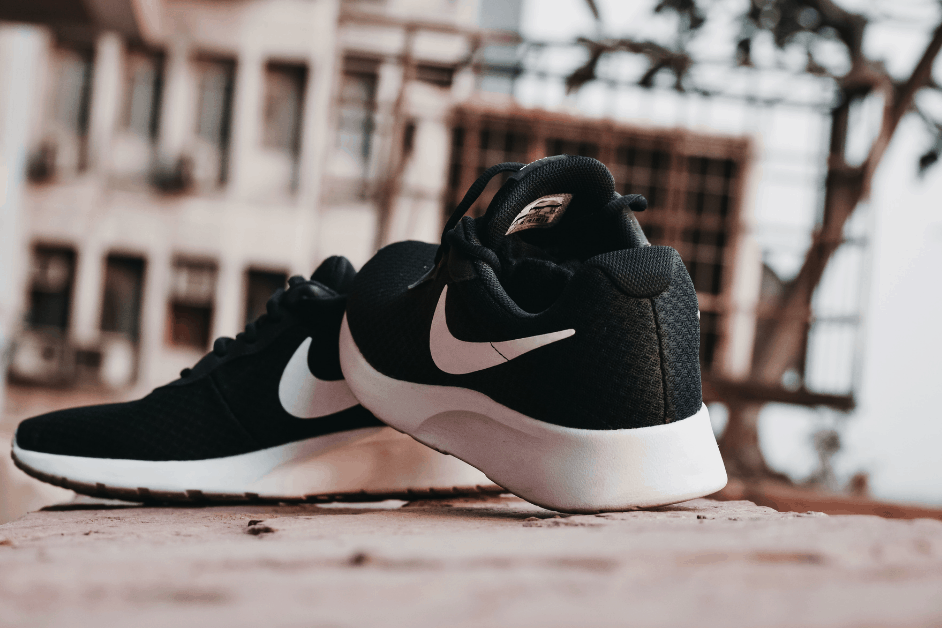 With companies like ebay and Amazon selling loads of used goods online, you might be wondering if it's ok to buy used (aka pre-owned) running shoes. It's certainly tempting when it brings the price of a shoe you like way down.
Now some people might think it's completely acceptable to wear a pair of used shoes while others might think it's gross, but that's not really the point here. With running, it's more about taking a risk that the shoe you're being sold has more mileage on it than you might realize.
As a running coach, I wouldn't recommend buying used running shoes, but if you are going to go this route, just make sure you have a clear understanding of what you're getting. Don't just take someone's word that they only wore a pair one time, make sure to see lots of pictures of them (including the soles of the shoes), and be sure a money-back guarantee is offered.
Personally, I would much rather go the route of buying last year's model of shoe at Amazon for half the cost of the newest model (something I do frequently buy my fave shoe – the Altra Escalante) than buy a pair of used trainers. And if you're after a popular shoe that's hard to find, check out StockX – though these shoes are "pre-owned" StockX ensures you are getting new, unworn shoes.
Have Confidence Buying Running Shoes Online
I am someone who doesn't love to go out and shop, and it's just a lot more convenient to order my running shoes online, and I'm guessing you're in that boat or you're just really busy! I've had lots of success buying running shoes this way for the past several years. Using the guidelines I outline above, I'm confident you'll have the perfect pair of running shoes on your doorstep in no time.
*As an Amazon Associate, I earn a small commission from qualifying purchases with no extra cost to you. Thanks for supporting my running blog!