In September of 2018, I toed the line of my fourth marathon to attempt my goal of qualifying for Boston. Though I ended up with a 5-minute PR, it was still close to 3 minutes off of the time I needed to qualify. It was a bittersweet feeling. I had accomplished another marathon with a PR, but I had trained hard for a time I didn't get. That night I went home and started searching for another marathon I could run before the year was over. I stumbled across the REVEL race series website and found a marathon that was 9 weeks out. My husband told me I was crazy…I registered the next day.
REVEL marathons are found in various locations in the U.S. and Canada. The courses and known for being fast with a high percentage of personal records and Boston qualifying times. In fact, according to findmymarathon.com, the REVEL race series holds 5 of the top 10 spots for the fastest marathons in the U.S. and Canada. Out of over 750 marathons held in 2018, it's clear there's something that makes these races stand out. So, what is it that makes them unique?
What makes REVEL marathons unique?
The REVEL Race Series is comprised of eight separate marathons (as well as a half marathon at each location as well.) Whereas many other races are individually managed as opposed to within a "brand" (such as the Rock 'N Roll races, for example), REVEL has created a series of running events with similar features across its different courses.
Their races are self-described as "fast and beautiful." Now, of course, they would want to use those two adjectives to describe their courses, so is it really true? In my experience, absolutely. And though "fast" can be subjective and "beautiful" is in the eye of the beholder, it would really be tough to argue either point. Here's why.
REVEL Marathons are Fast
REVEL is most known for the fact that their races are downhill. And not just by a little bit. For most of the course, it will be noticeably downhill.
Each race has its own unique elevation profile, but if you were put them all next to each other you would notice one big similarity. That they each start much higher than they finish. Like this one from Mt. Charleston:
View this post on Instagram
When looking at these elevation profiles, you'll notice some little hills here and there within the course, but for the most part – you are literally running down a mountain. Ok, so it's not steep like running straight down, but just imagine the roads you drive on as you descend a mountain. Which is pretty much exactly what it's like since these are all road marathons (as opposed to trails like many other mountain marathons.)
REVEL Marathons are Beautiful
Many marathons are held in major cities. These aren't that. In a sea of urban marathons, these mountain marathons are a really nice change of pace. I much prefer roads to trails for the most part, and training for a trail marathon is entirely different from training for a road race.
REVEL allows runners to run through scenic mountain areas without being a trail runner or crazy amounts of uphill running. Creating downhill marathons in such pretty areas of North America was a pretty genius idea if you ask me. From the peak of Mt. Hood to the saguaros of Mt. Lemmon, I think every runner would agree that these races are some of the most beautiful you could ever run.
Here's What You Can Expect if You Run a REVEL Marathon
You can expect a very well-run race. REVEL isn't just about finding a beautiful spot for a race and dropping you at the top and saying, "See you at the bottom!" With an emphasis on runner experience, REVEL works hard to ensure that racers have everything they need to run their best race possible. That includes well-stocked aid stations. My particular race DID start over 30 minutes late, however, due to bus loading issues. Honestly, though, I was fine waiting in order to ensure everyone was able to get to the start line to race.
Expect to get up very early on race morning. And when I say early, I basically mean you'll be waking in the middle of the night. I think our buses started loading at 4 a.m. so between getting up early enough to start my nutrition, get dressed, and drive to bus-loading, I was up around 2:30 am. (Wow how times have changed since the college bar scene…)
Speaking of bus loading, this is not optional for REVEL races. Because they are designed to start at a high elevation and finish near the base of the mountain, cars aren't allowed to drive up to the start. Expect to load the bus very, very early and without your support crew (unless of course, they're also running!)
Expect to start at a high altitude that you're likely not used to. Coming from Colorado, this was not a big concern for me – though Mt. Lemmon did start above 8,000 feet. Though these courses are fast, this is something that could slow you down so just be prepared for that.
Expect to race hard. Just because these are downhill marathons doesn't mean your body won't hurt and you won't get tired. You're still running 26.2 miles after all!
You can trust that this will be one of the most beautiful race courses you've ever run – no matter which of the 8 you choose!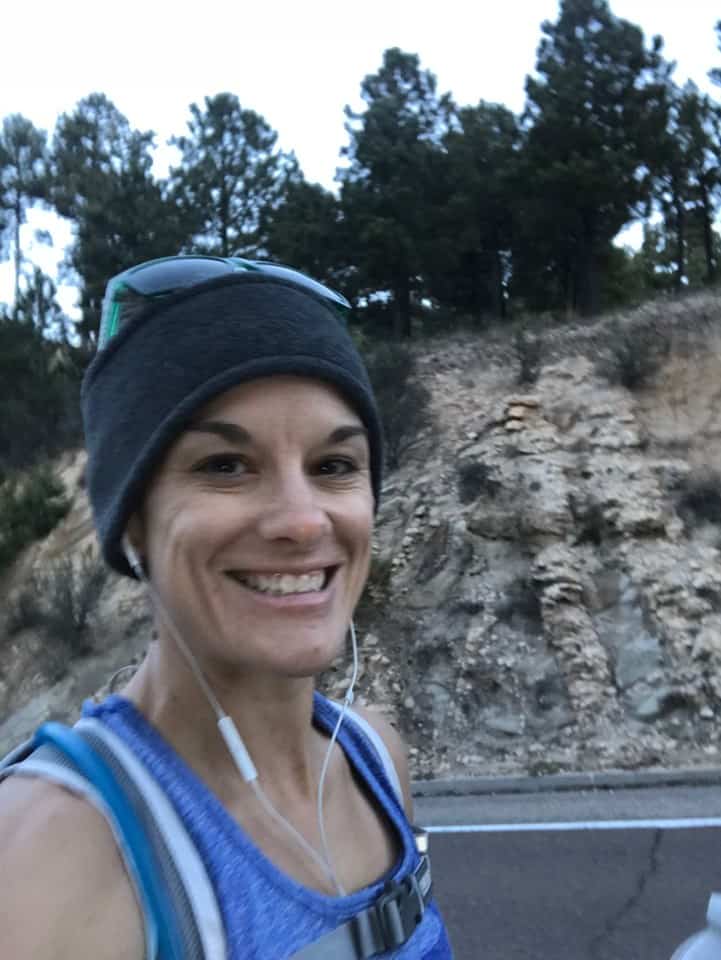 And What You Can't Expect if You Run a REVEL Marathon
You cannot just expect that a predominantly downhill race course like the ones found through REVEL is just going to hand you a personal record or a Boston Qualifying time. Though you will definitely find the naysayers who turn up their noses at anyone who uses a largely downhill course to qualify for Boston, it's still a marathon, and it's not easy. You still have to properly train to run 26.2 miles or you will find yourself bonking or hitting a wall just like in any other marathon.
Don't expect to feel great on these downhill marathons if you don't train with any downhill. I've read so many comments from runners who have run REVEL marathons saying that their quads were trashed and that their time suffered because of the pain in their legs they weren't used to. "Respect the slope" was the way one runner put it. If you want to run a downhill marathon, you'll need to train for it just like any other course you would prepare for. This page from REVEL gives great downhill training advice!
Something else I want to mention is that if you are someone who is fueled by lots of fans and big crowds cheering, then these races are probably not your jam. However, I loved both the Twin Cities Marathon (so many amazing spectators) and the gorgeous REVEL Mt. Lemmon Marathon (pretty much zero spectators until the last couple of miles). But if you've only ever run races with lots of spectators, don't count REVEL out. You might be surprised how energized you can become through the peace and serenity that only gorgeous mountain views can bring.
My Favorite Parts of a REVEL Marathon
I left you hanging up there at the beginning since I never actually told you if my REVEL marathon got me the BQ I had trained so hard for. Though it's not normally recommended to run another marathon 2 months after you just ran one, it was one of the best decisions I ever made. On November 3rd, I ran the REVEL Mt. Lemmon marathon. 3:40 as my target BQ time. I ran an official time of 3:35:57. I can honestly say it was one of the happiest moments of my life. As a 4:59 marathoner at the age of 25, accomplishing a Boston Qualifying time as a 38-year-old mom of 3 was something I never would've imagined to be possible.
Other than the fact that I qualified for Boston through this race, here is what else I loved about it:
The beautiful, downhill course – I would be lying if I said what I loved most about this race course was different than what most other people love about it. It was seriously gorgeous. And I live in Colorado, so I'm no stranger to majestic mountain views. As I was running, at times practically alone with no one else around me, I couldn't help but feel lucky to be alive. In a world that's normally so busy and fast-paced, I truly felt like just a tiny spec on this big, big Earth. Being in nature will do that to you.
Free gloves and space blankets – They give you these at the beginning of the race. Because the race starts so early, it will probably still be dark out when you start. Add to that the high elevation starting point, and it makes for a very chilly morning as you wait for the race to begin. Having the free gloves also means you won't feel guilty tossing them away at an aid station after it warms up.
Free Race Photos 

– I am someone who rarely spends money on professional race photos. Though I respect what those photographers do, it's just an expense that's hard to swallow after I already spent so much money getting to the race and paying for the race itself. Technically I paid for it through my race entry fee, but this way it means I actually get these amazing photos. And they take a lot!

A Free Highlight Video – This was so cool! You won't get it right after the race but it was worth the wait. Check out mine below!
A free group coaching session a the race expo – The REVEL Race Series has its own in-house coach. He spoke at the race expo the day before. Honestly, had I been with my family I'm sure I would've skipped this. But since I was in Tucson by myself, I had time to kill the day before the race. I am SO GLAD I went to this coaching session. When I ran Mt. Lemmon, the first 5 miles included about 500 feet of elevation gain (they've since changed the course). Though I studied the course in depth ahead of time and had a strategy, going to Coach Paul Carmona's race course preview was so helpful. He emphasized points of the race where runners should hold back their pace and where time could be made up. It really helped to ease my mind that I was going so slowly those first several miles.
The Weather – The weather could not have been better for my race at Mt. Lemmon. Though weather can never truly be predicted, I think REVEL has done a good job of setting up each of its marathons at optimal times of year for some of the best weather you can get. And even though night owls will probably find the early start a tough component, it ensures that the weather won't be too hot when you finish up.
Participant Tracking – A lot of my friends and family knew I was going for a BQ, so having participant tracking was a big bonus. I know most major marathons have this, but many smaller ones don't.
I really can't explain the emotion I felt that day. I had a moment of true clarity where I just felt so lucky to be alive. That I could push my body 26.2 miles was all that mattered, not getting a certain time on the clock. I think allowing myself to be in that moment is what really allowed me to reach my goal.
Choosing a REVEL Marathon to Run
Each REVEL marathon is named after a feature of where it's held geographically or something from the cultural history of the area. They place a high level of importance on creating a relationship within the community where the race is being held.
With the sheer volume of marathons out there, it can be difficult for a runner to choose which one they should do. Reading articles such as "The Best Marathon in Each State" or "10 Best Races for Your First Marathon" can make it easier, but there are just so many good ones out there now!! With the amount of training that goes into preparing for a marathon, you want the experience to be everything you've worked so hard for.
Every runner has a different idea of what a marathon experience should consist of so I highly recommend taking the time to make a checklist of what's important to you.
If setting a PR, accomplishing a Boston Qualifying time, or you just want to run somewhere that will take your breath away, a REVEL marathon is a great bet.
Beyond that, most runners have a season in mind when they like to run marathons. For me, it's usually fall (unless it's Boston in which case I will gladly train through a cold and snowy Colorado winter). So here I've separated each REVEL marathon by season and given information about each one so you know exactly what you can expect.
January – April REVEL Marathons
For those living in warmer climates, such as Arizona, Florida, Texas, etc. I would imagine a winter/early spring marathon would be ideal in order to run through the cooler months of the year. Revel offers 2 marathons in the first third of the year.
REVEL Kulia is considered to be the fastest marathons in the United States. This led me to wonder, is it the fastest marathon in the world? It looks like you'll actually have to head to Spain for that, but you won't get a Boston Qualifying course like you will with Kulia. In case you need an excuse to go to Hawaii, this is definitely a great one!
When: January
Location: Waikoloa, Big Island, Hawaii
Elevation Profile: Starts at 5,394 feet with a drop of 5,351 feet. There is one pretty long flat section mid-course.
Best for: Anyone who wants to run in paradise!
Definitely a different experience than the Las Vegas Marathon, the REVEL Mt. Charleston takes runners through forests as part of the fastest marathon in Nevada. It has a smooth downhill slope that boasts a beautiful view of the Humboldt-Toiyobe National Forest.
When: April
Location: Las Vegas, Nevada
Elevation Profile: Starts at 7,633 feet with a drop of 5,126 feet.
Noteworthy Detail: Runners can choose to take the free shuttle from the parking area near the finish line (like is offered at all REVEL races) or choose to pay an extra $40 to get picked up at the Strip. This is great option if you plan to book a hotel in the heart of Sin City.
May – August REVEL Marathons
Though training in the summer isn't always the most fun time to train, it's usually an excellent time to race (provided the races start early enough.) I love that REVEL races start early in the morning to ensure you'll beat the heat!
Just a hop, skip, and a jump from my hometown, I am bound and determined to run this half marathon at the very least. REVEL describes the Rockies marathon as a "smooth downhill slope." And if you've never been to the Colorado mountains, I promise the scenery will make every grueling mile of your 26.2 completely worth it.
When: June
Location: Denver, Colorado
Elevation Profile: This one has the highest starting altitude at 10,510 feet. You'll drop down 4,708 coming in just above a mile-high above sea level.
Noteworthy Detail:  The race will be gorgeous, no doubt. But as I said before, marathons are hard no matter what kind of course they're run on. Don't just assume a PR is a shoo-in just because it's a significant drop. Aerobically, this one will be difficult in the beginning due to the significant altitude. If you've had altitude issues in the past, I would recommend choosing a different REVEL marathon. 
I have been to Mt. Hood and it is gorgeous – much like many other parts of Oregon! Plus this course finishes just outside of Portland, Oregon which is a great city with lots to do once your marathon is complete!
When: June
Location: Mt. Hood, Oregon
Elevation Profile: Starts at 5,620 with a net elevation drop of 4,758 feet
Noteworthy Detail: Participants are not allowed to run with traditional in-ear headphones on the Mt. Hood course and will be disqualified if they're found wearing them. Aftershokz bone-conducting headphones are a great alternative if you can't go without music, though I suggest going without for the day!
As the fastest marathon in Canada, this is an excellent way to take in nature while also running your way to a marathon personal record. If water views are what you're after, Chilliwack is a great choice. Racers will start near the pristine shores of Chilliwack Lake and take a 26.2 mile jaunt down a smooth downhill slope as they run to the city of Chilliwack.
When: July
Location: Chilliwack, British Columbia, Canada
Elevation Profile: 2,166 feet at the start with a drop of just over 2,000 feet. This is the gentlest downhill of all the REVEL marathons – similar to the elevation loss of the popular St. George Marathon.
Noteworthy Detail: Since this one's in Canada, don't forget to get your passport secured in plenty of time before the race!
REVEL isn't the only one with scenic downhill marathons.

Read "10 Downhill Marathons Across the U.S. to Get That PR" to find others coast to coast!
September – December REVEL Marathons
Fall is prime marathon season in the United States and REVEL delivers with these three popular downhill races.
Runners will marvel at the unmatched scenery of both the Wasatch Mountains and the Salt Lake Valley in this Utah race. An out and back portion makes this a unique feature of this particular course.
When: September
Location: Salt Lake City, Utah
Elevation Profile: Starting at almost 10,000 feet and with a drop of over 5,000 feet, runners are in for a swift course.
Best for: Runners a little more acclimated to some altitude will fare better in this particular marathon than those who aren't. The REVEL site states that "based on experiences of runners coming from lower elevation, altitude has not been a factor"…though I'm sure there are some runners out there who would beg to differ.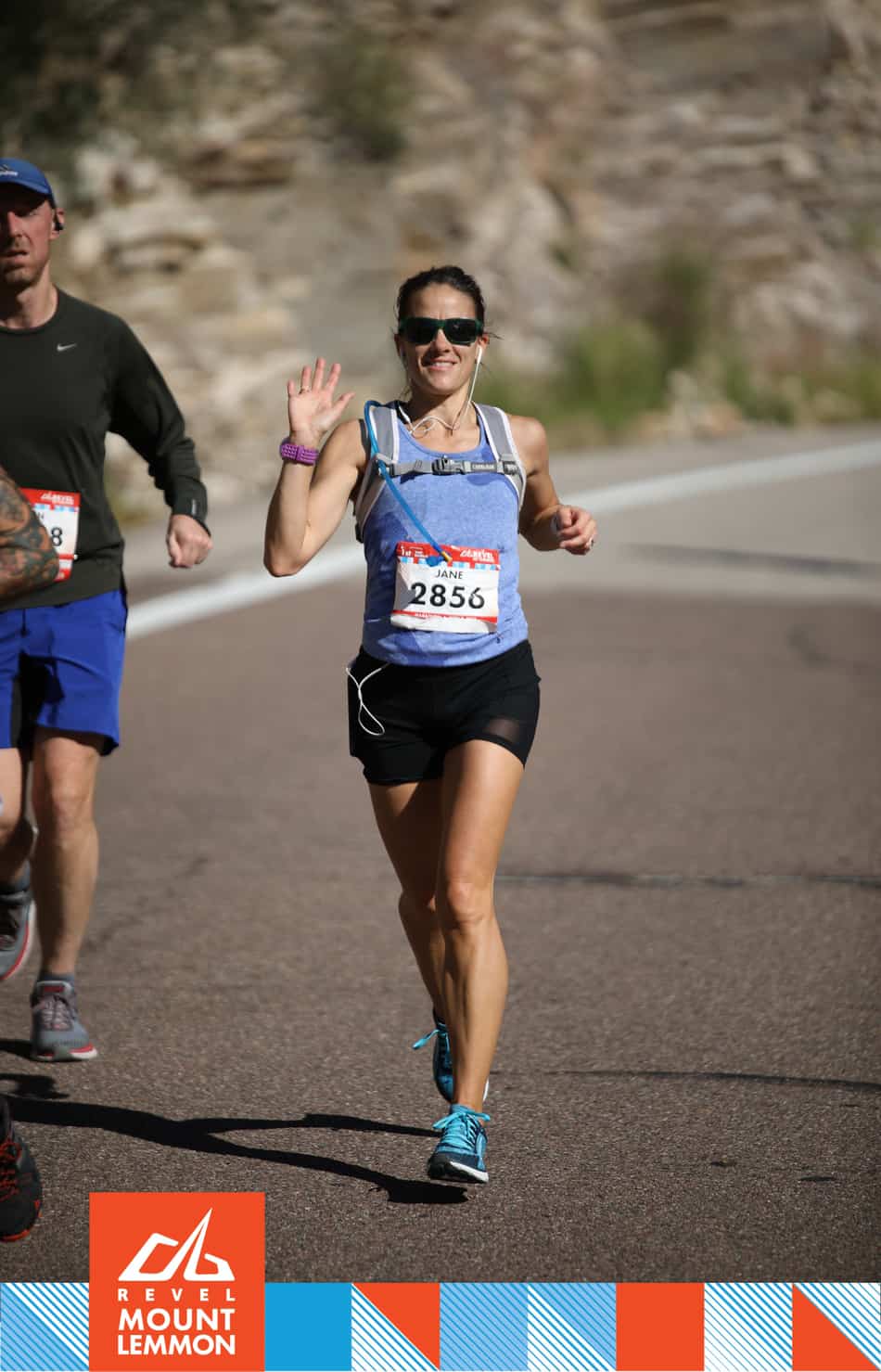 Yes – we made it to the REVEL course where I earned my BQ! Though I hadn't originally planned on running this particular marathon, I'm so glad I did. It was worth every minute of hardly being able to walk in the days following. It's difficult to put into words how beautiful this course was, but please take my word for it! And I'm sure the others on this list are right there with this one. The views of the sunrise over Willow Canyon were truly breathtaking.
When: November
Location: Tucson, Arizona
Elevation Profile: It is down, down, down as of 2019 with the start at 8,164 feet and a drop of 5,595 feet.
Noteworthy Detail: When I ran this course there was a significant climb in the first 4-5 miles which is uncharacteristic of the REVEL marathons. Well they must've gotten some feedback from runners who didn't like this portion, because the course was changed for 2019. (I personally loved this challenging aspect where I actually really had to watch my pacing.) It is now truly a downhill marathon.
Between the views offered by the San Bernandino Mountains as well as the scents from the Ponderosa Pines and Incense Firs, runners are in for an experience that will awaken all their senses. You definitely don't have to worry about getting bored during this beautiful marathon!
When: November
Location: Big Bear, California
Elevation Profile: This marathon starts at 6,629 feet and you'll see the finish line after 5,000 feet of downhill!
Best for: Runners looking to get a big push at the end of their race will love the 443-foot net loss found in the last 3 miles. Whereas some of the other REVEL marathons have a flat finish, Big Bear keeps the downhill alive until the very end!

Best Tips for Running a REVEL Marathon
Now that I've run a REVEL marathon and researched the rest of them pretty heavily, here are my best tips to make it an incredible experience:
Train for the downhill elevation loss. You wouldn't train for a trail race with a lot of elevation gain without practicing on that type of terrain and this is no different.
Study the course profile of your race carefully. Look for spots where there might be some uphill. Just because a race is net downhill doesn't mean you won't encounter any hills at all.
Run by effort on those hills. Meaning know that it's okay to slow down! Trying to maintain your speed on any hills will backfire. I promise you'll have plenty of chance to make up any time lost with all the extra downhill.
Bring lots of warm clothing to the start. You might be waiting around for awhile and it will likely be very cold! (You'll be able to check your bag before the start.)
Smile big for your race photos! You'll love getting those free photos looking like you're having the time of your life (even if you're dying inside.) Plus, smiling will give you an automatic running boost.
Take it all in. Remember why you run in the first place. Whether it ends up being a great race for you or not, just remember how lucky you are to have a healthy body that can run marathons in some of the most beautiful places on Earth.