With over 700 marathons scheduled in the U.S. annually, it's tough to narrow down which one to choose. Whether you're trying to run a marathon in every state or are just looking to find the perfect marathon in a few states in particular, hopefully this list can save you a lot of extra searching.
Here is my line up of the best marathon in each state!
Where: Huntsville, AL
When: December
Why you'll love it: This gently rolling and fast course takes runners through historic Huntsville, the Space & Rocket Center, the Botanical Gardens, and finishes inside the Von Braun Center. Past runners appreciate the organization, great communication, trustworthy pacers, and fun finish!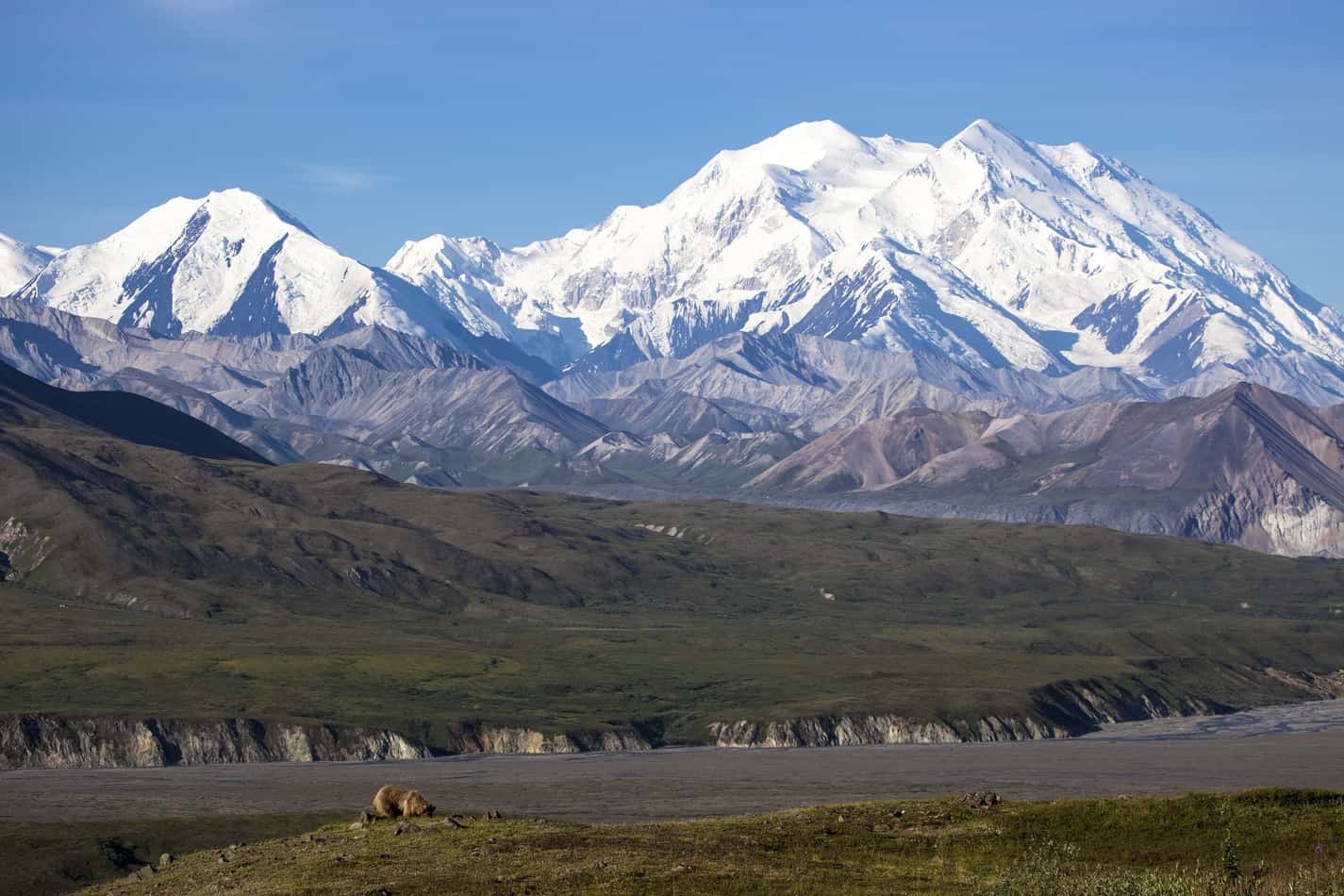 Where: Anchorage, AK
When: June
Why you'll love it: It's no wonder CNN Travel lists it as one of seven "U.S. Marathons worth the trip!" Where else can you view 7 peaks at once including Denali – the highest peak in North America? And after your run you can make a once in a lifetime experience out of it by climbing a glacier, sighting a moose, and catching salmon.
Where: Tucson (Mt. Lemmon), AZ
When: November
Why you'll love it: With a new, almost completely downhill course for 2019, runners will love riding the downhill! You'll start at dawn and watch the sun come up as you race down the mountain. And with views that will take your breath away, there's really nothing to dislike about this amazing race.
Mt. Lemmon is just one of 8 REVEL Marathons. If this fast, downhill race interests you but you're interested in a different location, you'll want to read my post, "REVEL Marathons and What to Expect."
Where: Little Rock, AR
When: February/March
Why you'll love it: This is the perfect race to include runners (as well as wheelchair participants) of all levels. With one of the longest time limits I've seen (8 hours!), even walkers can enjoy this marathon without feeling pressure from the clock. Noteworthy details include a huge finisher's medal and good ol' southern hospitality!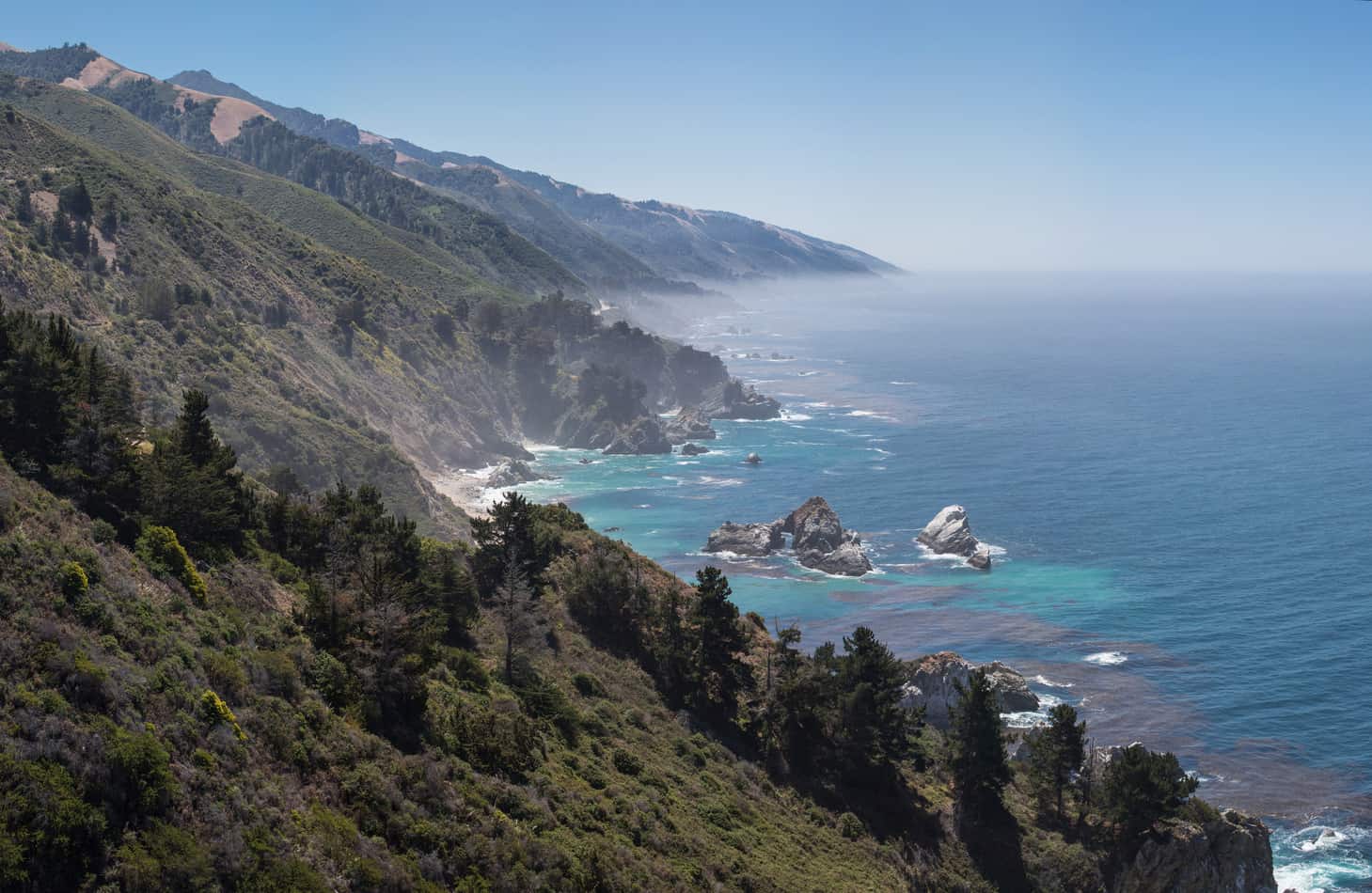 Where: Big Sur to Carmel (Highway 1), CA
When: April
Why you'll love it: Views for dayssss. It's been named the "most scenic race on the continent." This one is on my must-do list and should be on yours, too! It's important to note that because of this race's popularity all registration options sell out quickly and most are by random drawing in July/August of the previous year.
Runner Up: California International Marathon
Where: Denver, CO
When: May
Why you'll love it: Run along the longest road in the U.S. and take in the city's history in Denver's only marathon. Where else can you get an urban running experience while still taking in views of the beautiful Rocky Mountains? Enjoy a well-organized race followed by a beautiful sunny post-race bash to celebrate crossing the finish line!
Where: Hartford, Connecticut
When: October
Why you'll love it: Ever wished you could get all your marathon finish line feels on video? Well you'll get it in Hartford…for free! Runners will also love the race day experience with breathtaking views of the Connecticut River accompanied by a whole lot of New England charm. Race day entertainment is taken care of at every mile to give you something else to focus on beyond your tired legs.
Where: Rehoboth Beach, DE
When: April
Why you'll love it: Hi, I am in Delaware. Sorry, I had to! Wayne's World is one of my all-time favorite movies. Ok, Ok…this race sounds beauiful! Beach boardwalks, pond wildlife, and quaint seashore residential areas are a wonderful mix of something different than the typical marathon views. A flat and fast course definitely doesn't hurt either. If you need a race in Delaware, this is the one!
Where:
When:
Why you'll love it: The magic of Disney is sure to make your race come alive and be an experience you'll never forget. Pausing for character candids as happiness radiates from the crowd sounds like a perfect way to spend 26.2 miles. And those looking for extra endurance can complete 4 separate races to accomplish the Dopey Challenge. There is no better place to remember that age is just a number and you're only as old as you feel! (We've also included this race in our post:"10 Best Races for Your First Marathon.")
Where: Albany, GA
When: March
Why you'll love it: This is a pretty fast course, with over 20% of runners at the Snickers Marathon qualify for Boston. With a 7-hour time limit, walkers to the most experienced runners can share this very flat loop course for an enjoyable marathon experience. One runner from marathonguide.com stated, "I don't plan on ever running the same race twice, but if I did, it would be this one!" That's pretty high praise. Each runner also gets free admission to the all-day music festival immediately following the race.
Where: Kaua'i
When: September
Why you'll love it: It's certainly not the easiest place to get to for most people, so if you're going to make the trek to run a marathon in Hawaii you're going to want it to be worth it! No matter what you're doing there, it would be tough for Kauai to disappoint. Beginning at dawn, runners will take in an unforgettable sunrise. From there, the view from the course includes pristine beaches, rugged volcanic peaks, and lush rain forests as runners make their way to the finish line. Being able to take in the beauty of our world as you put your body to the ultimate test is the perfect combination.
Heather Jenson of @triandrungirl on Instagram wrote, "Of all the places I've run, this one was the most beautiful!"
View this post on Instagram
Where: Coeur d'Alene, ID
When: May
Why you'll love it: Beautiful weather and scenic forest and lake views bring runners from all over to what many call, "one of the most breathtaking races in North America." This is certainly not one of the easiest courses on the list, but who doesn't love a good challenge? Plus the unforgettable scenery of the Pacific Northwest will help ease the pain, I'm sure!
Where: Chicago, IL
When: October
Why you'll love it: Beautiful weather on a flat course with incredible crowd support are just a few of the things that keep bringing over 40,000 marathoners back to the Windy City year after year. Plus, Chicago is such an easy city to love. If you're going to make the trek to Illinois, it makes sense that you'd run one of the most popular marathons in the world. The experience is sure to be one you'll never forget.
Runner Up: Illinois Marathon
Having the right gear while you train for these "best marathons in each state" is important! Be sure to check out my Top 10 Marathon Runner Must-Haves once you've determined which of these marathons is next on your list.
Where: Indianapolis, IN
When: November
Why you'll love it: The Monumental Marathon has made it into the top 15 largest marathons in the United States. PR seekers, those looking to qualify for Boston, and first-time marathoners come to Indy to show what they're made of on this notable flat and fast course. Newcomers to the city will love taking in the new sights along the route including the State Capitol, Lucas Oil Stadium, Circle Center Mall, Butler University, Indianapolis Museum of Art, and more!
Where: Des Moines, IA
When: October
Why you'll love it: What better way to experience the city of Des Moines but miles and miles on foot? The route will bring you views of quaint neighborhoods, universities, parks and city skylines. It's a hilly course, but runners will be welcomed by several flat miles at the end taking them into downtown for cheers from a crowd of spectators as you fly across the finish line.
Where: Olathe, KS
When: April
Why you'll love it: Like dressing up? Lover of the Wizard of Oz classic? Got kiddos of your own who want to get in on the running through the Munchkin Marathon? This is a great course for it all! Add in some course "rollers" for a little interest in elevation along with some pretty scenery and it's sure to be a memorable race!
View this post on Instagram
Where: Louisville, KY
When: April
Why you'll love it: If you want to be a part of Kentucky's largest day of road racing, this is the race for you. Those who want to be in on the action come Kentucky Derby time can start their week off with the marathon, which passes through the historic Churchill Downs racecourse, and end their week dressed to the nines cheering on their favorite Thoroughbred.
Where: New Orleans, LA
When: February
Why you'll love it: Though Mardi Gras is usually known for late-night partying, running a marathon during this time means celebrating the healthy way! You'll still get to take in the sights, colors, and beads we know and love about the Big Easy, but I promise you'll feel a lot better afterwards! You'll get some rolling hills to run on, but this sea-level course is the perfect way to run 26.2 miles and experience the French Quarter at the same time.
(Sea level marathons are a great way to go…find out why in Marathons at Sea Level: Are they worth it?)
Where: Carrabassett Valley, ME
When: May
Why you'll love it: This is Maine's oldest continually running marathon. Being that it's downhill, it's considered to be the 32nd fastest course in the U.S. according to findmymarathon.com. In 2018, over 30% of runners even qualified for Boston, which is quite impressive! Throw in the beautiful setting of the Maine mountains and you've got yourself a race!
Where: Baltimore, MD
When: October
Why you'll love it: Many say this is one of the best marathons on the East Coast…and that's saying a lot since there's quite a bit of competition! The course will definitely challenge you, but it's nothing you can't handle! The diversity of the city and how the route runs right through the Maryland Zoo are just two of the aspects that make this course unique. Runners especially love the downhill, waterfront finish setting recently changed to the Inner Harbor.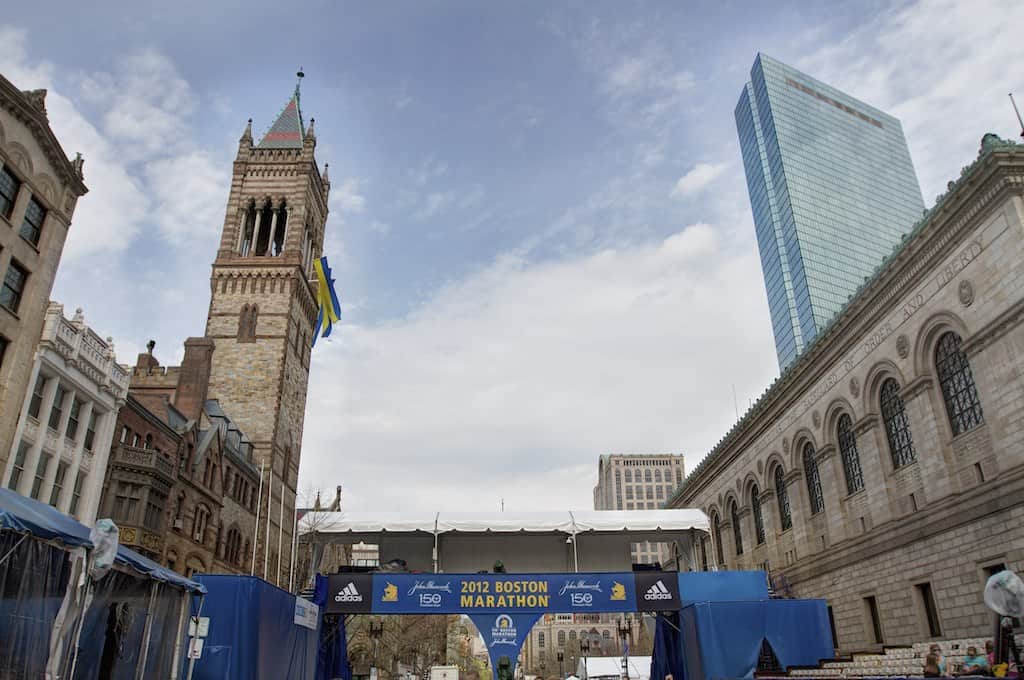 Where: Boston, MA
When: April – Patriot's Day
Why you'll love it: Because it's the Boston-freaking-marathon! In case you didn't know this is the world's oldest annual marathon. It's become the most highly coveted race since the only way to run it is to qualify or as a charity runner by raising a minimum of $5,000. If the words, "Right on Hereford, Left on Boylston" mean anything to you, then chances are you already have your sights set on toeing the Boston starting line one day. You can do it!! Runner Up: Cape Cod Marathon

Where: Traverse City, MI
When: May – Saturday of Memorial Day Weekend
Why you'll love it: With a close to 40-year history, the Bayshore Marathon has become a "must-run" marathon for many midwestern endurance seekers. With a mostly flat profile and ideal temperatures, it's one of the fastest spring marathons in the country. Runners will love the scenic water views as the route winds along Grand Traverse Bay. Free photos to download after your major accomplishment are just icing on the cake.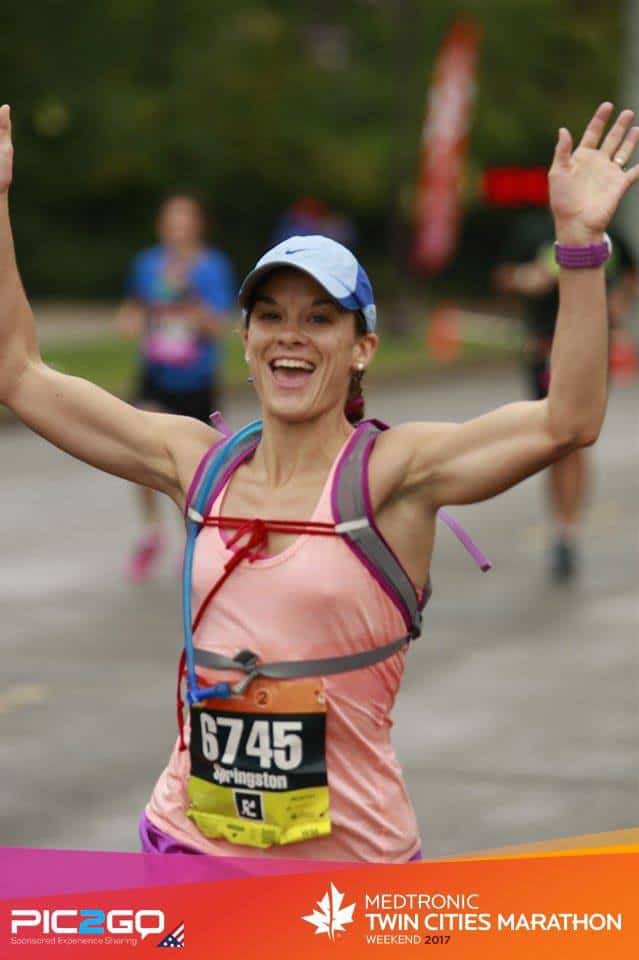 Where: Minneapolis to St. Paul, MN
When: October
Why you'll love it: I can say firsthand that the crowd support of this marathon is simply the best. If lake views, colorful fall trees, and a constant cheering squad sound like a great way to run 26.2 miles than this race will not disappoint! Complimentary race photos are another nice perk that you won't often find in big city races like this one.
Runner Up: Grandma's Marathon
Where: Lake Village, AR to Greenville, MS
When: February
Why you'll love it: Technically this race starts in Arkansas, but it's the only race you'll find in the Mississippi Delta. It's always fun to run unique courses with something no other race can offer…and running along the largest river in the U.S. offers that! Organizers of the Mississippi Marathon are all about promoting healthy lifestyles. Plus, you'll be able to help children in the area as extra proceeds go to the educational community. Finishing a marathon is a good feeling and so is helping others!
Where: Downtown Kansas City, MO
When: October
Why you'll love it: Runners taking on the challenge of 26.2 miles during Kansas City's largest race event will enjoy seeing the most recognized sites and streets of the area. These include the World War I Memorial, Country Club Plaza, Nelson Atkins Museum of Art, Waldo, Westport, 18th & Vine and more! Olympian Jeff Galloway describes it as, "one of the best courses I've ever experienced." Starting at dawn with fireworks and celebrating your finish with what else but some famous KC BBQ make this a race you won't want to miss!
Where: Bozeman, MT
When: September
Why you'll love it: I don't think anyone can argue that Bozeman is a beautiful place! Runners will forget they're even racing as they start out on flat ground with a view of the Bridger Mountain Range. Expect a bit of a challenge with some elevation gain in the middle of the race, but it will all be worth it when you reach the downhill point about halfway through the course. Though there won't be a lot of spectators, previous racers praise the enthusiasm of the ones who do come out and agree the organization of the race is top-notch.
Where: Lincoln, NE
When: May
Why you'll love it: Husker fans unite! Toe the line on the campus of the University of Nebraska, wind your way through miles and miles of the state's capital city, with the grand finale happening on the 50-yard line of Memorial Stadium. This is a well-established race with a pretty long history. Area fans are a proud crowd and will be excited to cheer you on every step of the way.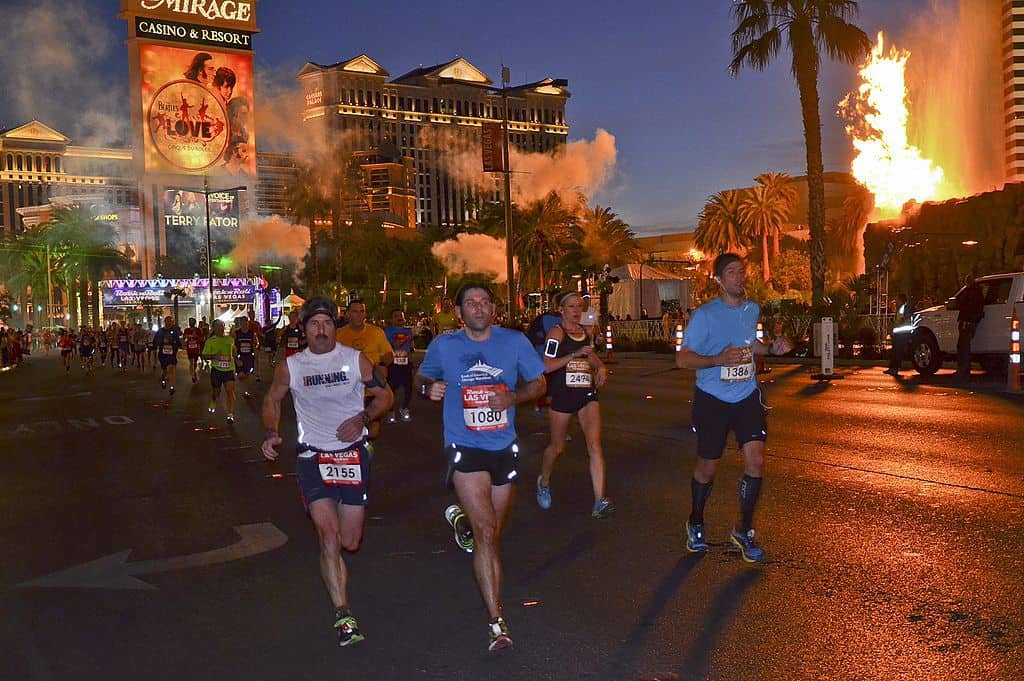 Where: Las Vegas, NV
When: November
Why you'll love it: Because you get to run at night! And you get to run on the strip! It's a huge weekend party! My husband has run this marathon and it's an experience you'll never forget. It's not hard to see why this marathon made the list for "best marathon in each state."
Where: Nashua, NH
When: May
Why you'll love it: Welcome to New Hampshire's newest marathon! This is a two-loop course that will take you through historic downtown, scenic residential areas, along the river, and through Mine Falls Park. And if you run both the Gate City Marathon for spring in New Hampshire and the Baystate Marathon for fall in Massachusetts, you'll have accomplished the "Mill Cities Double" to earn a one-of-a-kind jacket!
Where: April
When: Oceanport, NJ
Why you'll love it: The mantra of this marathon is "conquer the shore." Endless ocean views are what sets this marathon apart from most of the others you'll have the chance to run. The course boasts beach town after beach town including Ocean Grove, Allenhurst, Deal, Monmouth Beach, Loch Arbour, and Long Branch. Your feet will even take you right past The Stone Pony where "the Boss" and other famous musicians got their start.
Where: Albuquerque, NM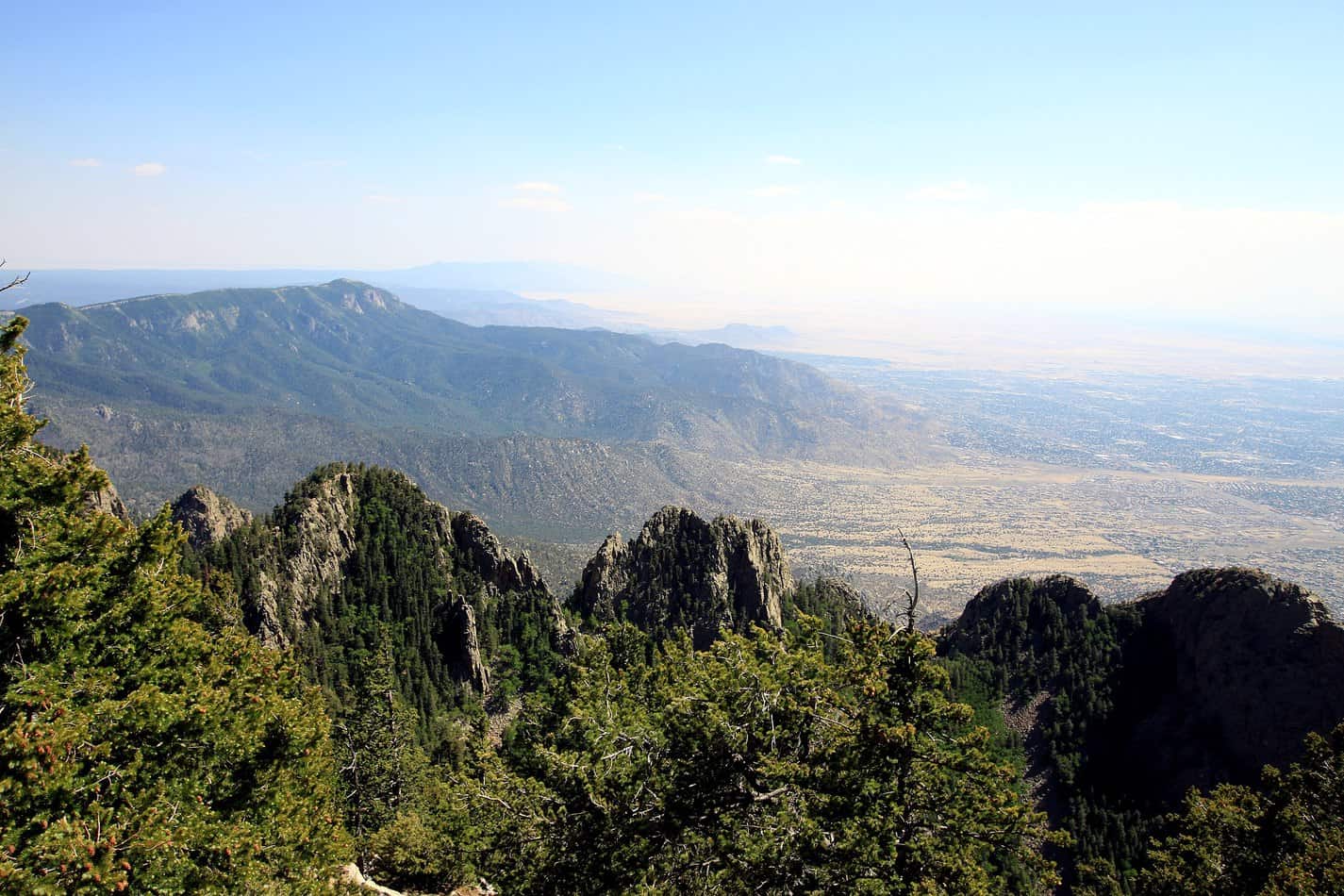 When: September
Why you'll love it: I'm going to go out on a limb and bet that elevation loss of 4459 is quite appealing when it comes to choosing a marathon. I've run marathons with a lot of uphill and one with a huge downhill and they are all hard! But, no matter how much someone tries to tell you a downhill marathon is "hard in a different way" or a "quadbuster"…they are definitely faster! So, if you need a PR, this gorgeous summer to fall transitional marathon is a great way to do it!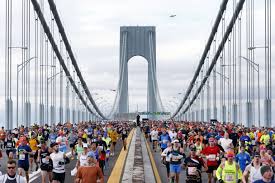 Where: New York City, NY
When: November
Why you'll love it: This one was a clear winner. Runners will make their way through all 5 boroughs while racing in the largest marathon in the world. I think most serious road marathoners would love to run the Big Apple one day! Its popularity means it's a lottery system to get in with some runners waiting years to be one of the lucky ones. If you're uber-fast you can get a guaranteed entry with one of these qualifying times.
Runner Up: Wineglass Marathon
Where: Wilmington, NC
When: March
Why you'll love it: Bridge lovers unite! This marathon takes runners across 6 bridges on a course known for helping runners achieve their personal bests. And all you basketball fans will love this March Madness themed marathon. One former runner wrote in, "Normally I can find at least one complaint with a marathon, but honestly, I couldn't find anything wrong with Wrightsville Beach." Can't go wrong with this one, folks!
Where: Fargo, ND
When: May
Why you'll love it: Are you a runner who seeks to avoid the hills? Then this fast and flat course if for you! The Fargo Marathon prides itself on its higher percentages of Boston qualifiers. And there won't be any worry of getting bored on this course, either. With friendly fans ready to cheer you on to the finish line and DJs and bands at every mile, hopefully you'll feel a lot more like you're at a party and less like you're accomplishing a feat that less than 1% of the population does!
Where: Cincinnati
When: May
Why you'll love it: It's touted as Cincinnati's biggest party in town! That definitely sounds like a good time to me…and the perfect way to celebrate months of hard work. This loop course offers a "well-balanced, diverse tour of some of the best neighborhoods in the area."
"Flying Pig is my favorite marathon!"
View this post on Instagram
Where: Oklahoma City, OK
When: April
Why you'll love it: Organizers of this "Run to Remember" are determined for the community and runners who come from all over to never forget the tragedy and those who died on that fateful day in 1995. The race justly begins at the Oklahoma City National Memorial & Museum. After that, you'll head through the Capitol area and the historic neighborhoods of Oklahoma City. This race definitely stands for a whole lot more than just running.
Where: Mt. Hood, OR
When: June
Why you'll love it: As a native of Oregon, this is one of my favorite places to visit. So, of course I'd love to get this marathon added to my list one day! By now you probably know that REVEL races are known for their beauty as well as their fast, downhill courses. This one will not disappoint as it takes you from the base of Mt. Hood to Portland…one of the coolest cities in the U.S. Be prepared in awe of the beauty surrounding you as you smash your 26.2 goal.
Runner Up: Eugene Marathon
View this post on Instagram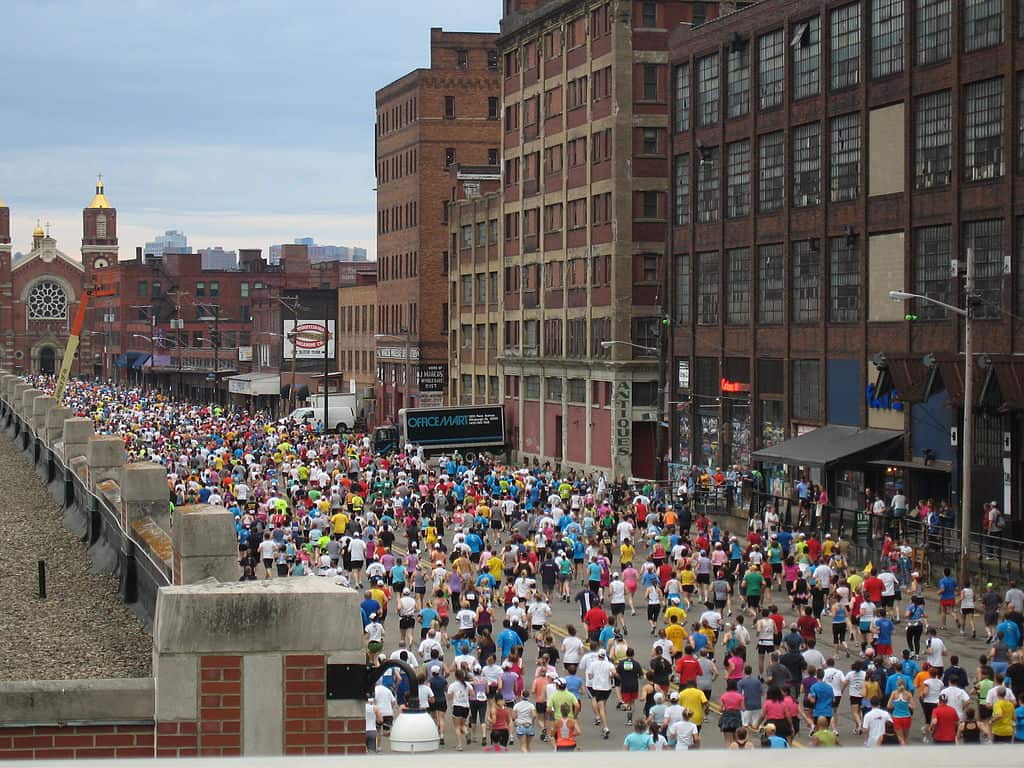 Where: Pittsburgh, PA
When: May
Why you'll love it: There are a lot of great races in this state, so it was tough to choose. Ultimately, the impeccable organization, famous bridges you'll cross, and the unique urban architecture put Pittsburgh out in front. With the roar of the crowds echoing through the buildings, this will definitely be a race finish to remember.
Runner Up: Steamtown Marathon
Where: Newport, RI
When: October
Why you'll love it: Runners will enjoy miles and miles of coastline in this northeastern fall race. That combined with quaint beach towns, the wildlife refuge, and historic mansions are sure to give you a pleasing view through the entirety of the course. This sea-level course with rolling hills throughout is sure to keep it interesting and just challenging enough without breaking you.
Where: Kiawah Island, SC
When: December
Why you'll love it: This marathon offers its runners the full vacation experience! Participating in a race that offers both beautiful scenic views as well as indulgent accommodations sounds pretty amazing to me! Running a marathon is hard work, and having a relaxing place to come back to post finish is a necessity. The Kiawah Island Golf Resort offers packages specifically for race participants which includes a pre-race buffet the night before.
Where: Brookings, SD
When: May
Why you'll love it: This is the 25th oldest Marathon in the U.S. and is limited to 300 runners. Historic neighborhoods and beautiful parks will keep your eyes occupied as you make your way down bike paths and tree-lined streets. Get a feel for this quaint town on foot and mix in a little small town running into your marathon repertoire.
Where: Nashville, TN
When: April
Why you'll love it: Music lovers will thrive off the live music at every mile in the Nashville Marathon! Even more exciting perhaps is the free headliner concert you'll get to enjoy after a day of hard work on the racecourse. These are big names people – Tim McGraw, Dierks Bentley, and Hunter Hayes have all been part of the fun in recent years. The scenery you'll get along the river is pretty great, too!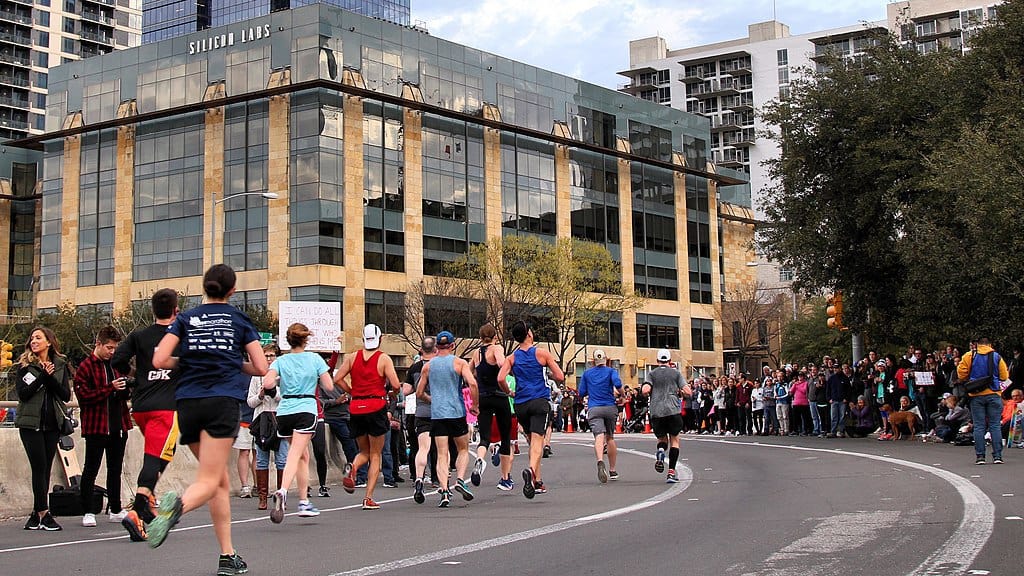 Where: Austin, TX
When: February
Why you'll love it: Austin is an easy city to love and an even better city to take in by foot! Hyde Park, Congress Avenue, the University of Texas and Lady Bird Johnson Lake are just a few of the beautiful sites you can look forward to viewing as you run this town. Love music while you run? The "Live Music Capital of the World" won't disappoint with bands lining the streets to carry you through!
Where: St. George, UT
When: Early October
Why you'll love it: People just never have enough great things to say about the St. George Marathon! I was supposed to run this one this year, but due to unforeseen circumstances, I had to choose one much closer to home. I sure hope to be back next year! If downhill is your jam but you don't want to go quite as steep as REVEL races offer, this is the perfect fit. Add in the beauty of the majestic pine valley mountains and this will easily be a day to remember. This one fills fast, so be prepared to register come April. (Don't forget to build a day in after to make your way to Zion National Park…an absolute must see!)
Where: Waitsfield, VT
When: July
Why you'll love it: First of all, it's listed as a Runner's World Top 10 Bucket List Marathons…which is quite the accolade! Marathon runners all seem to have a preferred elevation, and those who like to be challenged with some uphill but rewarded with a long downhill will love this course. The best of both worlds come together in this beautiful summer marathon.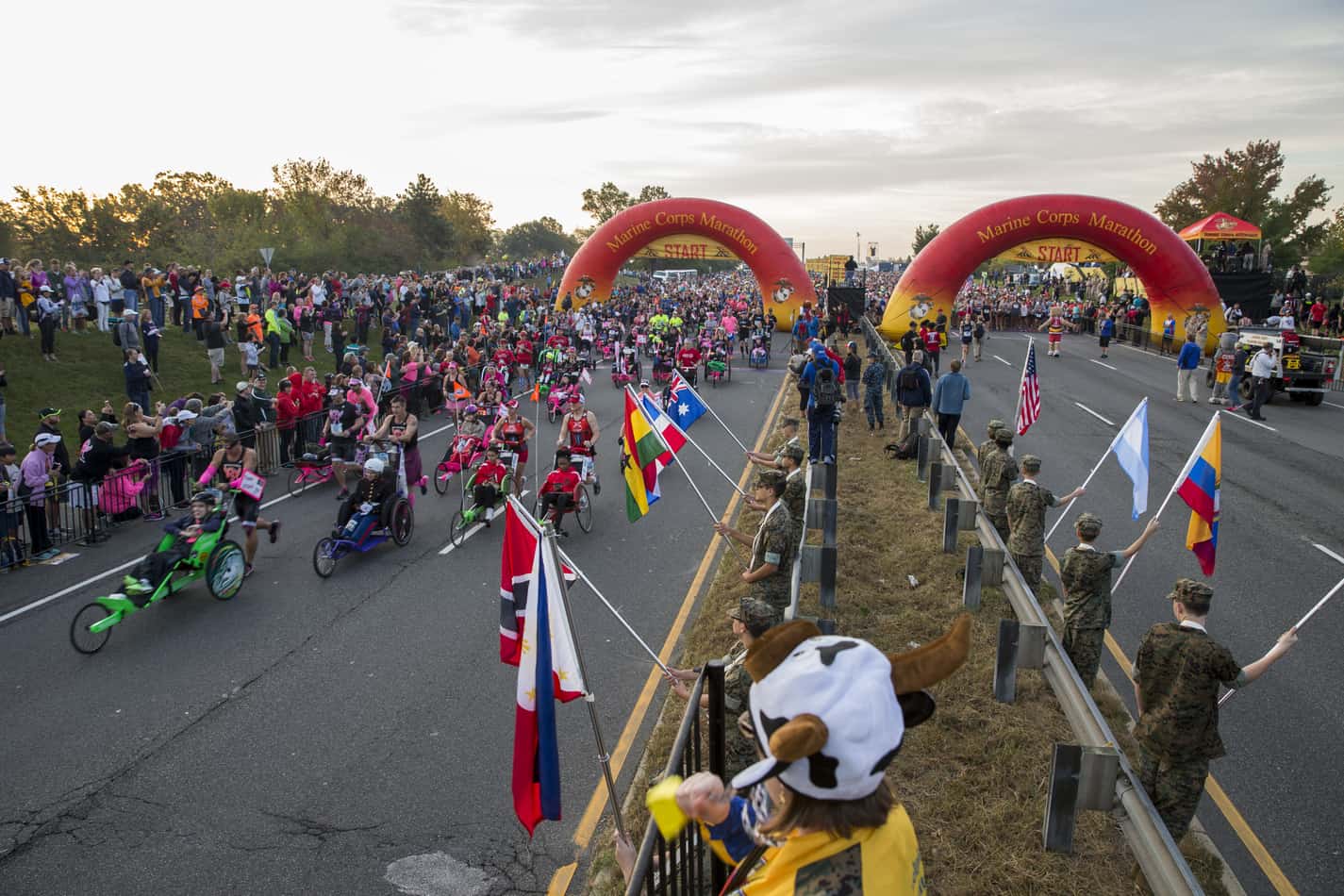 Where: Washington, D.C.
When: October
Why you'll love it: Also called, "The People's Marathon" this race is all about inspiring and motivating each and every individual. I would imagine this to be an emotional experience taking in our country's history as you begin between the Pentagon and Arlington National Cemetery, continue through Georgetown and the National Mall and finish at the Marine Corps War Memorial. This is another race I truly hope I get the opportunity to run someday!
Where: Seattle, WA
When: December
Why you'll love it: In 1970, a group of friends from the University of Washington held the first Seattle Marathon. It's grown from 30 runners in its inaugural year to one of the largest marathons in the Northwest. I can't think of a better way to shed some turkey weight one week after Thanksgiving by running your heart out at sea level in the PNW.
Runner Up: Jack and Jill's Downhill Marathon
Where: September
When: Morgantown, VA
Why you'll love it: This marathon is all about promoting health and wellness within the community. Running a marathon is certainly an awesome way to bring people together to celebrate people's accomplishment of their fitness goals. Festivals and bands line the streets to ensure each and every runner has a reason to smile even as they endure 26.2.
Where: Green Bay, WI
When: May
Why you'll love it: Football fans will especially love the jaunt through the stadium district. Here you'll even get to run through the players' tunnel followed by a lap around the field. Trees, trails, parks, and rivers round out the course back downtown. I wonder if they'll have cheese at the post-race celebration? Guess there's only one way to find out!
Where: Jackson Hole, WY
When: TBD 2020 (the race was canceled in 2019, but will be back in 2020)
Why you'll love it: Serene beauty will surround you as your legs take you on a 26.2 mile journey through National Elk Refuge, Jackson Hole Valley, the Tetons, and Snake River. Though the course is run at altitude, runners will be happy to know the elevation change won't be too noticeable. I personally think any little hill would be worth it to experience the beauty of one of the most scenic race in North America.
View this post on Instagram
And that's a wrap! Making this list for you all has shown me that I better get to work on getting some of these "best marathons in each state" checked off my list! Big Sur, St. George, Coeur d'Alene, and Nashville…these four in particular are calling my name. Which ones do you want to run – I'd love to know!