Running is supposed to be an inexpensive sport, right? Well it is…at least until you decide you want to start showing what you're made of in races. The cost of a 5k isn't so bad, but the dollar signs really start coming when you sign up for endurance races like the marathon.
So, why are marathons so expensive? There are a lot of factors involved in putting on a marathon event and those costs add up. Though corporate sponsors bear some of the expense, the racer's entry fee needs to make up the difference. Marathons in large cities will cost more due to the logistics required to run them well.
I think most first-time marathoners probably question their sanity when they start paying MORE to subject themselves to even more pain that only a race like the marathon can promise. It's true – we're a crazy bunch. But let's find out more about:
why marathons cost so much (you can expect to pay anywhere from $65 to $300),
why some cost more than others,
what other expenses you'll need to plan for, and
how you can make the whole experience a bit less pricey.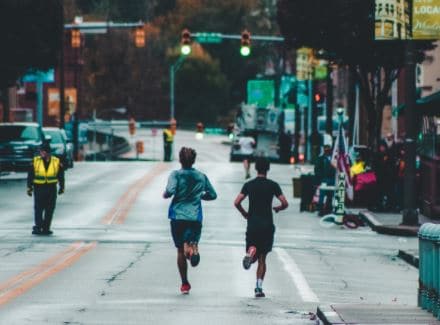 What makes marathons expensive?
A race is just a bunch of people going from a start line to the finish line, right? When you think of it that way, it sure doesn't seem like something that athletes should have to shell out a bunch of money for. Perhaps you haven't actually run a marathon just yet, and are wondering why the price seems so high.
Well, the botttom line is there is a lot more that goes into proper race execution and the logistics that it requires for it to run smoothly.
Let's look at some of the costs associated with putting on a marathon:
Security and Police Officers
Those kind police officers stopping traffic so you can run through a busy intersection? They're not doing it for free. And when it comes to races that require road crossings or managing a large crowd of runners and spectators, I for one and am very thankful for the safety that a police or security officer presence provides.
The Swag and Post-Race Grub
You love those goody bags at the end of your race, right? Even though many of those products are donated, not all of it necessarily is. And if you're hoping for the really good stuff at the end when it comes to food and drink (even often beer) chances are that had to get paid for somehow.
It's true that many local restaurants or grocery stores will donate food to get the free advertising, but you can't necessarily count on this.
Your Finisher's Medal
The finisher's medal may feel like a free reward you earned, but the company who made those didn't just give them away for free. A small portion of your marathon fee likely went this direction (and even though you paid for it, a DNF isn't going to earn you one, unfortunately.)
Port-o-Potties
Oh the line of port-o-potties. So happy to see them available, yet a racecourse eyesore at the same time. Guess what? These things cost a pretty penny to rent. According to Portapotty.net, the most basic facilities can cost anywhere from $175 – $225 per day.
Shuttle Buses
Not all races have shuttle buses, but many do. If the one you're looking at does, expect the price to increase a bit. In 2018 I ran Revel Mt. Lemmon, and everyone had to ride a shuttle bus to the top – there was no other option. A 56-passenger charter bus can cost upwards of $1,200 and one isn't going to cut it.
Stocked Aid Stations
One of the biggest complaints I see when reading race reviews is when there aren't enough aid stations, they don't offer quality drinks or gels, or when they run out of what they need. And, of course, if you're depending on water, Gatorade, and fuel to be available to you in a race, it needs to be there for you (otherwise this could be a safety concern).
But it costs money to make sure runners have what they need at each aid station, and this is a price I think we can all agree is pretty important.
Prize Winnings
Depending on the particular race, prize winnings can be thousands of dollars or in my case, a 4-pack of a beer and a cool pint glass. Though sponsors often cough up the money for large winnings like you see in the Boston Marathon, that's not often the case.
I guess if you want to feel like you're getting your money back, you better plan to be on the podium!
I could go on and talk about medical teams (so important), insurance, chip times and not to mention the full-time job it is to organize a large race such as marathon…but I think by now you get the point. It's so much more than just running from point A to point B.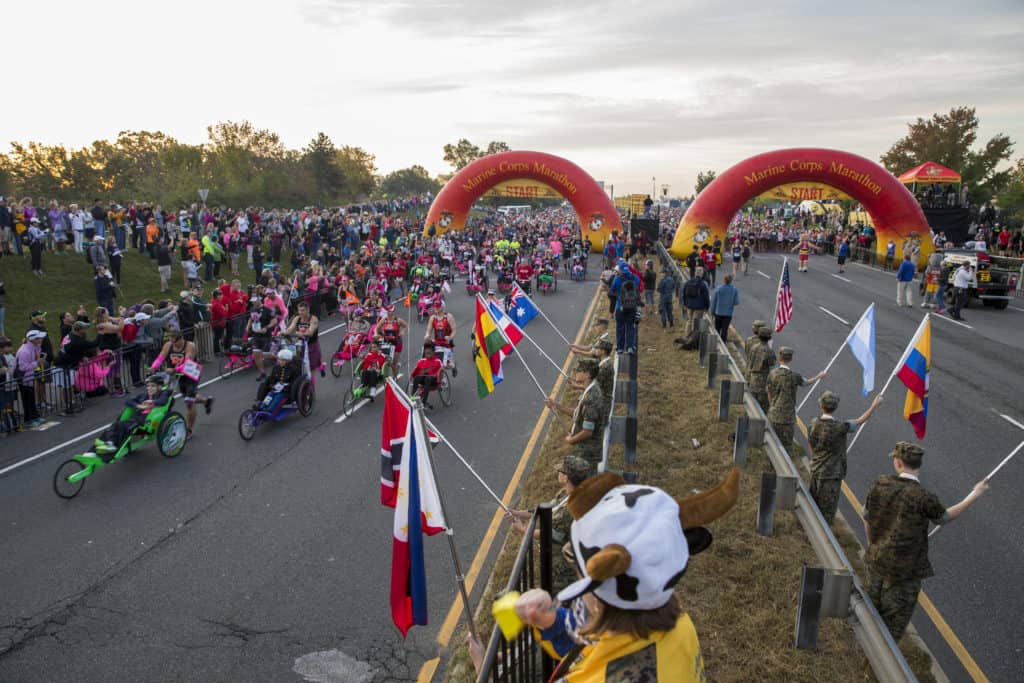 Some Marathons are More Expensive Than Others
You may think your local, small-town marathon is pricey with a $85 entry fee, but that will seem minimal once you start considering some of the big city races. Additionally, races with big names (I'm looking at you "Rock 'n' Roll") are going to cost more, too. Why is that?
Why do big city races cost more?
Can you imagine what it would take to execute a marathon for thousands and thousands of runners with minimal hiccups? I know I wouldn't want to be the one in charge of running that. Not only do they need to ensure everyone stays safe, but they also want runners to have a great experience. This takes long-range planning to get all the moving parts squared away to make it a great day.
All of this becomes more complicated in a large city. Lots of road closures and managing large crowds in tight spaces is just a small part of it all.
Additionally, Rock 'n' Roll races continue to be popular (and more expensive) because of the atmosphere and experience you know you're going to get. In 2016, my husband ran the Las Vegas Rock 'n' Roll (you can read more about his experience here) and the finish was definitely something to behold. With multiple races, it also feels like a 3-day party. Bottom line, there is a lot going on with a lot of wow factor, and well, that costs money.
So just how much DO marathons cost?
| | |
| --- | --- |
| Marathon | Cost |
| New York City Marathon | $255 |
| Boston Marathon | $205 (US residents) |
| Chicago Marathon | $205 (U.S. residents) |
| Revel Big Cottonwood | $99 – $129 |
| Sprouts Mesa Marathon (Phoenix) | $100 – $135 |
| Long View Marathon | $120 |
| Mountains to Beach Marathon | $99+ |
| Jacksonville Marathon | $80 |
Information accurate as of 2020 – some races may offer discounts or charge for late sign-ups.
As you can see, there is a wide range when it comes to how much a marathon costs. The Jacksonville Marathon was about the cheapest I could find, though you could also opt for something like Oyo which is kind of like a virtual marathon but with a specific racecourse that's chip timed – and that's still $65.
But what about corporate sponsors? Shouldn't they take care of those expenses?
Chances are that one of your favorite marathons had a name change in the last several years do to corporate sponsorship. The Twin Cities Marathon, for example? Now it's the Medtronic Twin Cities Marathon. You'll see this a lot with big city races, especially. It's not just the Fargo Marathon, but the Sanford Health Fargo Marathon.
Obviously these corporations are coughing up large sums of money to get their name on the race as well as ad placement throughout the course. So shouldn't they be paying for most of the expenses?
Well, they can't cover it all. But you should be thankful for their sponsorship, because in the end, the savings are passed onto you (even if it sure doesn't feel like it.)
The Washington Post broke down the cost of the Marine Corps Marathon and determined that sponsors contributed the equivalent of $58 per runner, while the runners themselves paid $99 per entry.
Race director Rick Nealis shared that the goal is to break even, not make a profit. Does that mean no races make a profit? Not necessarily.
But in the end, it's about supply and demand. The most coveted races like NYC or Boston that have lotteries or required qualifying times could probably charge double and still reach maximum capacity.
Costs Beyond the Marathon Entry Fee
It's not just the marathon race entry that will have you seeing dollar signs.
Here are the other costs you'll want to consider:
1.) Training Gear – Can you run in just an old cotton t-shirt and whatever workout shorts you have laying around? Yes. Are they the best choice for high mileage weeks and long runs? No. (See my article on chafing…yikes.) The clothes, shoes (you'll nee at least 2 pairs during a training season), watch (hard to pass up Garmin which is by far the best), hydration pack, headphones, fuel, and training plan or coach all add up. I'm not saying you have to spend a ton to run a marathon, just something to keep in mind.

2.) Race Day Gear – Again, the gear you've trained with is what should carry over to race day. You can find out exactly what to wear for a marathon here.

3.) Travel Expenses – Many people travel to run marathons. I've actually come to love marathons in my home state, but early on, getting to travel to run one was a big motivator for me. Paying for a hotel, flight, rental car, and meals out means your marathon just became a vacation. At this point, it's not too hard to spend upwards of $1,000 depending on where you're headed.
Obviously once you buy certain products once, such as a high-quality Garmin watch (here's mine – not cheap, but it was a 40th birthday gift!), and you'll be able to use it year after year for multiple marathons. But something like shoes need to be replaced every 300-400 miles depending on which pair you buy and of course there's the fuel you'll need for your long runs (I recommend Tailwind).
If you want to run a marathon and spend less, you absolutely can. There are less spendy GPS watches that give you the data you need (or use Strava on your phone) and I personally like to wait for prices to drop on my favorite Altras and then stock up. It gets expensive if you let it, but don't let that deter you. There are plenty of budget options for the things you need.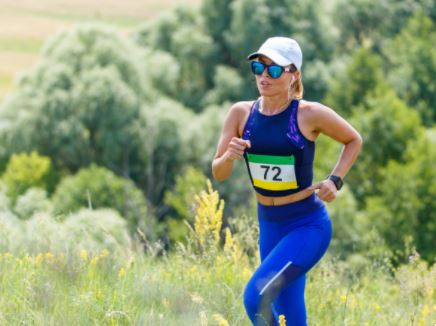 How to Lower the Price of a Marathon
Wouldn't it be nice if marathons felt a bit more accessible to the normal population of the world – not just those in or above the upper-middle class tier? Though the costs associated with a big city race seem warranted after going over everything that has to get paid for, it's still frustrating that it's really only available to those who have a lot more disposable income.
On the other hand, I've known people who have saved and saved for a big city race because it was that important to them. Like a marathon, that takes hard work and discipline and I commend those runners.
But what about the runners that just want to get that race vibe to complete their 26.2?
Here are some ways to run a marathon in a low-cost way:
1.) Choose a small race in a more rural area (preferably close to your hometown). These races are going to cost less. The logistical requirements to run a marathon in a more rural area are far fewer which means they can charge less. Though you may not get the experience of spectators lining the course, this has its advantages, too.
2.) Sign up early. Many races offer early bird registration – some of the best prices come immediately upon the prior year's race. If you're willing to commit early, this is a great option.
3.) Get on e-mail lists to receive promo codes. Get familiar with the different racing series in your area (or even that special race you've had your eye on) and get on their email lists. $10 off registration coupons are pretty common. Following Facebook pages of particular races is another great way to snag a deal.
4.) Sign up for a marathon with a deferral option. Though this won't necessarily make a marathon cheaper on its own, the nice thing about races that offer a deferral option is that you don't have to feel like you wasted a ton of money if it doesn't work out for you that year. With marathons, injuries could easily derail your training, so it's nice to know there's always next year.
5.) Raise money for charity. This can be a way to get free entry to a race. But you're going to have to work hard to get donations in order to make that happen. The Eugene Marathon is just one of the marathons that offers this – raise $250 and your entry fee is waived.
6.) See if the race you're interested in offers a low or free option for low-income runners. The New York Road Runners, for example, offers 100 complimentary entries to the NYC Marathon based on income.
Is the price of a marathon worth the cost?
What you really want to know is if the juice is worth the squeeze. Like, will shelling out $1,000 or more to travel to and run in a large city marathon feel like a waste or will it be a bucket-list experience you'll never forget?
For most people, it's going to be the latter. As someone who missed out on my first Boston marathon due to COVID-19, the cost doesn't even matter at this point. Completely worth it in my book.
However, if you're not into big crowds and are much more focused on accomplishing the feat of finishing a marathon, that can happen anywhere….and if 2020 taught us anything, it can happen virtually practically for free.