You've been training for months, and the time has finally come to set out your clothing and gear for your upcoming half marathon race. There are lots of things to think about when it comes to dressing for race day. What do you need? What should stay home? Should you race in the shiny new pair of shoes sitting in your closet?
For your half marathon, make sure that you wear something comfortable, that you have worn before (preferably for a few long runs leading up to your race), that is compatible with the conditions you'll face on race day. By wearing familiar clothing and gear, you're setting yourself up to have as much success as possible at your half marathon.
In this article, we discuss several factors you'll need to consider for your race day. We have compiled a list of essential race day clothing and gear, including some recommendations of our favorite items. Read on to learn more!
Choosing What to Wear for a Half Marathon
There are a number of factors to consider that will impact what you wear and bring with you to your half marathon. Here are some questions to ask about your race and the day:
Environment: Where is the race being held? Is it going to be rainy? Windy? Dry? Hot and humid? Unseasonably cold?
Weather forecast: Will it start off cool, but warm up quickly? (This is super common so be prepared!) Does the forecast call for the possibility of wind, rain or snow?
Altitude: Are you running at sea level, or way up in the mountains? (And don't forget a city like Denver is still a mile high and has elevation that can kick your butt if you're not used to it.)
Amenities: Is the race providing fuel, water and/or sports drinks along the course? Is it self-supported or perhaps cup-free? Is there a bag drop/check for your stuff? Do you need to ensure that your clothes and other gear contain pockets to hold your stuff if there isn't a bag drop?
Ground surface: Is the race held on dirt, gravel or roads? A combination of surfaces?
Once you have considered these factors for your race, you can begin to plan your race day attire and gear accessories.
Half Marathon Tops
Your shirt is one of the first things you'll want to plan for your half marathon. Make sure that whatever top you choose does not cause problems or distractions. For instance, I have a running tank top that tends to stretch out and flop all over the place as it gets sweaty, so I would definitely never wear it for a half marathon race!
Essentials
Your top should be constructed out of a technical sports fabric. Don't race in an old t-shirt or the cotton race shirt that you received with your race packet. As a runner, cotton is something you want to avoid as much as possible to avoid painful skin chafing!
There are several running top options you can consider, depending on your personal preferences:
Short sleeved shirt
Tank top
Long sleeved shirt
And don't forget your racing bib!
For female runners, sports bras are an important consideration. Your race day sports bra should be pinch-free and chafe-free, sweat-wicking, and supportive enough to get you comfortably to that half marathon finish line. Here at Ready.Set.Marathon, we are partial to Senita's Sarah Sports Bra because of the handy pocket for your phone built into the racerback strap! Coach Jane even wore the Sarah sports bra at the 2022 Boston Marathon! (For a high-neck choice check out this other pocket bra from Amazon.)
For larger-chested female runners, Lululemon's High Support Energy Bra, which is built for high-impact workouts for women who wear a B – DDD cup. Another popular choice is the highly adjustable and supportive Ultimate Sports Bra by Shefit, which accommodates cup sizes A-I and features a front zip closure for easy on and off (which comes in clutch when you are sweaty!) This bra averages a 4.5 star rating across 37,000+ reviews!
Preparing for Cold Weather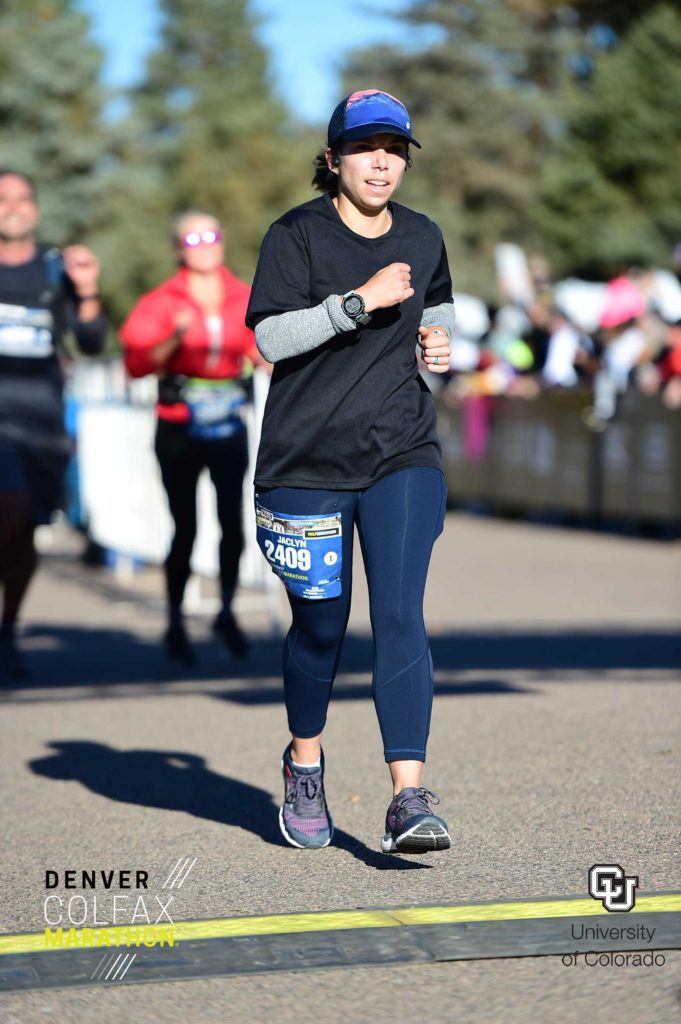 If the weather forecast for race day looks gloomy or you'll be racing some place with cool or cold temperatures, you'll need to plan accordingly. A good rule of thumb is to dress for weather that is 20 degrees (Fahrenheit) above the temperature, because that's what it will feel like once you start running and sweating. So, if it's going to be 20 degrees during your race, dress for a 40 degree day.
Some cold-weather items you might want to consider adding over your base top are:
Vest: A running vest, like this one from Patagonia, insulates your core from the chill, while keeping your arms free to move and keeping you from overheating. One potential downside to vests is that you cannot shed them easily mid-race because they don't have sleeves to wrap around your waist if you get too warm.
Waterproof running jacket: Here are 8 of the best we recommend. A thin one is best if it's not going to be too cold but you want to avoid getting all wet or need to cut the wind.
Additional long-sleeved layers: A quarter-zip athletic top, like this favorite of mine from Brooks; a thin fleece jacket/sweater; or a long-sleeved shirt layered over your base shirt are all great options for adding warmth. And another fave feature of long sleeve tops that will come in handy on race is a watch window, like this top from Baleaf (in women's and men's).
A perfect fabric choice for tops in colder weather – whether worn as a base layer or a second layer – is wool. Wool is a fantastic natural insulator that also allows your body to breathe as you run. The Smartwool base layer top is a popular choice. (This will likely be too warm in MOST races, but this could be a great option for colder trail half marathons at higher altitude.)
Half Marathon Bottoms
There are lots of options when it comes to choosing which bottoms to wear at your half marathon.
Essentials
You'll most likely want something that has pockets to hold your car keys, ID, gels or even small water bottles during the race. Choices for running bottoms include:
Shorts: The choices are endless here, but we always recommend pockets. Check out our favorite shorts with pockets for women here. As for men, a top favorite are the Pace Breaker Lined 7″ short.
Capri-length or full-length leggings: We shared our favorites here.
Underwear (or not!): Whether you're going to wear underwear beneath your shorts or leggings on race day is a personal decision that you hopefully practiced on your training runs (find out here if you're ACTUALLY supposed to wear underwear with running shorts). For guys, my husband tells me that compression boxers or shorts are crucial for running comfort. He recommends the Neleus Pro Compression Shorts from Amazon, which have pockets on the sides, perfect for carrying your phone with you.
Preparing for Cold Weather
You can typically get away with shorts even in cooler temperatures, focusing instead on keeping your upper core warm with a long-sleeve top or jacket. But in truly cold or inclement racing weather, most runners should beef up the warmth factor of their race-day bottoms, keeping the 20 degree rule of thumb in mind. If you would normally wear shorts, try switching to leggings. If you would normally wear leggings, try lined leggings, which feature a cozy thin layer of fleecy fabric on the inside. For women, a favorite style is the Rainier Tight by Athleta, which is not too thick or heavy yet still helps block out the cold when temps start to dip near (and below!) freezing.
Half Marathon Socks and Shoes
Your race day socks and shoes are arguably two of the most important items you'll be wearing. After all, your feet and legs need to be supported (and blister-free) throughout the race.
The Best Socks
Running socks come in myriad fabrics and heights to fit a variety of needs. Test out your race-day socks during your long training runs, and make sure they are compatible with the conditions you'll be facing on the race course.
If you are in the market for some new socks well before your race, check out our review article 8 of the Very Best Running Socks to Prevent Blisters. Here's a big hint, though, thin socks are actually better than thick ones to keep blisters at bay, with a top favorite being the Balega Hidden-Dry. Some people also swear by compression socks – you can read about some of the benefits here.
Choosing Your Shoes Carefully
There are 4 main categories of shoes in which to race. What you choose is ultimately up to you, what you're comfortable with, and what you've practiced wearing during training:
Daily trainers: Familiar and comfortable, they won't let you down as you race toward the finish line. The downside? They tend to be heavier and don't typically have much energy return to help propel you forward, especially as you tire in those last few miles.
Trail shoes: If your half marathon takes place on the dirt or gravel trails, you should wear proper trail shoes with rubber traction or lugs on the soles. I have personally witnessed many runners tripping and falling during trail races, all because they made the mistake of wearing road running shoes.
Racing flats: Built specifically for racing, racing flats, such as the Altra Escalante Racer or the Saucony Fastwitch are lightweight, minimalistic and built for speed. With their minimal cushioning and support, however, they may not feel the greatest after the first few miles in a half marathon.
Racing "super shoes": These high-tech shoes are getting a lot of attention these days for their undeniable ability to help runners go faster, and reduce foot and leg fatigue, while offering lots of cushioning in a lightweight package. Whether they are carbon-plated (like the Nike ZoomX Vaporfly Next%), or nylon-plated (like the Saucony Endorphin Speed 2), these shoes are not just for "fast" or elite/sub-elite runners. They are for anyone who wants to perform their best on race day!
Should You Wear Your Shoes Before the Race?
You should always test out your racing shoes a few times before the big day! The old adage is never try anything new on race day. For your best chance of success at your half marathon, take heed.
While there certainly have been situations where people have worn a new pair of shoes on race day and been okay, a brand new pair of shoes isn't worth risking your ability to race well. You've put in a lot of time, effort and commitment toward training and preparing for your race. You owe it to yourself not to put all of that at risk for a previously-unworn pair of shoes on race day.
Half Marathon Gear Essentials
Other items you may need or want to have with you at your half marathon include:
Extra Clothes You Didn't Know You Needed
There are extra items that you might need or want to bring along with you, such as:
"Throwaway" clothes: If your race starts off chilly but you won't need extra layers for the entire race, wear donation-ready old clothes over your planned outfit. At the starting line or during the race, you can toss them off to the side. Race volunteers will pick them up and donate them to charity for you.
Extra layers and/or shoes for bag check: If your race offers a bag check, you can remove your extra layers before the start, check them at the table, and retrieve them afterward. You could also wear a pair of regular trainers and swap them out just before the race starts if you don't want to add to extra mileage to your racing shoes (or if it happens to be raining and you're trying to keep them dry).
Poncho: If it might rain during your race, a poncho could be a lifesaver! Boston Marathon 2018 ring a bell??! If there's even a small chance of rain in the forecast, you might as well have one ready to go just in case.
There you have it. With this checklist, you're sure to be dressed for success at your half marathon. Best of luck and enjoy the race!